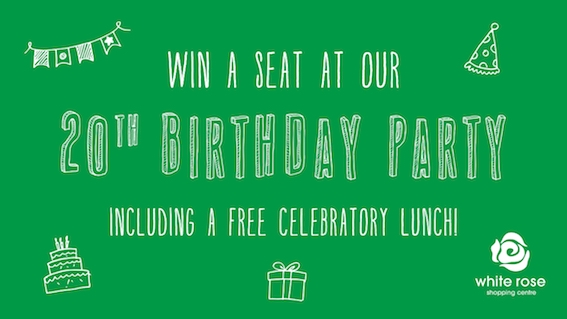 The White Rose Shopping Centre is excited to be celebrating its 20th birthday this year, and to mark the occasion is hosting an all day party of fabulous entertainment, treats and unique special offers for everyone on Saturday 25 March 2017.
Fancy an invitation to the celebrations and the special birthday lunch? Read on…
For your chance to win a pair of tickets to our special birthday meal, email ali@umpf.co.uk including your name and contact details plus who you'd bring along and why by 11.59pm on Wednesday 15 March 2017.
That's it! Winners will be notified by Friday 17 March and will be given a time slot to come along to join in the fun.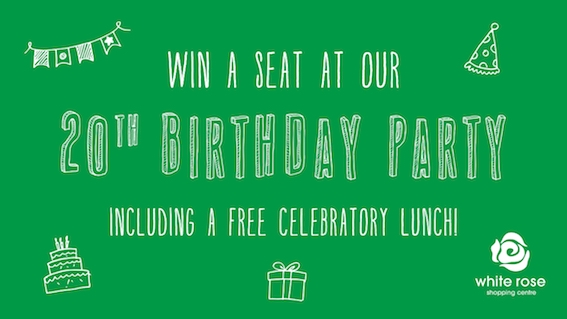 T&Cs:
Details received will not be passed to third parties outside of White Rose and its press office, Umpf.
To enter, users must email ali@umpf.co.uk including their name and contact information, plus details on who they'd bring along to the party. The competition closes at 11.59pm on Wednesday 15 March, and winners will be contacted by Friday 17 March with their time slot.
The prize is two seats in total at the White Rose 20th birthday event including a free food and drinks, and goodies to take away. The event takes place on Saturday 25 March 2017.
Winners will be chosen by Umpf. The team's decision is final. There may be flexibility in the 'winner plus one terms, but this will be approached on a case-by-case basis.
Entrants using obscene or abusive language will be removed from the competition and blocked from the page.
Umpf will email in reply to the winning entry within two working days of the competition's close.
The winner must reply within five working days, or another winner will be chosen.
Entrants must be sure to submit the correct details at the time of messaging; White Rose cannot be held responsible for prizes not received due to incorrect address details.
Winners' names may be published on the White Rose social media channels at any time. Imagery, if sent by the winner, may also be shared.
White Rose reserves the right to withdraw this competition at any time.