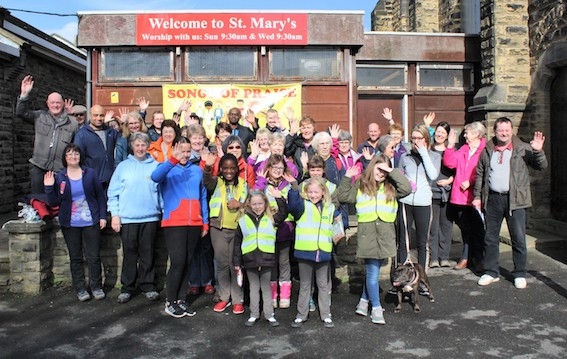 Repairs to the clock at St Mary's church in Beeston commenced today thanks to a sponsored walk organised by the church and the Save Our Beeston Facebook Group.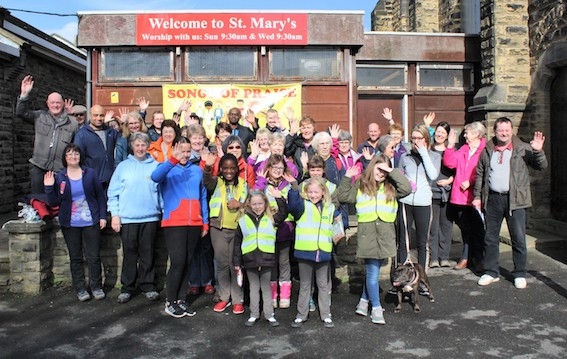 Forty intrepid walkers set out from St Mary's Beeston at 11:30am on Sunday (12 March 2017) to 'beat the bounds' of the parish and raise funds for the church clock. Sean Sturman from Save Our Beeston, whose idea the walk was, told South Leeds Life:
"Once the Table Top Sale, on Saturday 25th March, has taken place and all the sponsor money is collected in, I'm confident we will have topped £3,000. That means the clock can be up and running and have an external makeover too.

"The people of Beeston have once again done themselves proud."
Rev Lindsey Pearson, the Vicar of Beeston added:
"We had wonderful weather for our clock walk today and a lovely group of walkers from Save Our Beeston and St Mary's Church, including our Brownies who walked the whole route without complaining. Thanks to all the walkers, lunch providers, and sponsors."
The walk was supported by local Councillors. Although Cllr Angela Gabriel was unable to come on the walk she helped Cllr Adam Ogilvie raise £400 for the appeal.
The walk took in Wesley Street, the Nosters, Cross Flatts Park, Stank Hall Barn, returning to St Mary's via Thirlmere Avenue and the path next to the railway. Sue Ottley-Hughes from the Friends of Stank Hall Barn was on site to greet the walkers and explain the historical significance of the site – the oldest building in Leeds – and some of the latest finds.
Back at St Mary's the walkers enjoyed a well-earned soup and sarnie lunch.
The clock has not worked for a number of years. It was built by William Potts & Sons, the famous Leeds clockmaker and installed when the present building was erected in the 1870s.
As a further fundraising venture the church is selling an original painting of St Mary's in a secret auction. You can place your bid at the Parish Centre and the bids will be opened on Sunday 26 March 2017.