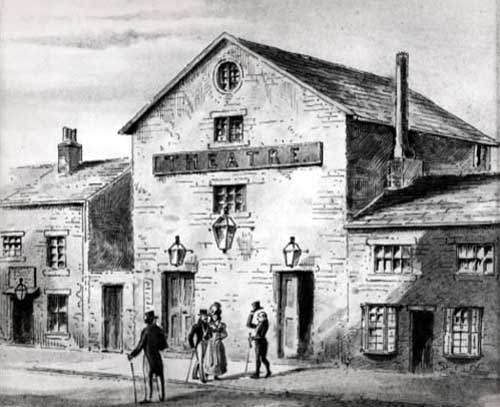 Leeds, prior to 1771 relied on travelling companies of players who were most likely on their way from York and Wakefield, both of which from a dramatic point of view were much more important than Leeds.
Companies of strolling players would visit the town and perform their plays in the yards of inns such as the Talbot and the Rose & Crown in Briggate. To accommodate these players the Rose & Crown (Queens Arcade now stands here) provided a concert room where plays as well as songs were performed. The concert room was supposed to be for musical entertainment only; a licence was required to perform plays for profit.
However, the publican got round this by only charging the audience for their seats for the music; the plays were free. These visits were not popular with the church. Early newspaper reports mention "The Company of Comedians from York". The earliest known performance of a play in Leeds was reported in the Leeds Mercury on 4 November 1729, this was 'The Beggar's Wedding', given by Mr Herbert's Company of Comedians this was probably based on 'The Beggar's Opera' which was popular at that time.
In 1757, there was a performance of Shakespeare's Richard III. A new Concert Hall was opened on 17 December 1767, this was located near to the junction of Vicar Lane and Kirkgate, but the exact location of the building is not certain. On the opening night there was a concert of music, this was followed by a play which was presented free, thus indicating that the Hall did not have a dramatic licence, and after the play there was 'musical entertainment'.
We know very little about the above Concert Hall, but what is certain that in 1771 Tate Wilkinson came along and opened a Theatre in Hunslet Lane, and this was the real beginning of the history of the theatre in Leeds.
Tate Wilkinson was born in Wandsworth, London on 27 October 1739, the son of Rev Dr John W Wilkinson and Grace Wilkinson (nee Tate). His father was a clergyman at Chapel Royal at the Savoy in London and he was educated at Harrow. In 1757, when Tate was 17, his father was convicted of conducting irregular marriages and he was sentenced to be transported to America (in fact he died before he left England), leaving his 17 year old son to fend for himself.
Tate Wilkinson had first visited Covent Garden when he was about eight years old, and from then on was involved with the theatre and theatre people. Although he was not a great actor, he was a very good mimic and impersonator, and after his father's death it was natural that he should follow a career on the stage. He was trained with Garrick and Foote and worked in Dublin and London, until in 1765 he went to work at the Theatre Royal in York where Joseph Baker was the Manager.
Wilkinson became joint-Manager with Baker, and was very successful, adding theatres in other northern towns to the York Circuit. When Baker died in 1770 Wilkinson became sole manager of the York Circuit. The opening of the theatre in Leeds was not an isolated event; it was an important development in the growth of Tate Wilkinson's theatre circuit in Yorkshire's West and East Ridings.
In 1768 Tate Wilkinson married Jane Doughty, the daughter of a York draper, and they had three children. He died on 25 August 1803 aged 63 after suffering a seizure when he was on the stage at the Theatre in Leeds. He is buried at All Saints Church in York. His wife Jane died on 19 December 1836 aged 80.
Wilkinson was also responsible for setting in motion the careers of two of the most prominent actresses of the day Mrs Jordan (Dora Bland) and Mrs Siddons (Sarah Siddons) but these are other stories. Tate Wilkinson's venture in Leeds was a private one, he is quoted as saying: "As to Patrons I had none". This is in contrast with what happened in a few of the more important towns.
Some years previously a number of prominent Bristol citizens, largely from the merchant classes, had subscribed nearly £5,000 to build a splendid theatre. A little later forty citizens in Manchester subscribed £2,000 towards a more humble building. He invested his own money in building the Theatre in Hunslet Lane, and under his patronage it was a great success. As he grew older Wilkinson became known for his eccentricity and his brusque manner, although those who really knew him praised his kindliness. In his old age he wrote his memoirs, 'The Wandering Patentee', the history of the theatre in Yorkshire became an invaluable record of the theatre in the 18th century.
Situated in Hunslet Lane on the left-hand side walking from Leeds Bridge just past Waterloo Street and before the north side of Salem Chapel (although this was not built until 1784, nor was there Hunslet Road) the Theatre was a plain brick building with external dimensions of 40 feet by 85 to 88 feet, these being worked out from the 1850 Ordnance Survey Map.
Inside the auditorium and the stage were of equal size, divided by the Proscenium Arch with the stage overlapping several feet into the auditorium. There was one circle of boxes, a gallery over the entrance vestibule, and a pit. In spite of its small size it could hold around 600 people, although judging by comments made by Mrs Jordan the facilities for the players were somewhat inadequate.
The Theatre opened on 24 May 1771 and the first play performed was "A Word to the Wise" by Hugh Kelly; most of the plays performed were comedies or comic opera, usually with two items each night with interludes of singing and dancing. Unlike London where the theatres closed for the summer allowing famous actors and actresses to perform with provincial companies, theatres in Leeds only opened in the summer period May to the end of July and during the companies' stay in Leeds they would perform three sometimes four nights in the week.
Doors opened at six o'clock for a performance beginning about seven and ending around eleven o'clock. Prices of admission were: Boxes, 3 shilling (15p); Pit, 2 shilling (10p); Gallery, 1 shilling (5p), for half price people were let in for the third act of the play, a practice disliked because it allowed the rational part of the audience to be disturbed by an influx of inebriated young men, girls of the town, and other disorderly people.
On the death of Tate Wilkinson his son, John Wilkinson, took over management of the theatre. He was followed by a succession of managers and in 1848 it is thought the name was changed to the Theatre Royal but, it went through a difficult time during the first half of the 19th century when the popularity of the theatres declined.
In 1863 the theatre was bought by the actor John Coleman who wanted to establish a New Northern Theatre Circuit with plays being performed by Coleman's own Company as well as by touring companies, the new railways making it easier for these to travel round (Hunslet Midland Terminus being just down the road; now Crown Point Retail park). Coleman was successful, but in 1864 he faced competition when John Hobson built the Amphitheatre in Lands Lane.
Coleman responded by refurbishing the interior of the old Theatre, it was decorated, the seats were cushioned, and new scenery installed and in February 1865 the Theatre staged the premier of "Its Never Too Late To Mend!" this was a great success, becoming a great Victorian melodrama. The Theatre continued to be a success bur Coleman wanted to build a new theatre nearer the Town centre, he bought land in Park Square but he failed to get sufficient financial support for the project.
Instead Coleman demolished the old Theatre in the Lane and built a new one thought to have seating capacity of 2,560 and named "The New Theatre Royal and Opera House" which opened in 1867. It was open every evening and the plays were mostly put on by touring companies, such as the Haymarket Company in 1868 and there was also Pantomime at Christmas.
Unfortunately, this Theatre did not last very long because on the night of the 28th May 1875 it was completely destroyed by fire, Coleman could not afford to rebuild it and so after just over 100 years Theatre in Hunslet Lane came to a sad end.
This post was written by Ken Burton
We encourage anyone living or working in South Leeds to use this website to tell their news. You can either use the Create an article for South Leeds Life page, or email us at: info@southleedslife.com