Covid and the ensuing lockdown hit leisure time pretty hard last year and although elite sport can ride the storm things are much more difficult for community clubs.
Hunslet Nelson Cricket Club had a summer of events wiped out, but have plans to more than make up for it next season.
Although from midsummer the club could hold Covid-safe matches, it took some organising and wasn't what we know and love about cricket. The ball had to be sanitised every 6 overs, the changing rooms were out of bounds and worst of all no tea could be taken!
Although the club received £100 from the ECB (England Cricket Board) it required fund raising to purchase some gazebos (much needed for outdoor entertainment). Along with the help of the Hunslet Nelson Rounders Team the club crowdfunded money, along with the ever popular Football cards and even an online race evening.
The club took the decision to charge no subs and set about raising money for key workers. A Charity Shirt appeal raised £200 for the NHS and £200 for Charlie's Angel Centre Foundation, supporting bereaved parents and families. The biggest loss of the summer though was the Annual Beer and Music festival on August Bank Holiday. This could have resulted in a loss of over £2,000.
But never fear, plans are underway for a bigger and better event next year. The club would like it to become a focal point for the local community and are hoping for a bigger crowd enjoying the beer, music and hopefully sunshine. They also plan to involve the police as there was unfortunately a complaint from a resident (we'll buy them a pint next time!).
With next season to plan for it's been unfortunate that winter nets could not go ahead. Training would normally start in November, it was planned for early January, but is on hold again. New players are always welcomed and indeed the club wants to attract aspiring cricketers. With the experience of Derrick Hammill in the seniors and Pete Arundel taking over the U11s there is a bedrock of knowledge there for anyone wishing to learn.
With Brian Farrell stepping down as chairman and Antony Ryder taking up the reins plans are afoot to upgrade the facilities. The main goal is for a new club house and planning permission is already in and also a grant has been awarded to level the grounds.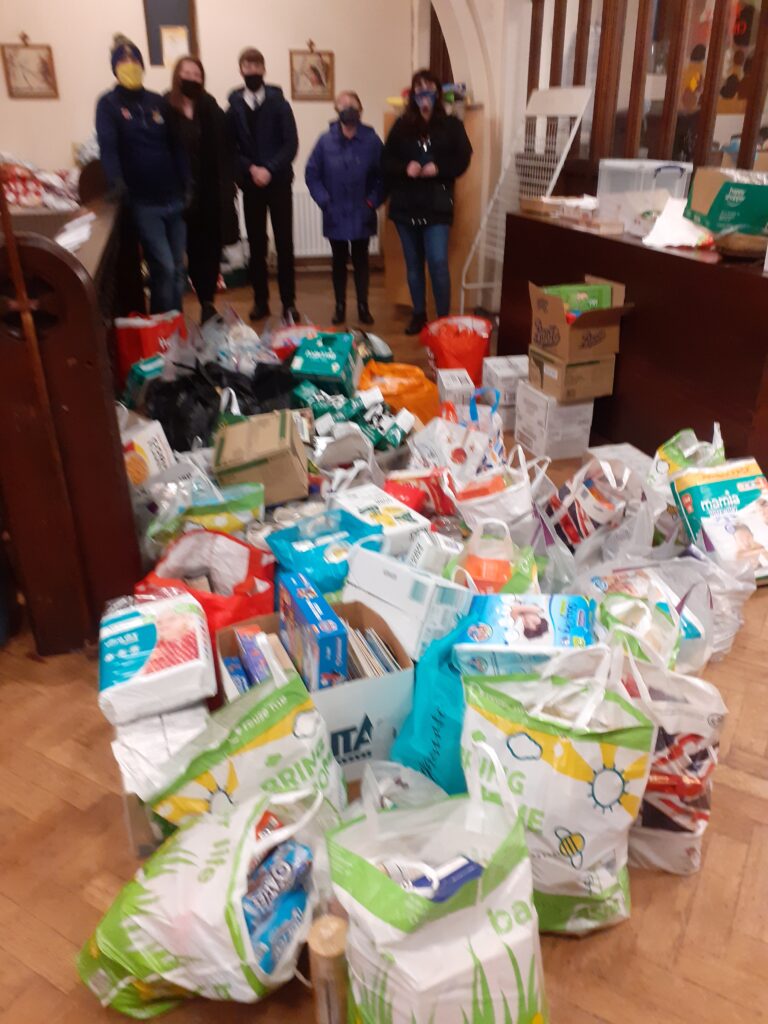 Again though as part of the wider community the club has been involved on the run up to Christmas with a Foodbank Appeal. The fund raising has been for the St Cross Church at Middleton and has raised much needed expensive goods such as nappies, meat and longlife milk.
So next summer if all is back to some sort of normal and you happen to be walking past the Gipsy Lane Ground and you hear the sound of leather on willow, why not pop in for a beer and watch a bit of cricket.
Main Photo: Jamal Khojani batting for Hunslet Nelson against Hopton Mills last season. Credit: Paul Butterfield
Right: Hunslet Nelson's collection for St Cross Foodbank. L-R: Anthony Ryder (Cricket Chair), Lindsey Brearly (Rounders Chair), Freddie Hallas (Volunteer), Corrine Farrell (Cricket Fundraiser) and Sarah Markillie (Food Bank Organiser).