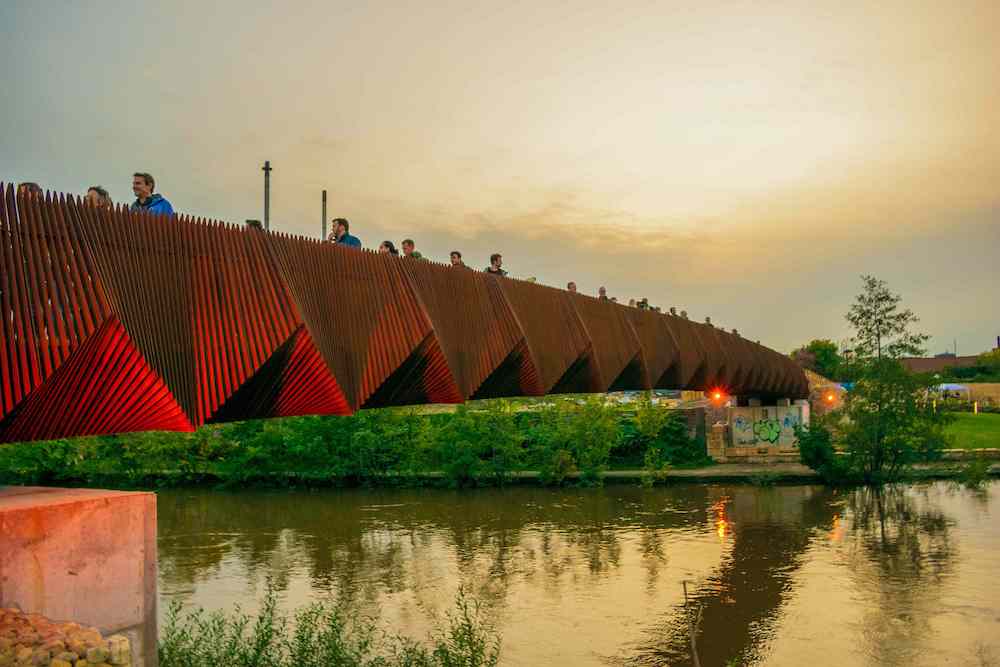 The new footbridge over the River Aire built by Citu as part of their Climate Innovation District in Hunslet won an award at the recent British Construction Industry Awards.
The bridge, which opened last October, received the National Infrastructure Commission's Design Award. It was judged against four key principles: climate, people, place and value.
The rust coloured steel bridge, designed by Halifax-based Gagarin Studio and Hebden Bridge-based DP Squared, and built by Beaver Bridges, links Citu's Phases One and Two of the Climate Innovation District either side of the River Aire. When completed, the District will feature more than 800 low carbon Citu Homes including apartments and houses, alongside leisure, offices, public realm and green community spaces.
As well as creating an integral and important link for the city and communities in Cross Green, Hunslet and beyond, the 3-metre wide bridge has been engineered to accommodate Leeds City Council's planned £40m district heat network as part of the South Bank regeneration project. The district heat network is not required for the homes in the £250m Climate Innovation District due to the airtightness and low energy needs of the innovative timber-framed design. However, it will offer both existing and future developments in the area the opportunity to benefit from the Council's flagship district heat network, which will harness heat from the Recycling and Energy Recovery Facility (incinerator) at Cross Green.
Citu received a £1 million loan from the Leeds City Region Enterprise Partnership (LEP) Growing Places Fund to help fund the cost of the bridge. The Leeds City Region Enterprise Partnership (LEP) Growing Places Fund provides loan funding to kick-start stalled development or infrastructure projects that will create homes, jobs and other economic benefits in Leeds City Region.