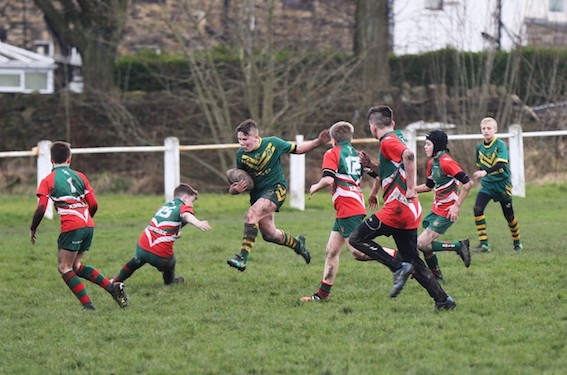 West Bowling B u13s 24 v 24 Hunslet Club Parkside u13s
Saturday 11th March at Clayton ARLFC
Hunslet Club Parkside (HCP) and West Bowling B under 13s shared the spoils on Saturday morning in an exciting encounter where both teams provided some good rugby for the watching fans.
The final score, 24-24 was a fair result in a game where the sloping Clayton pitch played its part with West Bowling playing downhill in the first half for a 14-10 lead only for HCP to win the second half by the same score, a last minute drop goal attempt from Bradley Chadwick flying just wide to deny the visitors victory.
In their second league match of the 2017 season Hunslet started the game in magnificent style. Receiving the ball from the kick off, a perfect opening set saw centre Alex Fulton cross out wide on the left. The next two scores went to the home side before Chadwick scored Hunslet's second try, following Cameron Ross's great catch on the full from the restart gave Parkside great field position.
HCP conceded the first two tries in the second half to take West Bowling into a 24-10 lead. The visitors needed to score next and that's exactly what they did with Jack Briggs crashing over under the sticks in just one of a number of big runs from the second row. Chadwick converted and then scored himself out wide to bring the scores to within four points. With time running out Chadwick scored his hat trick try to level the scores and that's how the game ended.
For the second week running there were some big performances across the team. The never say die attitude which saw the boys come back from a 14 point deficit in the final quarter showed that this team doesn't know when to give in – a point made by coach Tom Saunders at the presentations after the game.
The Coaches' Man of the Match went to Bradley Chadwick for a fine all round performance again and the Supporters choice was Jack Briggs. Tom also gave plaudits to further outstanding performers on the day – Tommy (Lee Corke) and Nathan (Kirk).
Hunslet Club Parkside u13s:  Makaay Mannings, Cameron Ross, C J Hooton, Alex Fulton, Jack Stead, Bradley Chadwick, Sam Bayley, Bradley Wheeler, Nathan Kirk, Harvey Townend, Jack Crowther, Jack Briggs, Tommy Lee Corke.  Subs: Lewis O'Reilly, Gavin Taulo. Coaches: Carl Briggs and Tom Saunders.
This post was written by Phil Goodfield using our Create an article for South Leeds Life page.