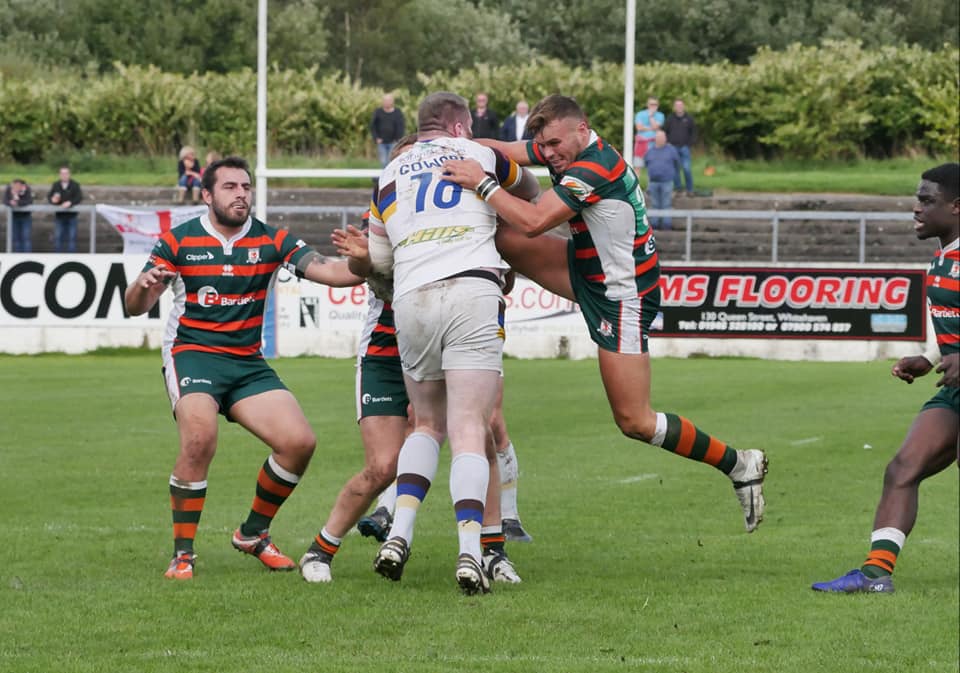 Whitehaven 46-10 Hunslet RLFC
Whitehaven dealt a massive blow to Hunslet's play off chances by handing the South Leeds outfit their second 40 point mauling on the road in the last month.
Photos by Paul Johnson Phoenix Photography
Things were ominous from the start when influential full-back Jimmy Watson was taken off with what looked like a leg injury. Still re-organising, Hunslet's defence opened all too easily for Scott McAvoy to score for the Cumbrians.
Minutes later an attack coming again on the left saw Jessie Joe Parker touch down giving Whitehaven a 10-0 lead in as many minutes.
Hunslet eventually rallied and spent a great deal of time hammering on the home sides line, but over complicated moves and great defence meant that even after repeated sets Hunslet could not score.
Whitehaven stretched the lead to 12-0 after Michael Haley said too much to the referee, but at 12-0 the game was still finely balanced.
This changed though right on 40 minutes when a classy Whitehaven move suckered the Hunslet defence and Jacob Burns' try along with his conversion stretched the lead at the break to 18-0 to Whitehaven.
The second period saw Hunslet attacking down the slope, and it appeared coach Gary Thornton's team talk had worked when almost immediately Muffy Mvududu put Hunslet back in contention. Sanderson converting for 18-6.
Hunslet were now on top with Straugheir and Tonks running strong and it looked inevitable there would be a try. But again the Whitehaven defence held out. Having gained a 20 Metre tap to relieve some pressure after a Hunslet kick had rolled dead, Whitehaven bizarrely elected to kick. Foggin-Johnston fielded it easily and set off on a winding run only to lose the ball in the tackle.
This tilted the impetus back to Whitehaven and after a penalty stretched their lead to 20-8 the Cumbrians managed to edge into Hunslet's half for the first time in the 3rd Quarter.
A rather hopefull kick through on 62 minutes saw a disastrous mix up in the Hunslet defence only for Dion Aiye to sweep up and claim an unlikely try 26-6
Aiye went over again 3 minutes later after some good Whitehaven play and at 30-6 the game was beyond Hunslets reach.
Although Danny Grimshaw registered a try from a clever Cain Southernwood kick, it was mere consolation as Jacob Burns completed a hat-trick with 2 quick tries for the home side. The first from a charge down, the second a gift from a Hunslet dropped ball.
The miserable day for Hunslet was rounded off as Parker scored from a kick to the corner, the hooter sounding to the relief of the travelling fans. Final score: 46-10.
With Whitehaven having to travel to York and Oldham playing Bradford, two wins could still see Hunslet reach the  play-offs, they will however have to play much better next week at home to Newcastle and the week after away to Coventry if they harbour any hope of promotion this season.
Whitehaven RLFC:  Abram, Burns, Mossop, Parker, D.Thompson, Roper, Phillips, Shackley, Howarth, J.Thomson, Mc Avoy, Aiye, Forster, Coward, Eaves, Gillam, Tilley.
Hunslet RLFC:  Watson, Foggin-Johnston, Mvududu, Grimshaw, Ashton, Sanderson, Southernwood, Nicholson, Lee, Reed, Straugheir, Tonks, Foster, Wright, Haley, Flynn, Mackay.
Referee: B Pearson
This post was written by Ian Pickles