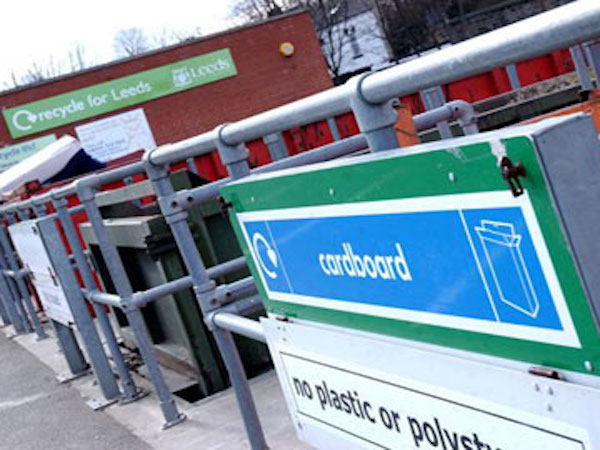 You may be decluttering, you may have bought new furniture and need to get rid of old items, or perhaps you doing some DIY and have more waste than can go in your bin. Whatever the reason there are plenty of ways to dispose of unwanted items safely and legally.
Reuse – could someone else use this?
One person's junk is just what someone else was looking for. Your first port of call, particularly if the item is in good repair, should be to pass it on to someone who can use it. There are various ways to do this.
C.R.A.P. South Leeds (Conserving Resources Associating People) is a new Facebook Group where you can advertise unwanted items or ask for items you need. It's all free and the group has already attracted over 1,200 local residents.
You could donate items to your local charity shop (see below) which will be reopening from 12 April.
Have you got an old bike cluttering up your shed or garage? Contact The Big Bike Fix Leeds on Facebook. They will take your bike, repair it and pass it on to someone who needs it.
Leftover paint after redocorating? Seagulls Paint can use it. You can drop it off at their Kirkstall base or leave it for collection at Middleton Household Waste Recycling Centre.
We all know school uniform is expensive and children grow quickly. If your school doesn't have a uniform exchange, there is a city wide group on Facebook and plans are afoot to set up up a South Leeds Uniform Exchange.
Charity Shops
Church of the Nazarene – Beeston Town Street
Middleton Elderly Aid – Middleton Park Road
Salvation Army – Hunslet Hall Road
SLATE – Hunslet Low Road
St Gemma's – Hunslet Church Street and Beeston Town Street
St Luke's CARES – Beeston Dewsbury Road and Middleton Throstle Lane
St Vincent's – Belle Isle Town Street
SLATE (0113 270 4005) St Luke's CARES (07800 512074) and St Vincent's (0113 245 0800) offer a free collection service for furniture and other large items.
A man with a van – what you should check
Hiring 'a man with a van' is a great way to remove your rubbish, but it is still your responsibility to make sure your waste is not being illegally dumped.
If your waste is found fly tipped and traced back to you, you could be issued with a £200 Fixed Penalty Notice (fine) or even prosecuted through the courts.
The Council advise that you need to check that anyone taking your rubbish is a licensed waste carrier.
ask to see their waste carrier licence, or check online using the Environment Agency's website external link
pay by card or bank transfer and get a receipt or waste transfer note
note the registration number of the vehicle that collects your waste
ask where they are taking the waste to dispose of it
A genuine waste carrier will not mind you asking these questions and will always provide you with a proper receipt. If in doubt, do not allow anyone to take your waste.
Council Services
For detailed information about all Leeds City Council's waste services go to: www.leeds.gov.uk/residents/bins-and-recycling
Household Waste Recycling Centres
If you have a vehicle you can take waste items to a Council Household Waste Recycling Centre.
Our local site is at Holme Well Road, Middleton, LS10 4TQ – behind the Asda store. The site is open every day 8am-6pm through to the end of October.
Due to Covid restrictions you must book an appointment online, but more slots have been added recently.
You can dispose of items such as cardboard, wood, metal, garden waste, beds, mattresses, furniture. Fridges, TVs, small electrical appliances, light bulbs, oil, paint, batteries and other items will be repaired or recycled.
There is a charge for disposing of 'inert materials': hardcore, plasterboard, rubble and soil. These items will have to go to a landfill site for which the Council will have pay a fee and pay Landfill Tax to the government.
If you have a large vehicle, a van or a trailer for example, you can apply for a permit which will allow you to use the site on up to 12 times a year.
Bulky Waste Collections
If you do not have transport the Council run a limited collection service. Up to four items can be collected per visit and you can book a maximum of four collection in a year.
The service normally costs £20, but is free if you receive Council Tax Support, or certain other benefits.
Collection must be booked online and can be booked up to three weeks ahead. However, due to the impact of coronavirus on staffing levels, there may be times when no slots are available for booking. In that case you are advised to try again at a later date.
Litter bins
The provision of on street litter bins falls within the remit of the Community Committee. Councillors have responded regularly over recent years to fund new bins to tackle problem areas.
Last month Councillors in Hunslet & Riverside ward became awatre of a more positive trend.
It became apparent some segments of the local litter bin network are being used so heavily, that the weekly emptying of the litter bins is not enough to cope with the demand of litter being placed within them.
This has been most apparent in the residential areas near to the industrial estates around Hunslet and Stourton (as well as other employment zones) due to people cutting though these areas on their way to and from work.
If you are aware of a litter hot spot that needs a bin please contact your Councillor – see page 18 for details.