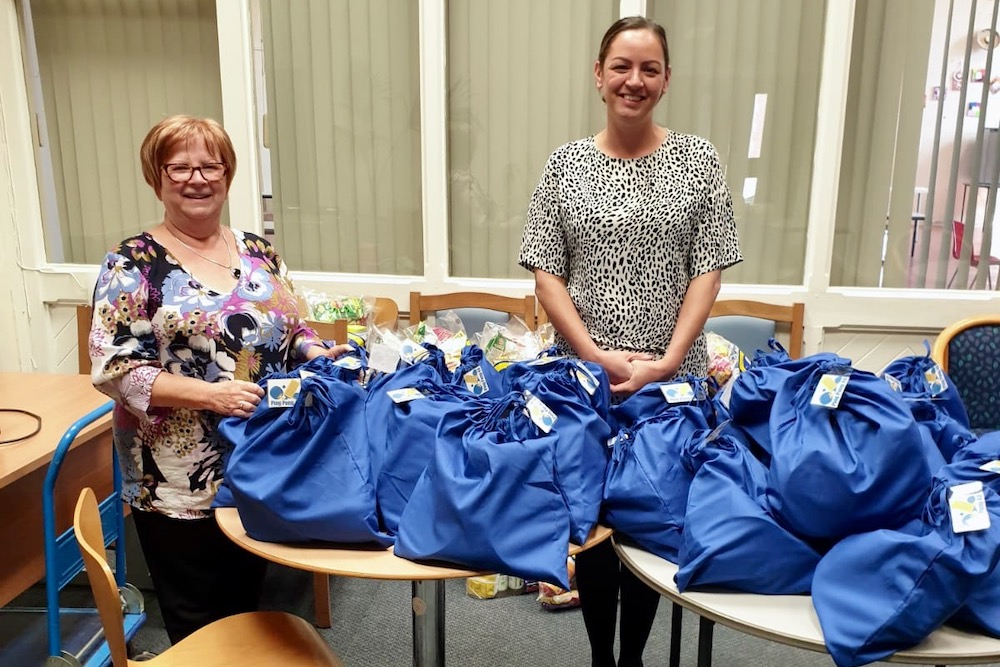 In mid March lots of our face to face work (mainly with older, isolated and disabled people from South Leeds) came to a very abrupt end, when Covid-19 arrived.
At first, we felt very uncertain about what to do and afraid …for everyone.
Then we thought about how we could take the game to people – since we couldn't be physically with them.
So we set about making small bags of good quality equipment (Pingpong4u Starter bags) and applied for grants to make it possible for us to distribute to families in need.
The idea soon took off thanks to generous grants from Sport England, Leeds Community Foundation, Leeds City Council, JUMP Bradford and then a large order from Street Games (North East).
In total we have distributed over 600 Starter bags since Mid-March. Some of these packs have been distributed to groups and organisations in South Leeds including Holbeck Together, Kidz Klub, Re-Establish, Hamara and Leeds CC Housing tenants.
But, it didn't feel enough to just assume people would know how to get the best out of the bags, so …
We added a laminated card showing photos of how to set up 6 of our special Adapted Ping Pong Activities games.
Made videos of how to play the games, how to make them easier/ how to make them harder.
Created a closed Facebook group for families with packs from Beeston Hill and Holbeck to be able to chat, share fun ideas and post pictures/videos using the equipment! (If you have received a pack feel free to find us on Facebook – Holbeck and Beeston Hill PingPong4U).
Then we really pushed the boat out. We really wanted to give people a fun experience and to forget about being in Lockdown. So we set up virtual Zoom training sessions for local group coordinators and community leaders so they could see how to play a wide variety of games and then lead their own community virtual table tennis sessions.
We held regular sessions (3 times a week) for young adults with learning difficulties – these were a real challenge, but immensely enjoyable and hugely rewarding.
We also asked the top England players and coaches if they wouldn't mind making a short video challenge that we could then upload each Monday on Twitter (@PINGPONGFORU) and on our brand new YouTube Ping Pong 4U. Lo and behold the videos came pouring in (and they still are doing).
Probably the highlight to date was the Zoom session where Jack Hunter-Spivey (British Paralympic Table Tennis player) asked to join us! He was absolutely wonderful with our young adults with Learning Difficulties.
Jack was amazing with the students who really appreciated him taking time out to be with them.
It feels amazing to think that we have now got young families playing with our Pingpong4u starter bags on the 9th floor of blocks of flats, in peoples living rooms and in local parks.
One mother gave us this feedback:
"Honestly it's been really great for the kids. We've even been doing some of the activities suggested in the pack. The kids have been enjoying the pack very much, we all have.

"My kids have been throwing a ball into a cup. And we've even used some old boxes. Cut holes inside for balls to be thrown into. And one box inside to out.

"But mainly enjoying ping pong. Both in the house and outside. At the kids request!

"Thank you so very much for the pack, it's been a godsend honestly. My boys have special needs and usually don't take to things like this. They can find themselves getting frustrated before they start. They love this pack, we all do."
More recently we have started to develop face to face sessions for the Healthy Holiday children at Holbeck Together. Super fun sessions where children can learn new skills and interact together, whilst adhering to social distancing guidelines!
So there we have it, from "What do we do now?" back in mid March to reaching out to a whole new group of people who have never even picked up a bat before and who are REALLY loving their new sport.
What next? Well we are looking forward to working and developing a new programme for schools in September that will allow many more new children and families to experience the great game!
We will keep applying for more grants to be able to buy the equipment to make up more activity bags. And we need to keep getting the word out there telling everyone what is on offer.
We are also very keen to develop new community clubs in South Leeds where we can link our families to go and develop their skills further.
By linking together our work with families, schools and establishing new community clubs we truly believe that the great sport of table tennis will grow stronger and stronger.
Currently in the South there are tables at Holbeck Together, Hamara and St George's Centre. It would be great if we could increase the usage of these as well as hopefully find funding for more tables across the area.
If you want to hear more about where/ when you can play near where you live, feel free to contact : peter@pingpong4u.co.uk or karen.peck@leeds.gov.uk or james.beaston@leeds.gov.uk
This post was written by Peter Thompson

Photo: Ellen and Claire at Holbeck Together prepare to distribute starter packs
We encourage anyone living or working in South Leeds to use this website to tell their news. You can either use the Create an article for South Leeds Life page, or email us at: info@southleedslife.com