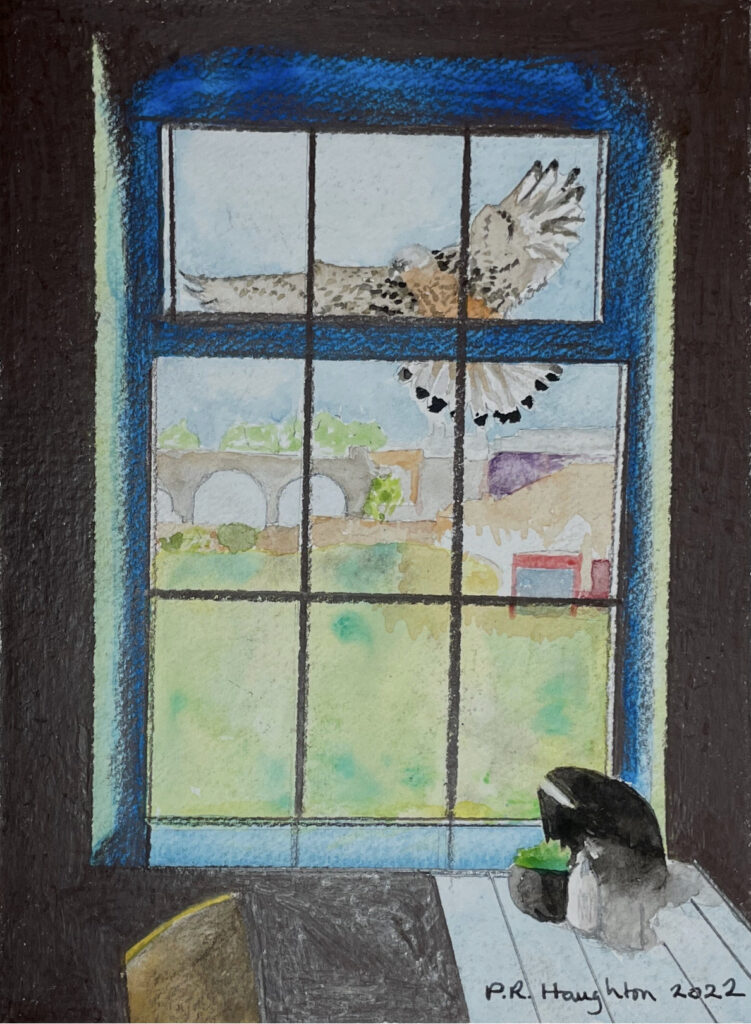 Wasteland, beyond the window from Northern Monk Refectory, Marshall Street.
It may, as part of the city's expansion plans, be the site of more office buildings to secure more investment for Leeds, thereby strengthening financial security and creating more jobs for the city.
Or it might become a park, a green space for residents living by the river and in Holbeck, which may even also attract cyclists commuting into Leeds because it's a more pleasant access route.
Ordinarily we think of such spaces as 'pending' – uncared for fenced-off spaces which could easily be left for years without drawing too much attention. Sure, I know, I could google to find out if the space has yet been appropriated for use.
But, on that particularly October afternoon, when you were lucky enough to experience brilliant sun, and sky of such blueness… that day, that space was nature's domain.
I was the only customer sitting by the windows who'd caught sight of the kestrel flying past at speed so fast it was too late to alert anyone. And, it could be that if you did mention the sighting to, say, a local or a member of staff, it might carry the risk of the matter-of-fact reply, "Yes, but you see 'em here all the time".
On the hunt, with no-one whispering in its immaculately tuned ear that this was what is referred to as wasteland.
I was a Mod when it emerged as a subculture back in the Sixties. Mohair suits, long leather trench coat, riding round on me Lambretta.
Until me Lambretta got nicked. And if you're a Rocker reading this please don't get territorial – I did switch later to a look based more on John Lennon as seen on the front cover of his Rock And Roll album.
The Mod Paul Weller switched too, leading to desertion by fans because he'd moved on to form Style Council. The 'betrayal' was a pop video of him dressed like an Etonian navigating a punt. He, who'd previously performed The Eton Rifles when with The Jam, an acerbic attack on our segregating class system.
Found out about this reading an interview he gave not too long ago. He said he couldn't continue writing lyrics which had no impact whatsoever on changing the status quo. Then all he had to do was mention Boris. He also expressed an idea that hadn't until then occurred to me. 'Mods' wasn't just a 60's cult. Mods meant something more, something Weller sustains to this day. It's a commitment, to constantly look to modernise, to modify, not just for the sake of it but to always seek to make real improvements in life. To constantly progress.
Yet we have pundits claiming that we're living in 'a post-post modernist' era. I don't see any value in a description claiming we are living in an 'after' of something already 'aftered'.
If we were to name a new age (no swearing please) what would it be?
Until then, I think we're still living in a modern era which we know requires the closest attention if we are to make things any better.
The Northern Monk Refectory achieves this, with its cutting-edge progressiveness, its excellent craft ales, its awards for treating employees as human beings who matter, and its highly professional staff extremely knowledgable about their top quality products.
There's a comedian – didn't catch his name (probably saw him on Live At The Apollo) but he got a good laugh from the audience when he joked that the inner city community he lived in (somewhere in London) estate agents there promoted it as 'a vibrant, lively area'. So I've pinched the joke, raising laughs if asked where I live by saying, "Beeston – estate agents describe it as 'a vibrant, lively area', you know." (Just a joke all right? Love where I live. More on what it's really like living here in future issues.)
So when camping in Lincolnshire last year with me biking it to the next village to top up supplies it came as a bit of a surprise when locals, on seeing me approach called out, "Good afternoon! How are you today?!" (There are actually ladies you've never met before, on the pavement, greeting you as you cycle by!)
Or, when visiting the local Co-op, the group of youths standing outside open the door for my wife greeting her with a polite, "Good morning."
Of course rural areas are different from cities, and you'd be plain daft trying this approach in such a busy place as Beeston.
But maybe it wouldn't hurt if we could all be that little bit more polite to one other.
Oh… and I'm doing a charity run in London next month for Amnesty International. You can find out more about it here –