The NHS in Leeds is asking people what they'd like to see in a new diabetes strategy for the city.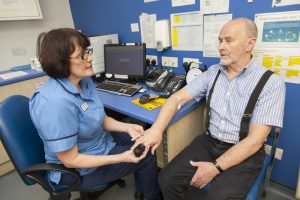 The strategy will outline plans to reduce the number of people in Leeds who develop the condition and identify everyone who has it, while also looking at how we can support people with diabetes to live a fulfilling life.
There are currently around 44,000 people in Leeds with diabetes, and a further 32,000 at high risk of developing it. By 2034, it's estimated that 1 in 10 people will have the condition.
Diabetes is a lifelong condition where a person's blood sugar level is too high. It is a leading cause of preventable sight loss and amputation and a major contributor to kidney failure, heart attack, and stroke.
There are two main forms:
Type 1 diabetes is where the body's immune system attacks and destroys the cells that produce insulin. Approximately 10% of adults and 90% of children with diabetes will have type 1. Onset of Type 1 diabetes cannot be prevented.
Type 2 diabetes is where the body doesn't produce enough insulin, or the body's cells don't react to insulin. 90% of adults with diabetes have this type but it can often be prevented.
Dr Bryan Power, clinical lead for long term conditions at NHS Leeds Clinical Commissioning Group (CCG) and a GP at Vesper Road surgery, said:
"We're seeing more and more people under 40, including children, developing type 2 diabetes. That's a real worry because as well as the impact it has on everyday life, it can also have some very serious complications.

"It's a worry too because we currently spend around £87million each year in Leeds treating those complications. If diabetes, in particular type 2, continues to increase as predicted, treating it may account for 15% of our total budget by 2030. That's a huge amount to be spending on a condition which can often be prevented by maintaining a healthy weight and being more active.

"In Leeds, we already have very successful prevention programmes for type 2 diabetes and have developed new models of care that are helping prevent patients from developing complications, but we want to do more. We want to be the city where diabetes diagnoses decrease rather than increase, and we want to provide the best possible treatment and care for people with the condition."
The CCG is asking anyone with an interest in shaping the future of diabetes prevention and care to take part in a survey – www.smartsurvey.co.uk/s/leedsdiabetes2018
They'd like to hear from people with diabetes; from friends, family members or carers; and from those who work with people with diabetes. Insight from the surveys, as well as from a range of workshops with patients and health care professionals, will help shape the citywide approach to preventing, identifying and treating the condition.