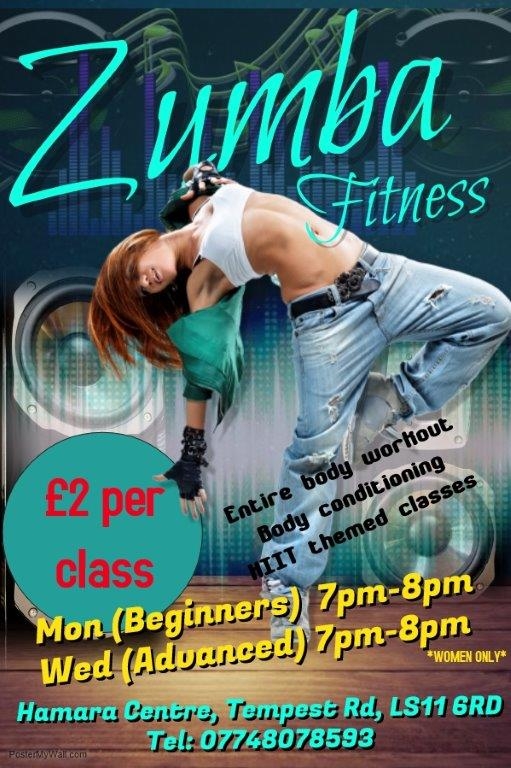 Feeling the pinch? Is this affecting your waist line just as much as your wallet?
OBESITY is on the increase, trebling in the last 30 years.
The Hamara Centre is currently exploring methods on how the local community can be empowered to reduce their risk of developing long term illnesses through exercise.
The weekly female only Zumba classes are a prime example of how we are engaging with the local cummunity.
The Centre's staff are fully qualified in various professions and as such can offer the best advice around healthy living.
Obesity can cause cancer, diabetes and coronory heart disease amongst other life threatening illnesses. The most effective methods to reduce the risk of developing these illnesses is to take part in regular physical activity and maintaining a healthy diet.
Zumba is a great activity to help you on your way to losing that excess weight.
Zumba provides an entire body workout. Each piece of choreography is designed to target multiple muscle groups simultaneously therefore you will burn more calories through doing a fewer amount of exercises.
Each Zumba class is HIIT (High Intensity Interval Training) so you burn fat at a faster rate.
Zumba allows you to develop your stamina so you can keep exercising comfortably for longer. The classes are delivered by a fully qualified Zumba and Gym Instructor.
Each Zumba class uses a different genre of music including but not limited to Bhangra, HipHop and Pop.
Classes cost £2, we believe this is a small price to pay for living a healthy life.
If you are serious about losing weight and living a healthy life then dance your way to the next class.
Beginners: every Monday 7-8pm
Advanced: every Wednesday 7-8pm
All ages and abilities welcome. Contact the instructor for further details on 07748 078593.
This post was written by by Noreen Ahmed