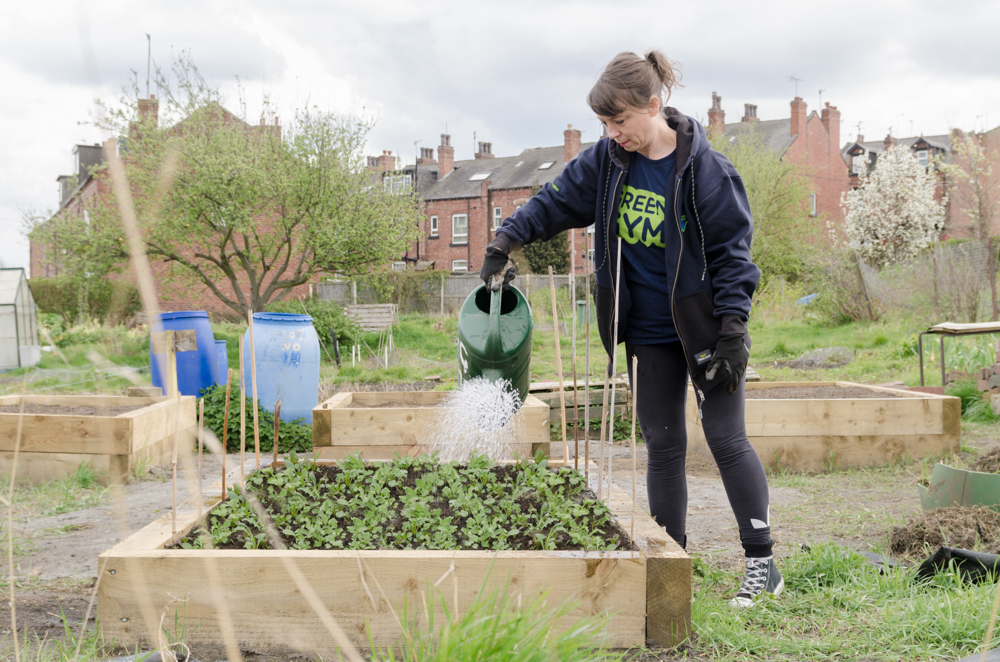 A green space buzzing with insects and birds, beneath filtering sunlight highlighting the green grass and radiant flowers. Not a sentence you'd necessarily associate with urban Leeds but certainly a scene I was met with when I visited the Green Gym at the Lady Pit Lane Allotments in Beeston.
Zoe Parker showed me around the Green Gym and explained it is a fully inclusive and accessible scheme that runs across two sites, Skelton Grange and Hollybush. They provide services for adults, children and have a packed programme which is certainly worth looking at, especially if you want to get outdoors or even learn some less intensive table top skills.
They offer regular activities and pop ups, one of which was recently completed at the Vale Circles site near Dewsbury Road. These activities are all designed to be physical activity with purpose, helping people understand the nature that surrounds their doorsteps and learn to harvest and use these natural resources in their daily lives.
Zoe and her team aim to empower and encourage their participants to recognise their own skills and learn as much as they can to become self-sufficient and give them the 'tools' to take over running the sites themselves. Some of the future activities Zoe has planned are willow weaving, planting and expanding their current plot to include not only the widely spaced raised beds, but to include a seating area for the participants to relax and socialise. Come rain or shine it will be a lovely oasis in the business of the city!
Green Gym have had great outcomes and say a large number of their participants have reported increased mental and physical wellbeing. The allotments themselves seem to be coming alive again with many of the previously fallow plots now cultivated and lovingly nurtured surrounding the Green Gym.
Ted, affectionately referred to as the 'King of the allotments' has been present at the site for over 30 years and said about the project:
"It's tremendous, bringing all different groups of people together."
So why not come along and take a look, get your wellies on and grab a spade and when you're finished enjoy a cuppa and chat in the beautiful surroundings of the allotments.
Skelton Grange is looked after by Colin Green who has a packed schedule so please check out their Facebook page for more information at TCV Skelton Grange
The next event happening at the Lady Pit Lane site is a session learning about herbs, how to identify them and learn about their properties. If you are over 50 and would like to learn more come along on Tuesday (23 April 2019) to the Lady Pit Lane allotments. You can also find more information on their Facebook page TCVGreenGymLeeds.
The regular Green Gym session with Zoe is every Thursday 1-4pm and is fully inclusive so please give it a go and become part of this wonderful project!
The project is supported by funding from Awards for All, The players of the Peoples Postcode Lottery and Leeds City Council Adults and Health.
Photo: Phil Luxford