As the bluebells start to come into flower, the Friends of Middleton Park are gearing up for their summer programme featuring events every Sunday from 1 May to 24 September 2017.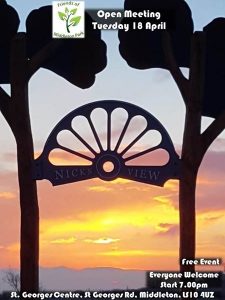 As in previous years events will range from brass bands, to kite displays, walks, birds of prey and not forgetting the annual visit from Oddsocks theatre for some knockabout Shakespeare. All this washed down with homemade tea and cake.
Before we start our summer programme we have a Steering Group Open Meeting on Tuesday (18 April 2017) to share more about what we do.
This is a really important meeting for us as it helps set us up for the Summer Programme. And, as ever, we continue to need volunteers to help us to run all of our events, from setting out chairs at our bands, to selling cakes, to helping on our walks, to helping steward our larger events. This is where you come in and why it would be great to meet you at our Open Meeting.
We'll also have an update from Leeds City Council on the work that has already started on the Urban Bike Park. We'll be introducing our new FOMP membership scheme, which includes membership offers from local businesses and free gifts every year. And we'll have a volunteer speaker from the RSPB talking about 'Birds of Parks and Gardens' – what to look and listen for in the Park.
The meeting will be upstairs at the St. Georges Centre in Middleton from 7pm.
See you there…
This post was written using our Create an article for South Leeds Life page.