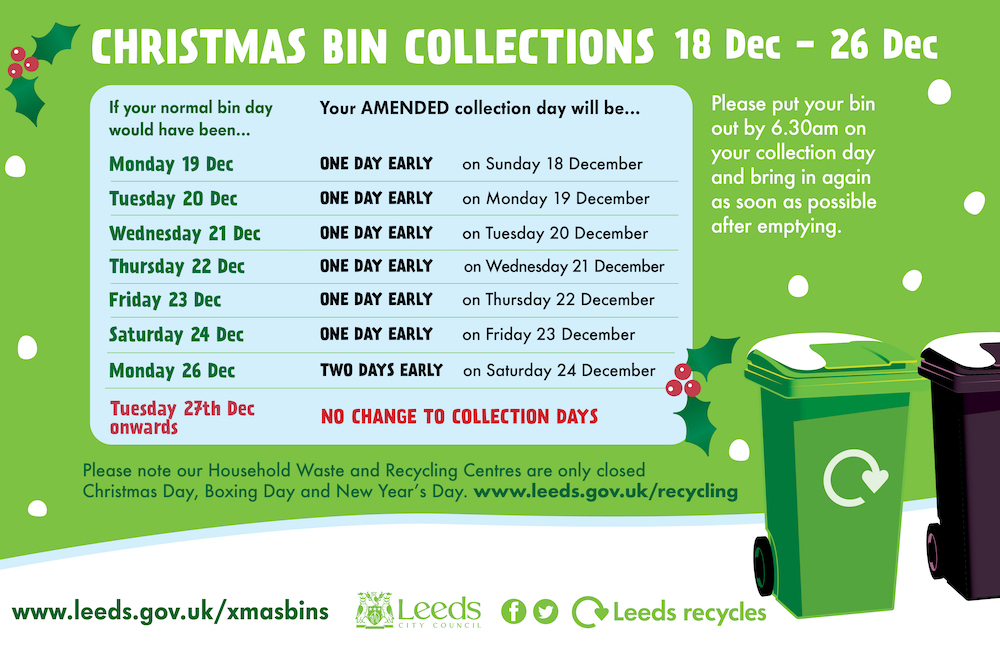 With over a thousand tonnes of extra black and green bin waste expected to be produced and over a million bins to be emptied across Leeds during the festive period, the council's refuse service will be doing all it can to ensure bin collections continue to run smoothly.
Collections will take place throughout the festive period, with the service only closing on Boxing Day this year, with Christmas Day and New Year's Eve falling on a Sunday.
Your bin day will be different in the week before Christmas this year, with collections taking place one or two days earlier this year, starting from Sunday 18 December 2022, with normal collection days resuming from Tuesday 27 December.
| | |
| --- | --- |
| If your normal bin day would have been… | Your amended collection day will be… |
| Monday 19 December | One day early on Sunday 18 December |
| Tuesday 20 December | One day early on Monday 19 December |
| Wednesday 21 December | One day early on Tuesday 20 December |
| Thursday 22 December | One day early on Wednesday 21 December |
| Friday 23 December | One day early on Thursday 22 December |
| Saturday 24 December | One day early on Friday 23 December |
| Monday 26 December | Two days early on Saturday 24 December |
For bin collection from Tuesday 27 December and onwards there will be no change to collection days.
Leeds' household recycling centres will be closed on Christmas Day, Boxing Day and New Year's Day but will otherwise be open and operating as normal. Glass jars and bottles can be recycled at any of our 700 recycling banks throughout the festive period across the city, which can be found via this map.
A leaflet setting out bin collection dates for Christmas and New Year will be dropping through letterboxes (or chimneys) from the start of next week.
The leaflet also includes some top tips on how best to recycle over the Christmas period, with a useful reminder of the many items that can go into your green bin for recycling. Households can help do their bit for the environment by taking time to recycle the cans, paper, cardboard and plastic that can go in their green bin and use one of the hundreds of glass banks across the city.
People can check their Christmas bin collection dates at www.leeds.gov.uk/mybinday or get bin reminders straight to their phone by downloading the Leeds Bins app.
Ten surprising Christmas items you didn't know you can recycle:
Real Christmas trees – bring trees to a Council recycling centre to be composted.
Unwanted gifts – drop your unwanted gifts off at a charity shop or rewrap them and give them to someone else next year.
Batteries – toys mean batteries and if you've got dead disposables they need to be recycled properly. Almost all supermarkets have a battery collection bin as do all our household recycling centres.
Broken Christmas lights – put them in an electricals bank, check bit.ly/recycleyourelectrics
Christmas cards – in your green bin except if they're glittery! For glittery ones cut them up and use them as gift tags
Wrapping paper – as long as there's no glitter on it, chuck it in your green bin! You can do the scrunch test to check it's not plastic – paper stays scrunched, plastic bounces back.
Having a turkey or a nut roast? Give the foil trays a quick rinse to get any chunks of food off it and it'll go in your green bin.
Plastic sweets tubs – whether you're a Celebrations or a Heroes family, one thing we can all agree on is the tubs can go in your green bin! And don't forget the Christmas Pudding tub either.
Wreaths – remove any plastic or glittery parts. The plant bits can be chucked in your brown bin ready for collection in March or brought to the recycling centre with your tree.
Glass bottles – Bucks Fizz, Christmas cordial or a bottle of mulled wine – if it's glass then drop it into your nearest bottle bank www.leeds.gov.uk/glass
This post is based on a press release issued by Leeds City Council
Whilst you're here, can we ask a favour?
South Leeds Life is published by a not-for-profit social enterprise. We keep our costs as low as possible but we've been hit by increases in the print costs for our monthly newspaper – up 50% so far this year.
Could you help support local community news by making a one off donation, or even better taking out a supporters subscription?
Donate here, or sign up for a subscription at bit.ly/SLLsubscribe