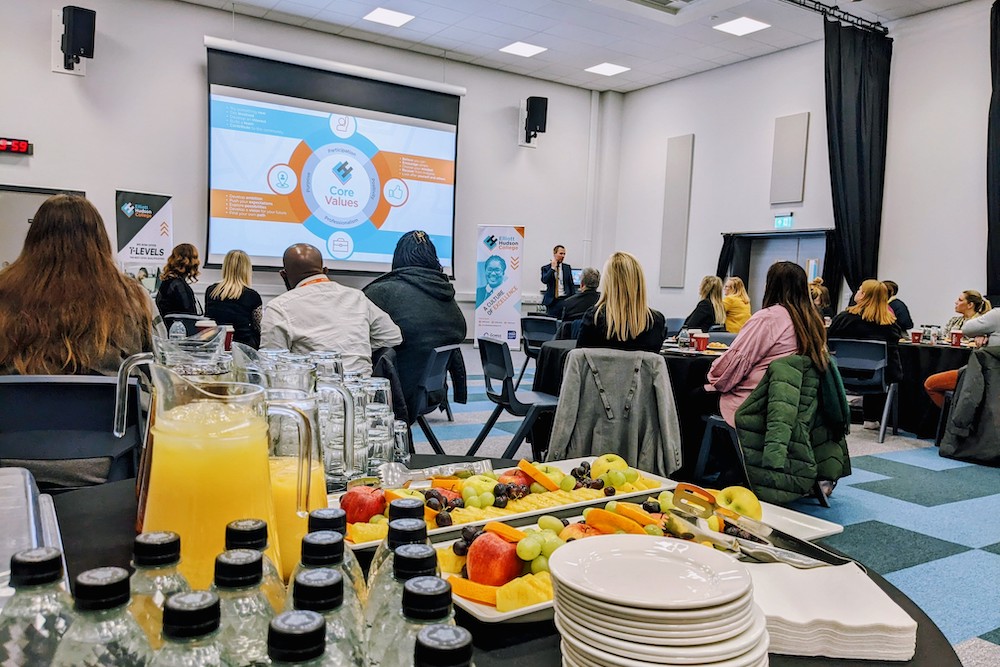 Elliott Hudson College was delighted to host their first Employer Breakfast careers event with local businesses and industry partners last month.
The networking careers event promoted collaboration between Elliott Hudson College and local companies and businesses in the Leeds area. In attendance was a mixture of prospective and existing careers partners from across West Yorkshire, including DAZN, Mid Yorkshire Hospitals NHS Trust, HMRC, Clade Engineering, Willmott Dixon, Mott MacDonald, Mazars, Turner and Townsend, Northern Rail, and Sulzer Pumps.
Guests were welcomed by Principal, Lee Styles, who opened the event by introducing the college's current culture and ethos, and expansion plans for the next few years, he said:
"Community sits at the heart of Elliott Hudson College so we're excited about being able to strengthen our connections to businesses within our local and regional community. We know that when we work in partnership we're able to better prepare students for their next steps by strengthening the knowledge and skills that they need to be more successful in the workplace."
The event highlighted the variety of ways that employers can get involved with the college's careers and skills development programmes, including:
Guest speaking
Enrichment activities
Live client briefs or projects
Hosting workshops on professional skills
Workplace tours and student shadowing opportunities
T Level, 45-day work placements
Work experience and internships
Clare Lucas, Assistant Principal – Destinations, and Clare Carr, Assistant Principal – Student Experience, then discussed wider opportunities for employers to work with students through work placements, vocational courses, workshops, and enrichment programmes. The key takeaway for employers was the college's focus on soft skills such as: communication, teamworking and project management, which are common skills that employers find are lacking in the work force.
"The college's aim is to ensure that students are fully informed about their career pathways, and that understanding is best delivered through our industry partnerships," Clare Lucas said. "Employers are experiencing skills gaps, where they find candidates are not fully prepared – our job is to fill that gap by developing those vital employability skills in our students."
Amongst the speakers were Ellie Valentine from The Mid Yorkshire Hospitals NHS Trust; Philip Stewart from DAZN and Andrea Jenkyns MP for Morley and Outwood.
Philip shared his thoughts on working with the college:
"It was a pleasure to attend this event to support the wonderful work the team at Elliott Hudson College are doing to provide young people with the opportunities to thrive in a job market that is increasingly competitive. Having worked with Elliott Hudson previously, I would urge any business that is interested to get in touch with Andrew Stead and the brilliant team."
Representatives in attendance were able to network with industry professionals and understand how they could get involved with working with students and had the opportunity to tour the college in groups led by student ambassadors.
David Swyer from Digital Services at Mid Yorkshire Hospitals NHS Trust, attended the event and commented:
"One thing that really struck me about the college was positive messaging which I saw across the college on the tour and some of the fantastic spaces … (I) was amazed to see posters for LGBTQ+ for the get over it campaign and to see Marsha P Johnson quoted prominently on one of your walls."
As well as an opportunity for networking, the event also supported the launch of our two new T Level qualifications in Business Administration and Digital. The first cohort for the new T Level qualifications will be starting at Elliott Hudson College in September 2023.
Andrew Stead said:
"Our decision to expand into T level qualifications comes from a commitment to bridge the much-needed skills gap in Digital, Business and Administration in Leeds. By working closely with companies and industry partners across West Yorkshire, we can ensure that the skills our students are taught are relevant and sort after in the workplace."
These new two-year programmes are equivalent to three A levels, are a technical alternative to A levels and vocational subjects; and are designed with employers and businesses, giving students the skills, they need to start work or an apprenticeship.
"T-levels seem like a fantastic opportunity for employers and students alike," said Philip Stewart from DAZN. "Access to forty-five days of work experience within a professional environment that supports their learning is a game changer for many young people, while employers get the opportunity to impart forty-five days of knowledge which, if tailored carefully, could lead to recruiting enthusiastic hires who are already up to speed on your business goals and systems, and embedded in your team and culture."
DAZN has recently hired an Elliott Hudson alumnus as a full-time member of staff following a work experience placement.
Clare Carr, Assistant Principal said,
"The feedback from today's event has been fantastic, it has really helped showcase opportunities to local employers and we are looking forward to working more with Leeds-based companies in the future."
This post is based on a press release issued by Elliott Hudson College
Whilst you're here, can we ask a favour?
South Leeds Life is published by a not-for-profit social enterprise. We keep our costs as low as possible but we've been hit by increases in the print costs for our monthly newspaper – up 83% this year.
Could you help support local community news by making a one off donation, or even better taking out a supporters subscription?
Donate here, or sign up for a subscription at bit.ly/SLLsubscribe