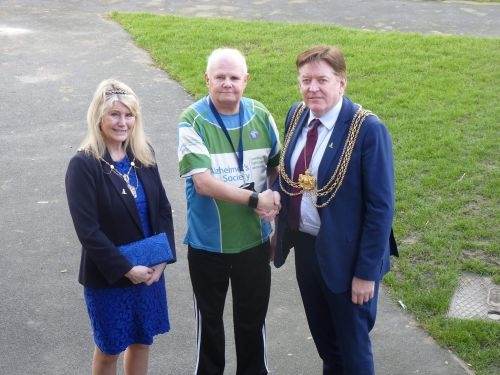 The Make Time for a Cuppa day was a joint venture with me and Carla of BITMO's GATE.
Could not have done without Carla, so thank you Carla.
The plan was to make it a big event this year and invite various organisations. The Lord Mayor and Mayoress where brilliant to come and support our event. I kept this quiet until I got to know that they could attend.
I arrived early at BITMO GATE to see if anything needed doing prior to the event. Everything was in hand with only food to put out, and sandwiches to make. Tony, Steph and Gerry would not let me do anything. Everything in hand.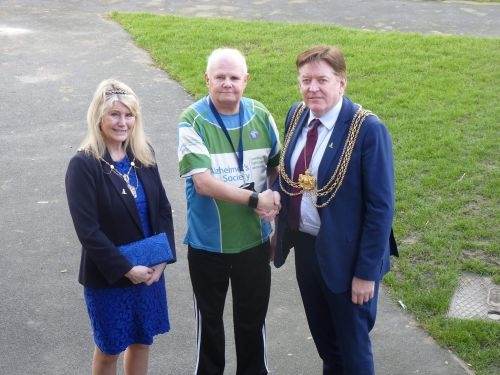 Around 12.50pm I waited outside to keep an eye on parking space for the Lord Mayor's Jag due to arrive at 1pm. Just after 1pm Lord Mayor Cllr Gerry Harper arrived with his Lady Mayoress.
First thing the Lord Mayor said was I've heard a lot about you, oh dear. He gave me a badge. Very few people have a got a Civic Hall badge he said, suppose like a Blue Peter badge then.
Julie took a photo of us, then made our way into the GATE centre to introduce the guests to various people and told him about the centre and got Chris Simpson (BITMO CEO) to add more info.
Continued to introduce him to more people staff and volunteers. I said a few words to the Lord Mayor's driver (Mark) and asked him did he find his way OK. With sat-nav nowadays can't go wrong. Did I just say can't go wrong? Lol.
Eventually with many photos taken, had time to have a sit down have a chat and made them a cup of tea.
Told them to help themselves to cake, and savouries. Gerry was very interested in my volunteer work and I pointed out other people who volunteer within BITMO gate.
Someone mentioned I'm up for Tenant shortlisted award. He was interested in that. Told Gerry that Julie had won a award 2 years earlier and runs among other things a Ancestry Group every week.
Pointed out Gerry, Steph and Tony who made the Tea Party and that they volunteered on a Friday morning to make breakfast for anyone wanting one. I gave him copies of South Leeds Life newspaper out that morning.
Now time for Juliana to start singing and played a couple of request for me, one was Time to say goodbye by Kathrine Jenkins, used to play this to finish my Sunday morning radio show at South Leeds community a couple years back.
The centre was filing up nicely and about 60 people now enjoy the music and food. The Lord Mayor and lady Mayores leading the way to Amarillo dancing around the centre, what a good sport.
Think we were trying to copy Peter Kaye version he did for Red nose day, our version was better.
During the break from Juliana, time for the raffle draw. 1st prize was Tea for 2 at the Civic Hall with the Lord and Lady Mayoress. Margret  won this, and gave it to me as a thank you for all my volunteer work. Sue now wants me to buy here a dress for the occasion.
Second prize was a meat hamper donated by Chris and Julie Holmes. A mate of mine Terry won that.
Many more prizes were won. There is some prizes behind the counter, if you went before draw was completed.
The Lord Mayor and Mayores had a meeting at Civic Hall so made way to there jag (still has U1 Number plate) shaking hands with everyone as they went on there way.
The was still plenty of time left for people to eat drink and listen to the lovely Juliana.
We made a total of £100 pounds from the raffle and contributions from Bitmo gate. Many thanks must also go to Chris Simpson and the gate for paying for most of the food and the singer Juliana.
Thanks go to Julie and Lynne for taking photos and Tony, Gerry and Steph for organising the food. Of course thanks got to the 60 or so people that turned up for this fantastic and amazing event.
A slide show of the many photos  taken on the day will be up-loaded. soon.