Another milestone reached today as this is the 8th consecutive Saturday without a parkrun.
However, we have had plenty to celebrate over the last 7 years in Cross Flatts Park and there will be many more reasons to celebrate in the future. Including plenty of cake I am sure!
Milestones that should have taken place over the last few weeks will still happen and there will be plenty of cheering when you do!
Whether you had done your 1st parkrun just before lockdown (Gemma Jones) or completed your 577th (David Womersley) there is always something to aim for! And if a 5k isn't always for you there is also the 25 volunteer milestone to aim for.
Please tell us your milestone stories, we would love to hear them.
Thanks to Phil for putting together a video to celebrate Kenneth Ingram's 100th parkrun back in 2016: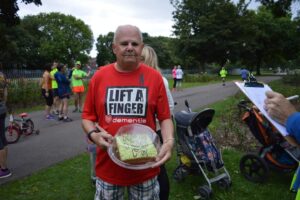 Ken learnt of parkrun from Nicola Greaves at South Leeds community radio when he was broadcasting there.
He ran his 1st on 22.03.14 and completed his 100th on 17.09.16, all at Cross Flatts but had to give it up due to arthritis in his knee.
He also volunteered as a photographer on a number of occasions.
Cross Flatts parkrun – some milestone stats:
1st 30.03.13 – 69 parkrunners
50th 15.03.14 – 72 parkrunners
100th 14.03.15 – 103 parkrunners
250th 24.02.18 – 148 parkrunners
500th ??? parkrunners! Who knows!
Kenneth says
"Got to my 99th Park Run when my Physio said would have to give up Running at the Park Run. or i will end up doing damage to my Knee.  Carried on to my 100th Park Run. Got the Tea-Shirt, and carried on taking photos and marshalling for awhile."
This post originally appeared on the Cross Flatts parkrun Facebook page on Saturday 9 May 2020