The year 1965, the middle of the swinging sixties. Britain's wartime hero and ex-prime minister Winston Churchill passes away, Yorkshireman Harold Wilson is Prime Minister, Liverpool beat Leeds United to lift the FA Cup for the first time, The Beatles release Help! And Rubber Soul and the Death Penalty is abolished in Great Britain.
55 Years ago last week (8 May 1965) one of the greatest ever Rugby League Challenge Cup Finals was played out on the lush green turf of Wembley Stadium between much fancied Wigan and unfashionable Hunslet, it will go down in history as a great sporting occasion.
At the time Hunslet was still a team with a big local support and throughout the 1950s had been there or thereabouts in the league, but more often the bridesmaid rather than the bride when it came to winning trophies.
The Parksiders appointed former Castleford star Fred Ward as Coach in the early 1960s and started to mine a seam of local talent that slowly built into a decent team. Victory over Hull KR in the 1962/63 Yorkshire Cup by 12-2 was a start, but there was more to come.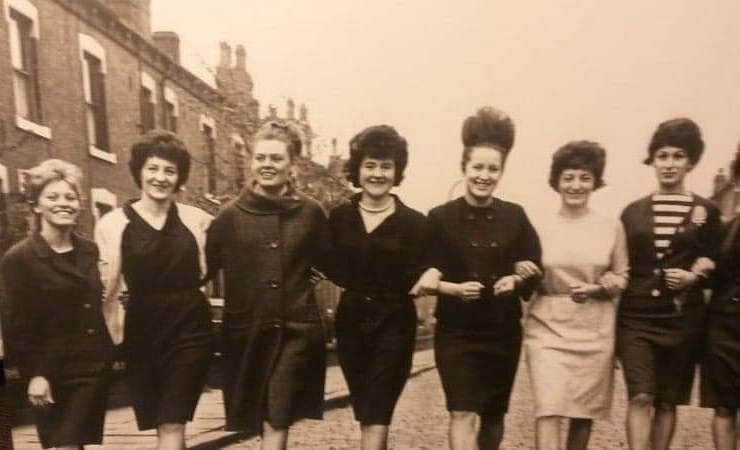 Unusually, Hunslet's route to the final meant they didn't have to leave their home city. Victories over Oldham and Batley at Parkside saw them drawn at home to Leeds in the quarter finals. Although not favourites, Hunslet pulled through with a 7-5 victory in front of over 20,000 spectators.
The short trip to Headingley beckoned for the semi-final against 60's giants Wakefield Trinity. Hunslet had the day though and with an 8-0 win booked themselves at Wembley for the first time in 30 years.
So with anticipation Hunslet readied themselves for Wembley and the daunting task of taking on a much fancied and highly skilled Wigan team. The Parksiders opted for White with a Chocolate chevron (V) for their strip rather than the traditional Myrtle, Flame and White, and the supporters crafted Banners and rattles for the occasion.
Many schools and clubs organised trips and the thousands of fans set off from the city for the big day. Steve Brady and Peter Dawson remembered going to the Tower of London in the morning before heading to Wembley for the match.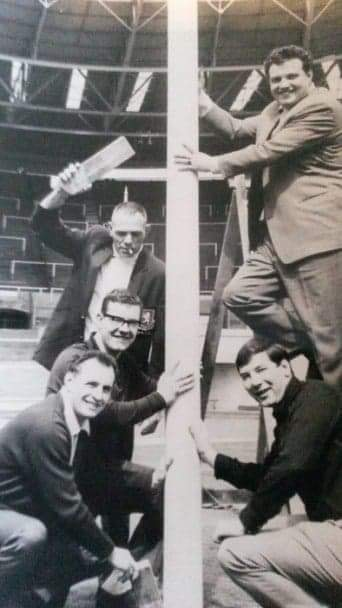 89,016 spectators crammed into Wembley for the pre-match community singing, national anthem and formalities before the game got underway.
It couldn't have started worse, Hunslet kicked straight into touch and Wigan's Laurie Gilfedder made it 2-0 from the resulting penalty. In fact Hunslet's touch finding was awry all day, failing to kick dead on many occasions.
The Parksiders did settle into the match though and squared it up at 2-2 after full-back Billy Langton converted a penalty, then controversially were disallowed a try when Dennis Hartley put John Griffiths over in the corner. Maybe with today's technology it would have been a different story but referee Joe Manley said no, so no try!
The scare jolted Wigan into action and on 18 minutes Holden sliced through to give the Lancastrians a 5-2 lead (it was 3 points for a try in those days). Langton reduced the arrears to 5-4 with another penalty for a loose arm in the scrum and Hunslet were certainly in the fight.
Wigan's Great Britain and Wales winger Billy Boston was an awesome sight at full tilt and looked all on to score but for a brave try saving tackle from Hunslet full-back Billy Langton. Wigan did get a penalty soon after though and stretched their lead to 7-4. Soon after quick work by Wigan showed why they were favourites and Trevor Lake went over, with the conversion making it 12-4. Half time approaching but Hunslet were running out of steam, was the cup lost?
Well not quite, as just before half time Geoff Shelton hit the ball at pace, rounded Wigan's full back and scored by the posts to give Langton an easy conversion and make it Hunslet 9 Wigan 12 at the break.
Hunslet gave as good as they got early in the second half. Geoff Gunney getting his face rubbed in it by the Wigan tacklers, but it was the pace of Gilfedder that saw the next score and with a conversion from the corner Wigan stretched their lead to 17-9 on the hour mark.
A brilliant Trevor Lake try stretched the lead to 20-9 and it looked all over, until big John Griffiths on Hunslet's wing stepped inside to score under the posts and moments later Hunslet were awarded a penalty for offside. That made it 20-16 to Wigan with 5 minutes to go.
But it was too little, too late for Hunslet who just couldn't manage that last score. The cup had gone to Wigan but Hunslet had played their part in a great final.
One unusual fact was that the Lance Todd Trophy for man of the Match was shared between Wigan's Ray Ashby and Hunslet's Brian Gabbitas, the first time that had ever happened.
Wigan returned to Wembley the following year only to lose to local rivals St Helens, and had to wait until 1985 to be cup winners again, before winning 8 times on the trot in the late 80's early 90's.
For Hunslet, decline came fast. Players left and the crowds moved away and by 1973 the club was going bust and had to sell their home ground at Parkside. Luckily the club was revived as New Hunslet and eventually moved back to Hunslet and returned to Wembley again in 1997 for the Challenge Plate Final.
Some of the beaten Hunslet team did see the bright lights again. Ken Eyre and Bill Ramsey were part of the Leeds team to beat Wakefield in the 1968 'Watersplash final' and Dennis Hartley had success in 1969 and 1970 with Castleford.
But for the supporters it was a day to remember and for Hunslet if only …
Teams
Hunslet:  Langton, Griffiths, Shelton, Preece, Lee, Gabbitas, Marchant, Hartley, Prior, Eyre, Ramsey, Gunney, Ward.  Subs:   Render, Baldwinson.
Wigan:  Ashby, Boston, Ashton, Holden, Lake, Hill, Parr, Gardiner, Clarke, McTigue, Stevens, Evans, Gilfedder.  Subs: O'Loughlin, Lyon.
Photos: Richard Hartley