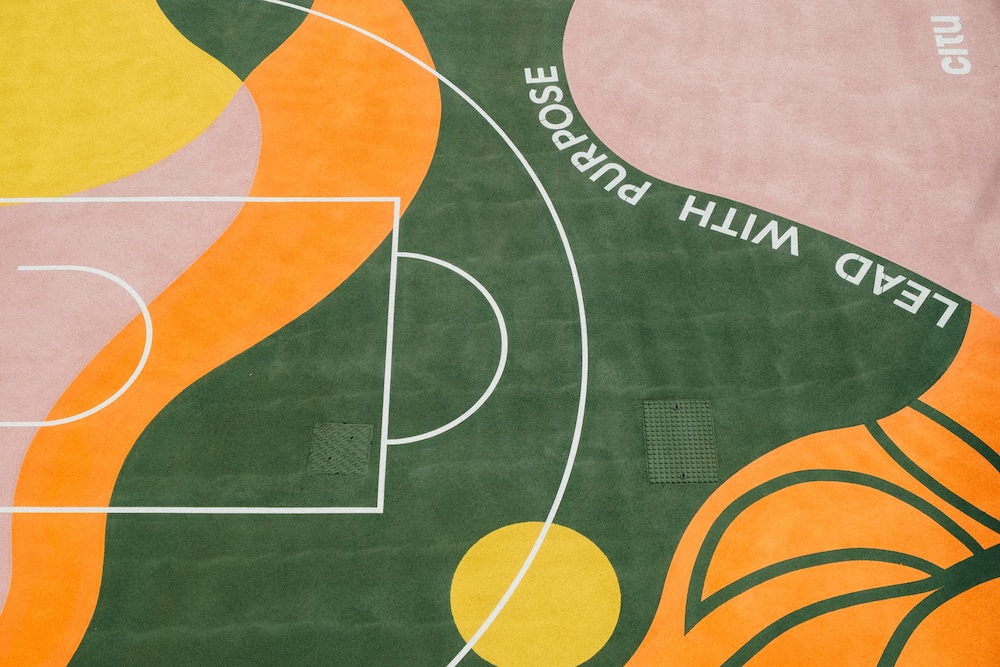 A colourful, bold artwork has been created for the unusual canvas of a new basketball court at the Climate Innovation District in Leeds by multi-disciplinary artist/designer, Lois O'Hara.
Commissioned by Citu – the UK's leading sustainable developer which is behind the pioneering district – the creative basketball court is located on Clarence Road, adjacent to Leeds's first zero carbon commercial building, The Place, where Citu's team is based.
As well as providing a space to enjoy, the aim of the installation is to promote a greener way of life. Importantly, the basketball court is a subtle yet key intervention in changing the perceptions of passers-by, especially car users, acting as a catalyst for changing the hierarchy between cars and people at the district. Citu has plans to pedestrianise the entire district – which will feature more than 1000 homes and a multigenerational building including school and care home once complete – making the site entirely car-free. The creative basketball court marks the first step in raising awareness about how this area is used, encouraging motorists to drive with consideration in what is a growing neighbourhood of more than 100 residents, many of whom have already embraced a more carbon-conscious lifestyle and navigate the area on foot or by bike.
The collaboration between Citu and Lois O'Hara builds on existing interventions in the district that provide inspiring spaces where the new and growing community of existing and future residents can come together. The basketball court adds to outdoor spaces for yoga, relaxation, riverside walks and social space and aims to encourage the local community of residents and workers to enjoy space for wellbeing close to home.
Citu's pioneering approach to placemaking puts people and the climate first. A key part of Citu's purpose is to constantly innovate, helping to facilitate a more sustainable way of living in cities. By forming graphic interlocking shapes in a bright colour palette chosen to reflect nature and complement the court's environment, O'Hara opted to wrap the quote "Lead with Purpose" around the curved shapes on the basketball court to highlight this key message and challenge passersby with a call to action to all lead by example when responding to the climate emergency.
O'Hara's work is featured across the UK and this is her first public art project in Leeds. She said:
"I was very excited to be working with Citu, I think the work they do is really inspiring in the way they create impressive places but also promote sustainable living. This is why I wanted to create something striking and bold, but considerate and get people really thinking about how we can all do more to protect the planet. I hope it will encourage those who live and work nearby to engage in sport whilst also persuading them to think about their part in tackling climate change".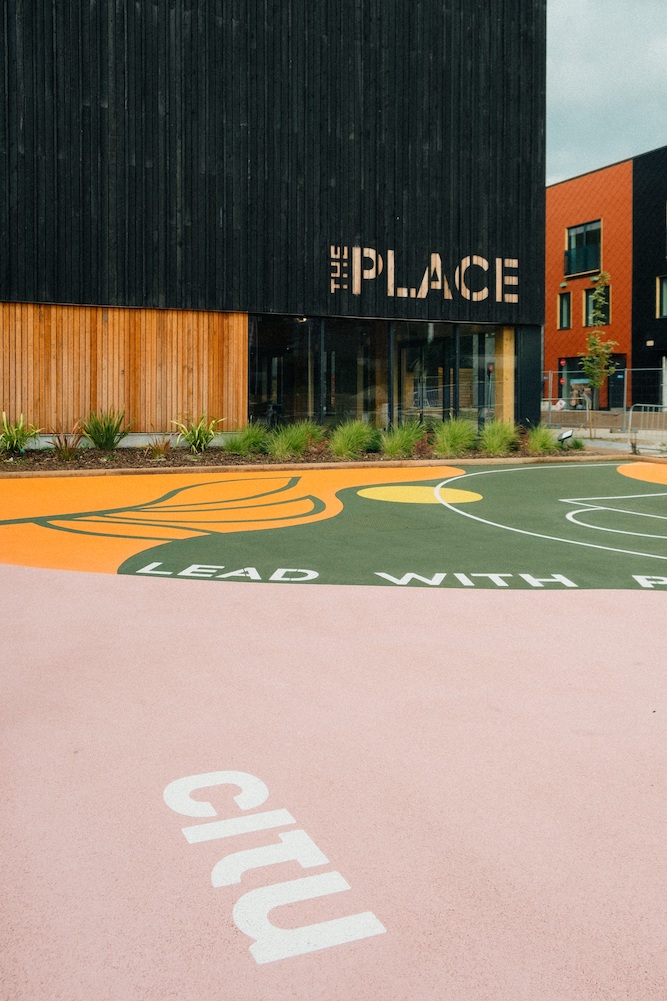 This post is based on a press release issued on behalf of Citu