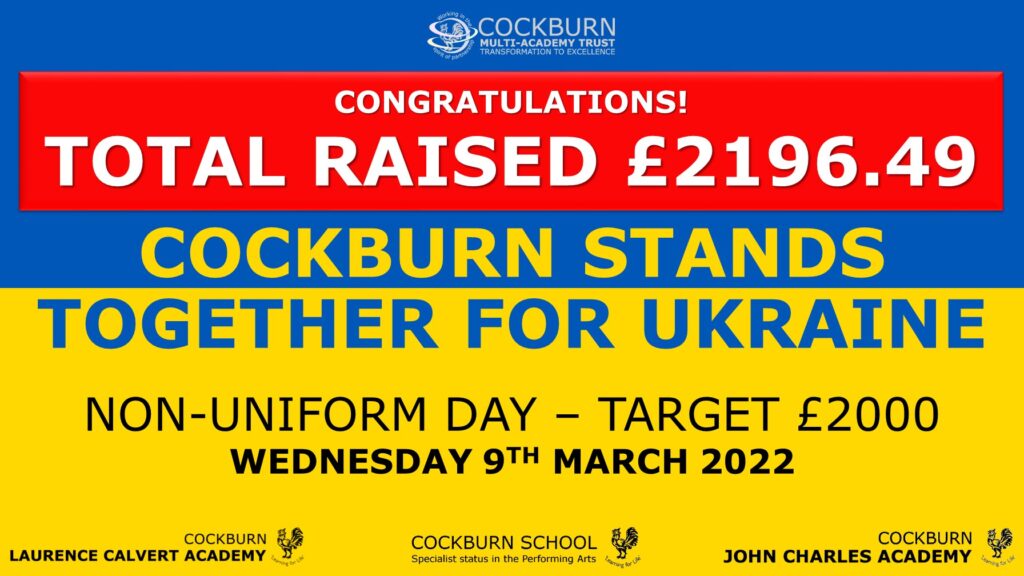 Students and staff from the three Cockburn Multi-academy Trust secondary schools have been busy raising funds for Ukraine.
Students at Cockburn School, Cockburn John Charles Academy and Cockburn Laurence Calvert Academy wanted to do something to raise funds for children in Ukraine and had a non-uniform day where many students wore yellow and blue in support of Ukraine. This comes less than three months after the schools raised over £1,500 for children in Afghanistan.
Having seen on the news the issues in Ukraine, they decided to raise funds for the Save the Children Ukraine Appeal. According to the Save the Children charity, Ukraine's children and families are being forced to shelter in basements and bomb shelters to escape explosions.
7.5 million Ukraine children are now in danger. Amid freezing temperatures, power cuts and food shortages, every day is a struggle to survive. Families are forced to flee their homes. They need urgent help accessing water, shelter and food.
The total raised was £2,196.49. According to the Save the Children charity, this would be enough to fund:
200 school-in-a-bag kits
30 months food for a family, or
120 family hygiene packs.
Tammy Hoskins, Community Fundraising & Engagement Manager for Save the Children says:
"Save the Children are extremely grateful for the quick response and support shown by Cockburn Multi-academy Trust in raising much needed funds for children and their families affected by the conflict in Ukraine.

"We're aiming to deliver lifesaving aid to 3.5 million vulnerable children and their families but we can only achieve this with the generous support of individuals and organisations like the incredible Cockburn Multi Academy Trust."
For more information on Save the Children, visit www.savethe children.org.uk
Middleton Primary also had a non-uniform day and sold buns in support of the Unicef Ukraine appeal. They raised an incredible £1,415.82. One pupil, Laurence J in Year 3, raised £770.21 of this total with a huge effort in grabbing a tub and going door to door in the community (with help from his mum) and collecting money. Laurence said that he felt really bad for the way the people in the Ukraine were losing their homes and he wanted to help them.
He had learned about some of the devastation at school but had also seen the news reports with his dad. Laurence and his mum had an idea to decorate a collection bucket and his mum posted on social media to help him raise money.
Laurence decorated the tub and set to work. People contacted his mum and said they would like to donate and she drove Laurence to collect the money. Laurence also asked his family to donate, which they did, and he donated his own money which he had saved (£10).
David Gurney, Executive Headteacher, said:
"I am yet again extremely proud of the students and staff across our schools for raising these huge sums of money. We aim for all of our students to become confident, independent and successful citizens and they showed great pride in supporting children in Ukraine."