A group of Cockburn School students went on the annual ski trip to Pila in the the Aosta Valley, North West Italy.
Pila is described as having a bewitching natural landscape with a magnificent view sweeping the Alps, from Mont Blanc to Monte Rosa and the Matterhorn. There are 70 kms of perfectly maintained pistes, modern ski lifts, 400+ snow cannons (meaning superb snow-making) and a tempting mix of tree-lined runs and vast, wide, open spaces.
The students and staff travelled by coach and were lucky to avoid the UK storms Ciara and Dennis. They sent back their diary for the school social media accounts and the South Leeds Life:
Ski Trip Day 1 and 2
Ski trip journey was really good and no issues. Minor delay at Dover for the ferry but after 40 mins we were on our way. The students have been great and have shown great pride and respect with the bus drivers giving us a 10 out of 10 so far! Students have been given the introduction for the week by the ski instructors. The forecast tomorrow is light snow so hopefully this will bring some great skiing conditions. Day two of skiing went fantastically well. All of the students continued to make excellent progress and got quicker through ski hire. Despite the windy weather conditions some star skiers began to shine through such as Abdul, Alex, Emily and Libby. Great day quote from Sam "that has been the best day of my life since year 8!" This was followed by a great night at the disco where Cockburn's dancing prowess really kicked in.
Ski Trip Day 3
First day of skiing today. Luckily the slight rain from the morning stopped and students were ready to hit the slopes. All groups did fantastically well today picking up the basics really quickly and making massive progress. Those that had skied before also had a great day and really built on their previous experience. After skiing we headed out to bowling and the students got really into it chanting and cheering each other on. Lyra ended up coming second out of the whole group narrowly missing out to Mr Boxell!
Ski Trip Day 4
Thankfully the weather was on our side with bright blue skies and no clouds. All groups managed to move up the mountain to Grimod and skied all the way back down. Tonight we have had a tour around Aosta town and many have spent their spending money there. Some of them have even stocked up for their valentines/families and bought them something nice from Sephora!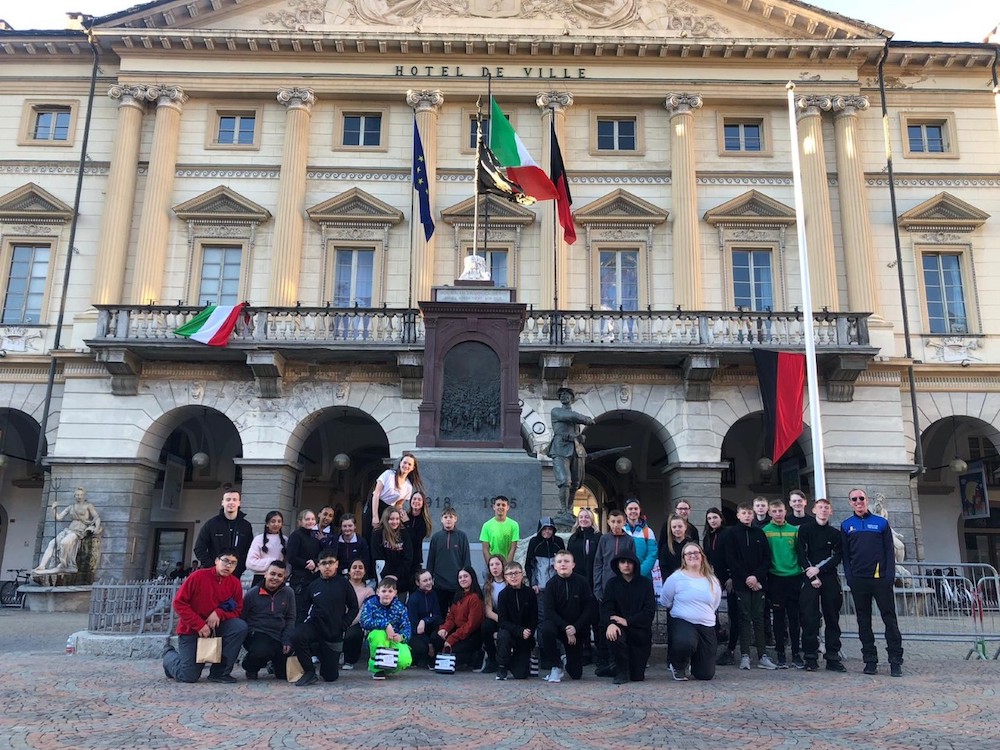 Ski Trip Day 5
Yet again all the students have made massive progress. However despite all the snow overnight the skiing was challenging with the new snow causing bumps on the piste. Cockburn students were resilient in the new conditions and had another fabulous day skiing. At the end of the day the students had a presentation with their ski instructors and all of them were extremely positive and proud of the improvements our students have made this week. Last night we packed and got ready for the final day of skiing before departing for home.
Ski Trip Day 6
Final day of skiing brought another lovely day. Students managed to get in their last runs and take in the impressive scenery. After having dinner we got straight onto the bus. We have now left and are on our way back to Cockburn singing Sweet Caroline as we left! Despite a very short delay, Storm Dennis did not cause many issues and we arrived safely back in Leeds ready for the half term week.