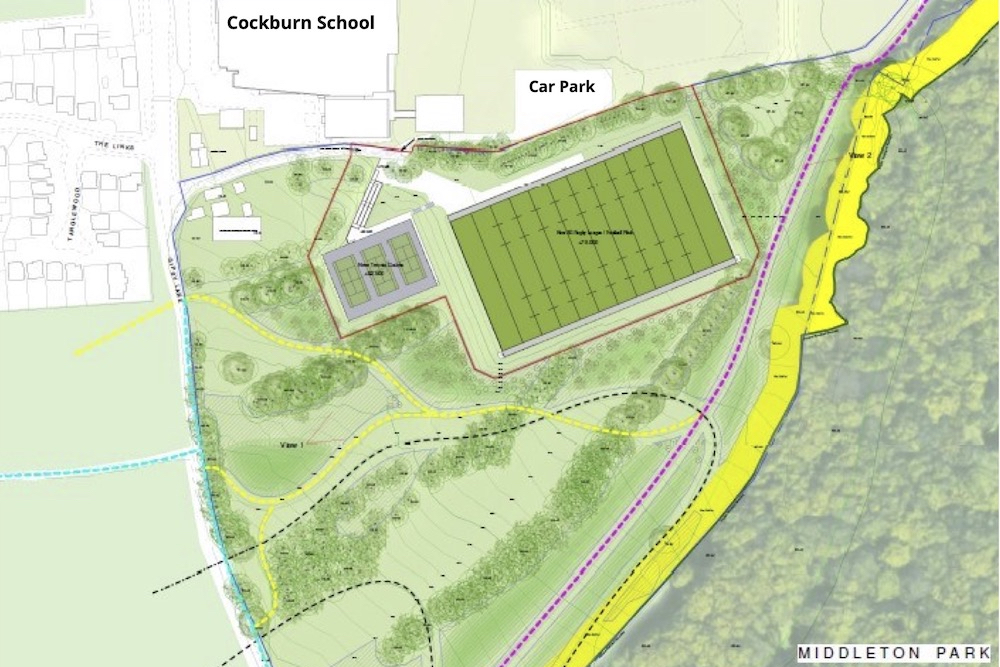 Cockburn School submitted its application for planning permission for a new 3G pitch and tennis courts last week.
As we have previously reported the plans are for a full size artificial football/rugby pitch and three tennis courts on a small portion of the land that was part of South Leeds Golf Club until it closed in 2019. The plans would cause a ancient footpath and bridleway to be diverted, but do not include floodlighting.
The need for the new facilities go back to the crisis in secondary school places for children in South Leeds, caused by delays to the building of the Cockburn Laurence Calvert Academy in Middleton. Cockburn School was approached to take a 'bulge cohort' – a year group with an extra 60 places.
In return for the extra places Cockburn asked Leeds City Council to make up a historic shortage of teaching accommodation and playing field space at the Gipsy Lane site. The Department of Education lays down minimum space standards for school buildings and Cockburn are currently 65% below the required outdoor provision.
The deal was agreed by the Council's Executive Board in June 2020. The decision was 'called in' by opposition Councillors, but approved by the Children & Families Scrutiny Board.
But last week Councillors at the Inner South Community Committee criticised the agreement when the subject was raised by local residents in the Open Forum section of the meeting.
Cllr Paul Truswell (Middleton Park Ward) said:
"The school had the Council over a barrel and demanded the extra playing fields space."
Cllr Kim Groves (Middleton Park Ward) who retires in May, went further saying she was against the extra pitch being built:
"The existing pitches at the school and John Charles Centre for Sport are adequate for the school's needs and will be supplemented by the Parklife facility soon.

"The Council is giving land to a private Academy Trust. This wouldn't happen in other parts of the city."
Cllr Andrew Scopes (Beeston & Holbeck Ward) said he wanted to see the land transferred on a long lease rather than  freehold so that the Council could enforce terms and conditions of use, for instance a traffic management plan.
You can read more about the school's plans here: www.cockburnschool.org/newsportsfacilities
You can read the full planning application on the Council's Planning Portal here. You can comment, in favour or against, until Friday 1 April.