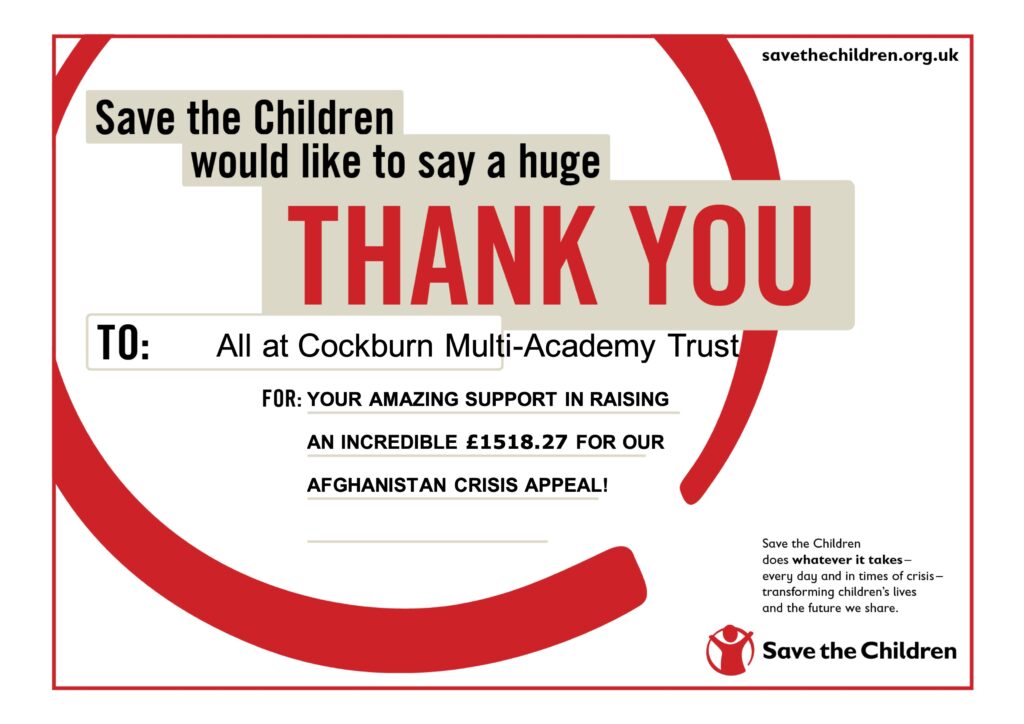 Students and staff from the three Cockburn Multi-academy Trust secondary schools (Cockburn School, Cockburn John Charles Academy and Cockburn Laurence Calvert Academy) ended a successful Autumn term in December with a non-uniform day.
Having seen on the news the widespread hunger and the onset of freezing winter weather in Afghanistan, they decided to raise funds for the Save the Children Afghanistan Crisis Appeal.
Almost every child in the country did not have enough food to eat and half of the population were at crisis levels of hunger. The impact of this on the children of Afghanistan would be alarming and everyone across the Cockburn schools wanted to make a difference.
The total raised was £1,518.27. According to the Save the Children charity, this would be enough to fund:
607 baby blankets or
134 school-in-a-bag kits or
88 week's food for a family or
67 family hygiene packs.
Nikita Zigel-Chodyrev, a member of the School Council at Cockburn Laurence Calvert Academy said:
"We believe that education should reach everyone in the world, not just the well-developed countries. At Cockburn Laurence Calvert Academy, we are so lucky to have an excellent school building and community with everything we need to learn.

"At our school, we are not just focused on learning, but also on helping others. It was a pleasure to improve the lives and education of the children in Afghanistan with our donation."
Tian Cai, Head Girl at Cockburn School said:
"As students, we are very privileged to have an excellent education in a safe environment and we realise that this is not the case for very child in every country.

"We hope that one day, the children in Afghanistan have the same privileges that every child deserves. For today, we are glad that our donations have made a positive impact on their lives."
At Cockburn John Charles Academy, Head Girl, Sumayyah Hafeez-Jabeen said:
"Giving is not just about donating, it's about making a difference. I am proud of every single one of us who is collaborating to make a difference in the lives of those in need and showing the caring nature of our school, as when we all unite, we can make everything possible."
Head Boy, Patrick Butuza added:
"It is truly incredible to see how each of the student's small actions, when multiplied, will have the impact of helping so many of those in need."
Tammy Hoskins, Community Fundraising & Engagement Manager for Save the Children said:
"We're really grateful to Cockburn Multi-academy Trust for their support in raising such an incredible amount for our Afghanistan Crisis Appeal. Save the Children's work is only possible thanks to our supporters in the UK and their amazing commitment to make the world a better place for children.

"Together with Cockburn Multi-academy Trust's support we're determined to help every child become who they want to be."
For more information on Save the Children, visit www.savethechildren.org.uk
David Gurney, Executive Headteacher, said:
"I am extremely proud of the students and staff for raising this huge sum of money. We aim for all of our students to become confident, independent and successful citizens and they showed great pride in supporting children in Afghanistan in the run up to Christmas."