Ciaran Bingham Foundation Trust has issued a message from their founder Margaret Bingham"
"Today marks the end of an era….
"Due to family commitments, we have decided to close our charity! So today it was one of the last events CBFT will organise!
"These past 13 years have been an absolute blast and we are grateful for having helped so many people along the way and for the support we have received too!
"In January we will announce which charities in South Leeds will benefit from CBFT donations.
"Thank you for all again for your support with our cause over the last 13 years!
"Happy New Year to all our members, volunteers and supporters that raised funds for us over the years."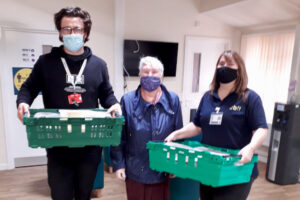 Valerie Carroll said:
"You've done an amazing job with the charity over the years. Perhaps now is the time for you to start looking after yourself. God Bless you love."
Ken Said:
"I have known Margaret for a number of years and I used to help deliver Christmas Dinners in the area, for those who could not get out on Christmas Day."
Although the charity has held it's last event it will be a few months before it is formally wound up. At that point it will disperse its remaining funds to other charities operating in South Leeds.
Main photo: Margaret Bingham (left) with volunteers in the kitchen back in 2013
Whilst you're here, can we ask a favour?
South Leeds Life is published by a not-for-profit social enterprise. We keep our costs as low as possible but we've been hit by increases in the print costs for our monthly newspaper – up 83% this year.
Could you help support local community news by making a one off donation, or even better taking out a supporters subscription?
Donate here, or sign up for a subscription at bit.ly/SLLsubscribe
Thank you for your support