Live from the South Leeds Life News Desk at Middleton Elderly Aid this morning (4 January 2022).
Robin, a Middleton Elderly Aid member and a Middleton resident for many years, tells of his life at Middleton Elderly Aid.
Robin says: "Middleton Elderly Aid is a wonderful organisation. My wife, Marline, would be lost without them.
"We both go to Lunch Clubs and Saturday Breakfasts, and Pie and Pea Nights.
"The Middleton Elderly Aid holidays are very good. The recent holiday was in Blackpool. We would not go on holiday without Samantha (Ely, Chief Officer) to organise us and look after us.
"The Middleton Elderly Aid have some great volunteers on the holidays to help look after us. We also enjoy our day trips out with Middleton Elderly Aid and the volunteers care for our every needs.
"If we need any advice and form filling in Tracey, Sam, Adele and staff are there to help us.
"All the Members of Middleton Elderly Aid, we consider are very nice people.
"I joined Middleton Elderly Aid in 2008 with my first wife Muriel. We paid 50p each to join.
"About 2010 my second wife joined, then we did not have to pay.
"Where Mavis lives, we started having dinner on Thursdays at Middleton Park Court flats. At one time meals associated with Middleton Elderly Aid were cooked at St Cross Church and even in the Middleton Elderly Aid Charity Shop.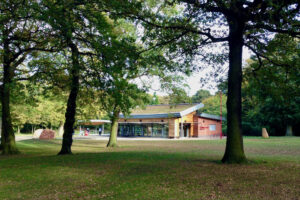 "Jamal of MEA told me everyone should have a hobby, so Marlene, Eric and me started making walking sticks and the proceeds from selling these went to Middleton Elderly Aid. Each walking stick is hand made.
"Me and Marlene have moved to a new home, but still come to Middleton Elderly Aid for lunches and the Memory Café."
Whilst you're here, can we ask a favour?
South Leeds Life is published by a not-for-profit social enterprise. We keep our costs as low as possible but we've been hit by increases in the print costs for our monthly newspaper – up 83% this year.
Could you help support local community news by making a one off donation, or even better taking out a supporters subscription?
Donate here, or sign up for a subscription at bit.ly/SLLsubscribe