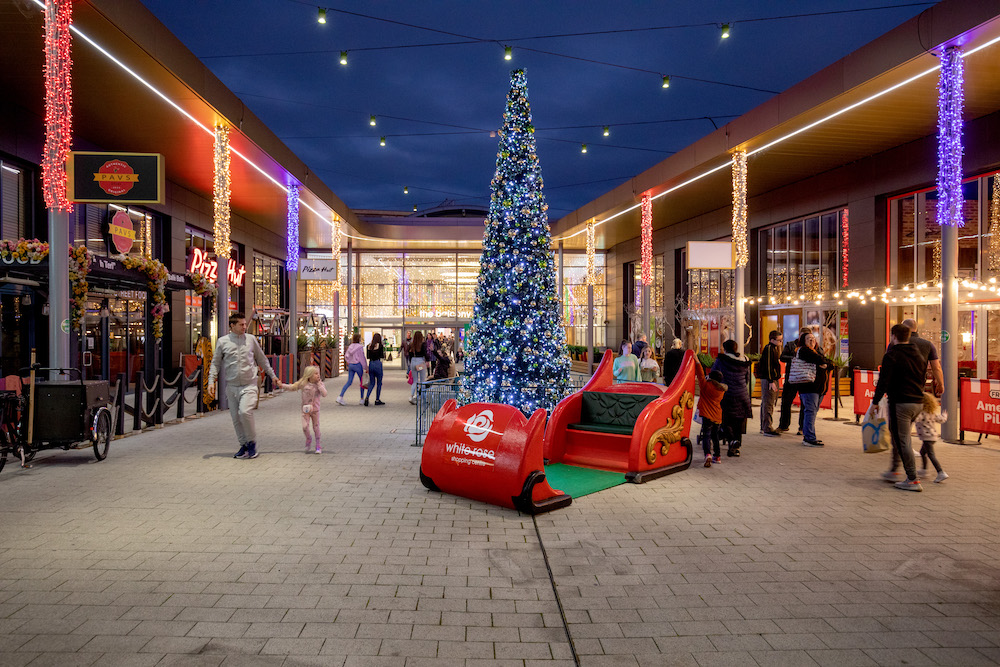 Christmas has truly arrived at White Rose as the centre has launched a brand-new Christmas Selfie Trail, a fun and free family activity running from Friday 26 November until 2 January 2022.
The trail includes ten giant selfie spots – from Christmas puddings to nutcrackers. Visitors are invited to pick up a free trail map from Customer Services, and if they're able to hunt down all ten – plus the extra-special Gingerbread Man – they'll receive a cookie cutter and recipe card prize. The White Rose team will also be handing out gingerbread biscuits to lucky visitors each Saturday and Sunday.
White Rose will also be hosting the Coca-Cola Christmas Truck Tour this year, a much-loved tradition, thgis weekend (27-28 November 2021). Visitors are invited to enjoy the festive spectacle in Car Park 4, near Cineworld, and snap photos alongside the 'Holidays Are Coming' truck from 11am to 8pm both days.
The centre will also be inviting visitors to get into the giving spirit and donate to The Christmas Appeal, open from 25 November to 22 December during centre opening hours, located next to Customer Services. Donated gifts are welcome for children from age 0-16 and will be distributed by two local charities, Child Friendly Leeds and Kidz Klub.
Steven Foster, Centre Director at White Rose, said:
"Christmas is a magical time at White Rose and we're pleased we have so many opportunities to celebrate with our visitors this year. The decorations are sparkling, Santa is belly-laughing, the hot chocolate is steaming, and the festive season is in full swing."
White Rose is also launching its Christmas hours from Monday 6 December. The centre will be open from 9am–9pm Monday to Friday, 9am–8pm Saturdays, and 11am–5pm Sundays from 6 December to 19 December, with even longer hours in the final run-up to Christmas: 9am–10pm from the 20 to 23 December.
Last-minute shoppers will be pleased to know that White Rose will remain open from 8am-5pm on Christmas Eve, and early birds will enjoy extended hours on Black Friday, 26 November, from 9am-9pm. Boxing Day sale shoppers can browse bargains from 10am–4pm on 26 December.
Visitors are also invited to meet the magical man in red at the centre's grotto, open daily right up to 4pm on Christmas Eve to ensure that little ones of Leeds can make all of their last-minute requests. Bookings can be made online, and walk-ups are also welcome – a visit costs £5 (plus a £1.50 online booking fee).
For further information on everything festive at White Rose, visit www.white-rose.co.uk
This post is based on a press release issued on behalf of White Rose Shopping Centre