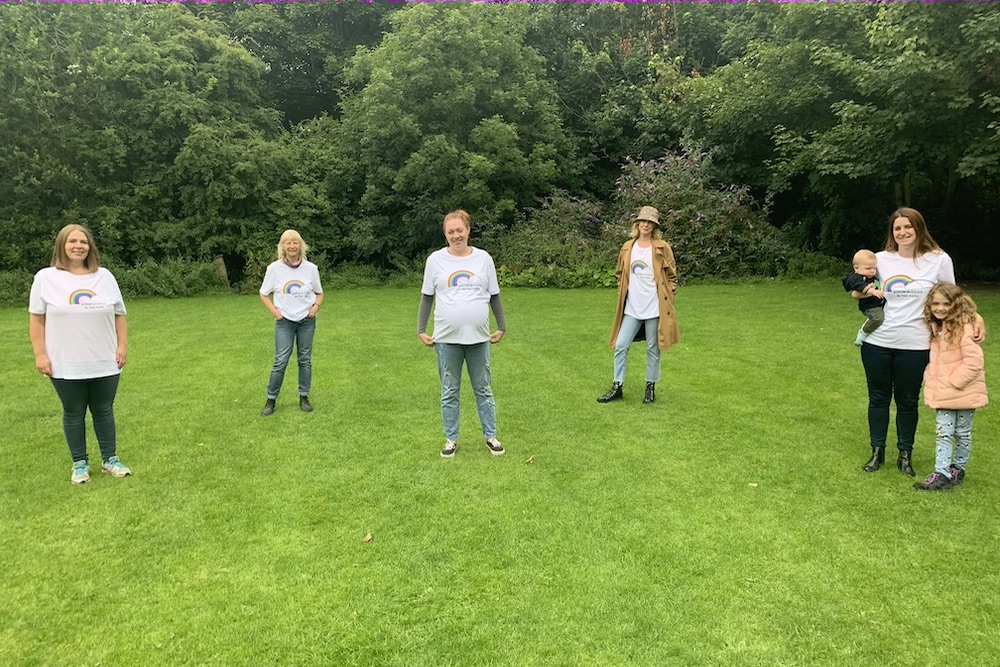 Lockdown Babies: Breastfeeding during a pandemic, how South Leeds support services keep going!
Pandemics don't stop babies being born and more than ever more mothers are choosing to breastfeed because of the protection against infections that it offers. But what happens when you need support? We know 8/10 mothers stop breastfeeding before they wanted to and Bosom Buddies are here to help you meet your own breastfeeding goals.
Following the closure of community centres, in line with government Covid-19 guidance, the Coordinators, Suzanne and Cath from Health for All, set up an immediate alternative to breastfeeding groups. The Middleton peer support group is one of the most well attended groups in the city, with people travelling from far and wide to access it. With Leeds Bosom Buddies in 12 groups all across Leeds we knew we had to act fast to help families.
Every Wednesday you can get support by joining our Citywide Zoom 10:30am-12pm, where it's as much about seeing a friendly face and social support as the breastfeeding support. Register in advance for this meeting by clicking here.
One mum said:
"Having never had chance to see other mums or family in person since my son was born, it's been really reassuring to chat to you all on Zoom, get advice and a better sense of whether certain breastfeeding challenges are normal – it seems they mostly are! The positive of lockdown is it's helped us have time to bond with our new baby and to have space to get breastfeeding established."
Teresa Newsome, Middleton group peer supporter says:
"I'm so pleased that we peer supporters can at least offer a weekly support group, so we can find out if last night was better for a particular mum, or if baby latched from the other side today or even if she managed to get her tea hot!

"Knowing we can't just say 'See you at the group', and giving mums that cuppa and a hug that we all knows cures everything in that moment is heart wrenching. I'm so looking forward to regaining our group, and our community that grows within it.

"We will try to learn more ways of supporting our mums ready for the groups return, with a big emphasis on supporting mums with their mental health. We're all aware of the massive impact that Covid-19 has been having on each other, especially the mums with their brand new babies. I'll personally continue to be in awe of Cath and Suzanne and proud as punch of my fellow Bosom Buddy peer supporters. Roll on group life!"
You can also get support from Leeds Bosom Buddies support group on Facebook, now boasting over 350 members. Support can also be arranged via telephone, email, private message and Zoom. Between them, Cath and Suzanne have also volunteered for La leche League for over 40 years, an amazing achievement!
For World Breastfeeding Awareness Week, the theme this year was 'Breastfeeding For A Healthier Planet'. We ran an incredible five 'Boobies In The Park' meets around Leeds , an idea from one of our Middleton peer supporters, Abby Carden, who knew it would be just what  families needed to reduce isolation and find some local friends. Abby said:
"It was an amazing success and feel it was very much needed, the mums loved getting out with their babies and being around like minded women. They really benefited from the support of the peer supporters."
With around 125 families supported by the events, they have been an incredible success.
On 4 August in Middleton Park the rain did not stop play. With our carefully planned, risk assessed, Covid secure plan, Leeds Bosom Buddies peer support volunteers and co-ordinators Cath & Suzanne from Health for All, donned our t-shirts and headed off to meet the local mums and babies.
"So happy our event coincides with World Breastfeeding Week! For women to be able to come together and nourish their babies with other mums in their local environment, just depicts what this year's theme is all about. Women can walk to their local space, and gain well deserved and often critical support and a much needed sense of solidarity amongst like minded people all in a safe environment. The Healthier Planet fits perfectly with our breast milk – it's natural and renewable, non packaged liquid gold itself!" said Teresa Newsome Middleton peer supporter.
Katie Greenwood, who has been a Middleton peer supporter for 8 years, and recently had a new baby told us:
"It was nice to simply feel like the mother of a baby for a couple of hours instead of feeling like a home schooler, lockdown survivor and working from home mum. I felt  the isolation I had felt for so many months melted away and I finally felt like we were in this together again. My baby saw other real life babies for the first time since March and was absolutely mesmerised."
Local mums tell us what it meant to them:
Becki and Teddy
"We attended Middleton Boobies in the park and it was a lovely way to meet new mums after four months in lockdown and only seeing limited people. It felt like a little bit of normality had returned. The group was a safe place to socialise and feed our babies outdoors and socially distanced. Thank you Bosom Buddies, I only wish it could be a weekly thing! "
Nicole & Olivia
"I attended with my little girl and it was fab! The first mum and baby class we have managed to go to and everyone was so welcoming and friendly. As a mum scared of breast feeding in public I felt so at ease and Leeds Bosom Buddies have given me the confidence to do it everywhere now! Can't wait for the next one."
Sally & Olivia
"I attended the Middleton 'Boobies In The Park' meet with my 9 week old and it was a great experience! Having given birth to Olivia during lockdown, it was lovely for to me to meet other mums and for Olivia to meet other babies. The meeting was socially distanced so there was no need to worry on that front and I got some great advice."
For more information please contact me at: suzanne.tobin@healthforall.org.uk
This post was written by Suzanne Tobin
We encourage anyone living or working in South Leeds to use this website to tell their news. You can either use the Create an article for South Leeds Life page, or email us at: info@southleedslife.com