I went along to the BITMO's GATE Annual Children Sports Day on 15 August where about 100 children, parents maybe a few grandparents, joined the sports day during the afternoon.
The ladies (Carla, Donna, Jennifer and Ashlyn) were already setting up the various games to be played during the afternoon. David, Gerry and Steph: the breakfast club guys helped out as well.
The children had to pick up a Sports Day Score Card, where points given as they completed the different games. At the end of the afternoon the children gave in their score cards to get medals and sweets.
Ashlyn, was having trouble and did a fantastic job with the obstacle course as the breeze kept blowing the tunnels about.
Apart from the light breeze it was a sunny afternoon, so of course the children were able to play indoor and outdoor games.
Some of the outdoor games were: obstacle course, penalty shoot-out, mini cricket, mini golf, skipping, tennis, badminton and the parachute game.
Indoor games were: hula hoop, table tennis, bowls and Twister. The children also enjoyed face painting and badge making.
During the afternoon a picnic lunch was provided.
To finish the outdoor games an egg and spoon race was held, with hilarious results. Well done everyone.
To finish the indoor session there was a Sports Quiz by Darren. Some of the questions were very hard, or my memory is getting worse. Lol.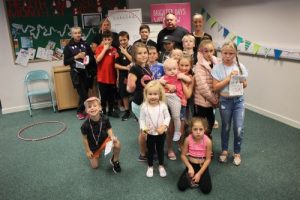 At the end of the day its now the medal award ceremony and a final photo was taken of the children.
I have been to the BITMO's GATE Annual Sports day before, but this one was the best.
Everything is now packed away and in storage for next year.
You can see more pictures on my web site at
kenneth-phography-on-line.site123.me
Scroll done to Gallery and click on BITMO's GATE Sports Day 2018. Enjoy
Well done everyone.