Slide show above.
Arrived at Belle Isle gala, a bit early but crowds starting to build up.
At least this year we had sunny weather. Last year the rain put quite a lot of people off going.
By the end of the Gala I estimated about 150 people turned out for this annual show.
I met up with Chris Simpson (Belle Isle TMO CEO) who was waiting for The Lord Mayor Cllr Jane Dowson. Cllr Paul Truswell introduced me to Cllr Dowson, who I've not met before.
Already at the gala was Deputy Lord Lieutenant Major Stan Hardy. Different guy to what we've been used to over the last few years, pleasant chap and managed to have a few words with him, and gave him a copy of South Leeds Life newspaper.
I think first on my list was to pay a visit to Ian's Mobile Farm, the usual Farm animals Inc. Ducks, Hens, Donkeys, Rabbits and Alpacas.
I also enjoyed the birds of prey, mostly owls of different sizes and breads.
This year the Marquee was virtually empty apart from one stall and Punch and Judy.
We do need the Marquee incase of bad weather, when I'm in no doubt would have been full of stalls.
Talking of stalls, nice see the many tombola stalls raising money for good causes.
The climbing wall was very popular with the children, and a queue was forming for them all to have a go.
I ventured over to the playing fields to see various rugby matches going on and met up with Cllr Kim Groves.
I wandered over to the parade ring where the Supreme Starlets Majorettes were performing.
Getting a bit hungry by this time so wandered into the main hall, queues piling up for food, so gave it a miss.
Other dance troupes waiting their turn to display in the ring were the Leeds Baton Rouge Majorettes and DAZL Dance. Jonathan was playing music for the dancers.
The fire service came a bit late as on a shout, giving advice to people.
Spiderman and other Disney characters out and about, don't know then all.
The Committee would like to thanks their sponsors Councillors Paul Truswell, Kim Groves and Judith Blake.
To also thank Belle Isle TMO for all the prizes and the raffle donated by them and all there help in arranging the Gala again this year.
It was nice to see a few of the walking group out and about, Catherine, Duncan and Joanne. Met up later with Steph on her stall, which I understand raised over £100, and straight from work Gerry.
Many other volunteers around the Gala, Dave and Phil, even the caretakers lending a hand. Well done to Duncan lending a hand even though he is now working.
Well after about two hours, decided to make my way home and start editing the photos and text for the South Leeds Life blog.
Click on http://kenneth-phography-on-line.site123.me/  go to button saying gallery and click on Belle Isle Gala 2017 . For more photos.
You may see me out and about at the Beeston Festival and Middleton Park produce show.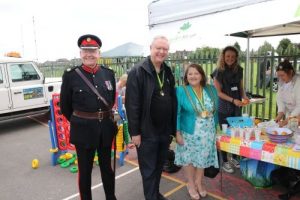 Ken ( Volunteer Newspaper reporter and blogger)