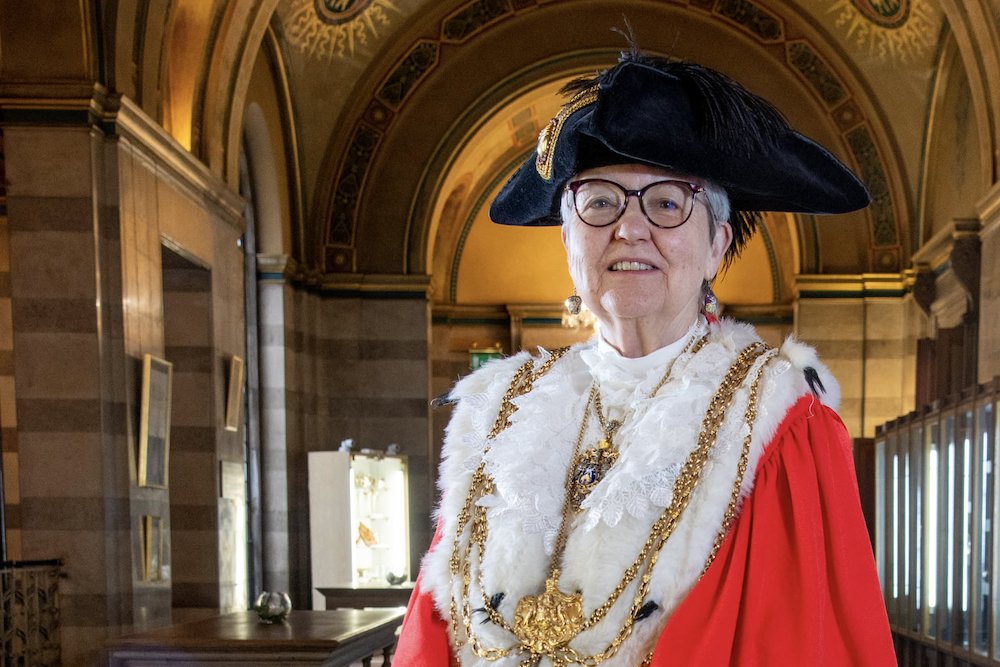 Cllr Al Garthwaite (Labour, Headingley & Hyde Park), who has lived and worked in Beeston for the last 40 years, was elected unanimously by members of all parties on the council to be the 129th Lord Mayor of Leeds at a meeting of full council yesterday (24 May 2023).
Al founded Vera Media which produced films and taught multimedia skills to women and marginalised groups from communities around the city. The company later set up South Leeds Community Radio and still runs a training programme today. Vera Media was part of the partnership Faith Together In Leeds 11 which set up the Hamara Healthy Living Centre and Building Blocks nursery. Al was a Board member at Hamara for three years and is still the Chair of Trustees at Building Blocks.
Al was also Chair of the Tiger11 board, which bought and refurbished the former Hillside Primary School in Beeston to create the Hillside Enterprise Centre. Having helped to set up the Friends of Cross Flatts Park, Al is still active booking bands for the summer concert season and organising the annual dog show.
In 2007, the University of Leeds awarded Councillor Garthwaite an Honorary Degree for her work.
Speaking in support of her nomination, several Councillors talked about Al's feminism and her role in organising the first Reclaim The Night marches at a time when the Yorkshire Ripper stalked the city and the Police advice was for women to stay at home. In more recent years she has championed women's safety including the Ask For Angela campaign.
Her feminism has also informed her choice of charity to raise funds for through her mayoral year. The Women's Counselling and Therapy Service (WCTS) offers free, professional long-term psychological support to women in Leeds to access the help they need.
During her tenure as Lord Mayor, Councillor Garthwaite will be accompanied former Beeston & Holbeck councillor Hon Alderwoman Angela Gabriel BEM and by a diverse range of students from Leeds Beckett University, who will act as her consorts.  This will broaden the students' knowledge and understanding of Leeds and its citizens and offer unique experiences. Bishop Arun Arora, Bishop of Kirkstall, has kindly agreed to act as the Lord Mayor's chaplain during her year of office.
The Lord Mayor of Leeds, Councillor Al Garthwaite, said:
"The people of Leeds have been at the heart of my work for 50 years and it will be an honour and a privilege to represent them as their Lord Mayor for the coming year.

"I look forward to getting out into our communities, meeting as many people as possible and raising money to support the work of the Women's Counselling and Therapy Service."
While you're here, can we ask a favour?
South Leeds Life is published by a not-for-profit social enterprise. We keep our costs as low as possible but we've been hit by increases in the print costs for our monthly newspaper – up 83% in the last 12 months.
Could you help support local community news by making a one off donation, or even better taking out a supporters subscription?
Donate here, or sign up for a subscription at bit.ly/SLLsubscribe