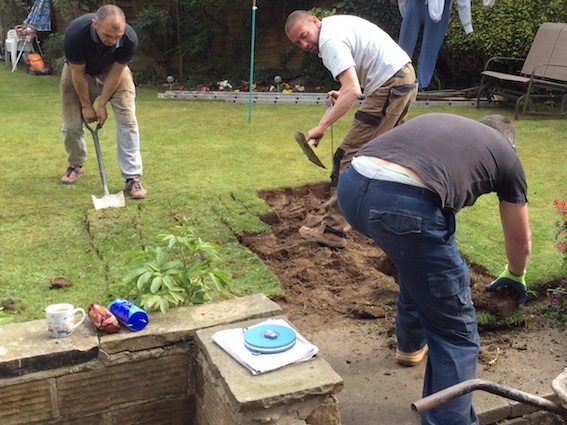 When a friend's daughter lost her leg, Helen Wright knew what to do and went into full on fundraising mode to make her garden accessible.
Annie was diagnosed two years ago with an aggressive form of cancer (osteosarcoma) in the bones and muscles of her leg. Her treatment has included seven operations including amputation of her leg, including her hip. She has a prosthetic leg, but can only use it for a short time and relies on her wheelchair.
Always an outdoorsy, action girl (she's just been sailing in Scotland with the Ellen MacArthur Trust) Annie loved the family garden, but couldn't get around it in her wheelchair.
Helen started planning the project and called in Mark Sunderland from M & P Concrete Products and Fencing to price the job. When Mark Sunderland from M & P heard Annie's story he offered to do the job for just the cost of materials, giving his own time for free.
"Payment will be to see Annie happy in her garden" he said.
Helen's Ladies Day at Hillside in Beeston (where she runs the Feel Good Café) featured pampering, cocktails, hunky waiters, disco and a prize raffle raised £3,600 towards the project.
Annie's mum Diane commented: "The biggest thing was seeing how many people care.

"The garden is finished and it's made a huge, huge difference for Annie's quality of life. I can't thank people enough."
Helen is quick to thank the many people who got involved and helped including Clive Walker Timber who gave them a discount, Patrick Haugh, John Clark and Dave Sunderland who worked on the garden and Jennie Baldwin-Baker who helped at Hillside. Radio Aire's Cash4Kids also stepped in and paid for the summer house.
"It's been great fun" said Helen, "And I would rather fundraise for a specific person than for a national charity."