Even here in landlocked Leeds, almost at the mid-point of the country between East and West, it is hard to shake off the sense of what it means to be an island nation. Whether born and brought up in Leeds, or hailing from coastal areas like myself and September's artist at BasementArtsProject, it is impossible to forget that we are a population bounded on all sides by water.
"Growing up by the seaside, there is a constant reminder of a physical corner you cannot turn, the ocean, which creates an awareness of ones own mortality."*
On Friday 7th September BasementArtsProject presents the work of Naomi Gilby as she focuses attention on her home town of Blackpool; the bright lights and dark corners, the salty sea air perfumed with candy floss and fish and chips, the summer streets that buzz with the sound of tourists, hen parties and amusement arcades and the emptiness of a seaside town in the depths of winter where the waves of the roiling sea crash the shore.  In her previous exhibition at BasementArtsProject entitled Now We Have Met, Gilby took her current life as an artist as the starting point and presented a history of the life of objects used as props for performance. It is personal recollection that gives Gilby's art it's sense of place; the intangible memories of a childhood growing up in a coastal town, now made real but presented from the viewpoint of someone who has left that place, moved away from the source and is looking back on it through anthropological eyes. The exhibition will feature Gilby's photographic work, scented sculptures and a Blackpool soundscape. Join us on Friday between 7:30 and 9:30pm for the first night of this new exhibition.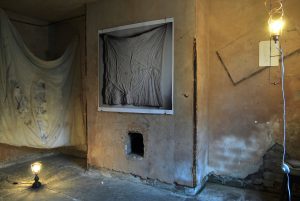 It is a free event and all are welcome.
The exhibition remains
Saturday 8th September | 2pm – 4pm
Sunday 9th September | 2pm – 4pm 
Monday 10th September | 11am – 2pm
Saturday 15th September | 2pm – 4pm
Sunday 16th September | 2pm – 4pm 
Monday 17th September | 11am – 2pm
Then by appointment until: 
Monday 8th October
Since April 2011 BasementArtsProject has been on something of a quest to place art at the heart of South Leeds. The nature of the work has been local, national and international and we have always tried to present work that will provoke and stimulate peoples interest in artistic practice.  Art is a subject that is oft derided as unnecessary, surplus to requirements, a spare time endeavour of no real consequence but, in the current climate as we, the United Kingdom that is, continue our course out of Europe and into the unknown, we must remember that art keeps us connected to the rest of the world. Alongside the skills of the artists who conceptualise and realise artworks there is also a massive industry of both skilled and unskilled workers, employed to make sure that  these creations are brought to life for people to enjoy. At a time when employment seems scarce and education focuses our children on the core subjects it is important to remember that art not only enhances the community that we live in but also creates employment. 
Even working from the subterranean confines of a Beeston basement, far from the sunlight let alone the shores of our country, we have made it a major part of our work to establish and maintain contact with the world beyond. After exhibitions that have travelled to Manchester, Liverpool, London, Sweden, and the United States our most recent connection has been with the Venice through the work of Pudsey based sculptor Dominic Hopkinson whose work, begun in the basement in 2016, is now on display at the 2018 Venice Architecture Biennale. 
Here at BasementArtsProject we endeavour to make our 'unconventional' art space a place in which people can feel welcome and comfortable visiting exhibitions. We exist to serve the community of South Leeds ,and beyond, with exhibitions that in the future may end up in other parts of the world. We hope you can join us in our endeavours. 
* https://www.basementartsproject.com/studio-journal/2018/02/05/pleasure 
Read our latest news letter at https://www.basementartsproject.com/studio-journal/2018/7/3/newsletter-july-2018
BasementArtsProject. 28 Back Burton Terrace, Beeston, Leeds. LS11 5JH