A diesel rail bus has been badly damaged by fire after Middleton Railway's Moor Road premises were broken into on Tuesday night (8 February 2016).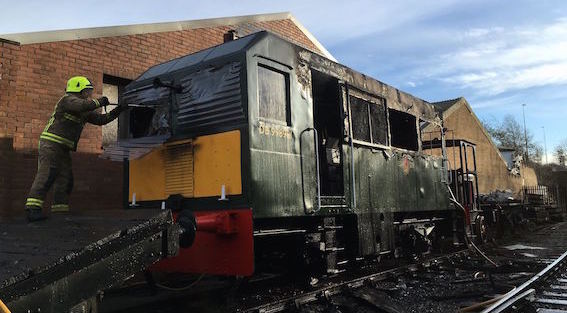 The vehicle, built in 1950, as an Overhead Line Inspection Vehicle, earning it the nickname Olive. It was used on the Sheffield-Manchester Woodhead line. Middleton railway took possession of it in 1997 and restored it for passenger use, although as a small vehicle it was only used on quieter days. The Trust won a Heritage Railway Association award for their restoration work.
A statement from Middleton Railway Trust said:

"Police are investigating the crime and the vehicle is being examined to assess the damage received. Until the assessment has taken place no decision will be taken on the vehicle's future."
If you have any information about this incident please contact the Police on 101, or Crimestoppers, anonymously, on 0800 555 111.