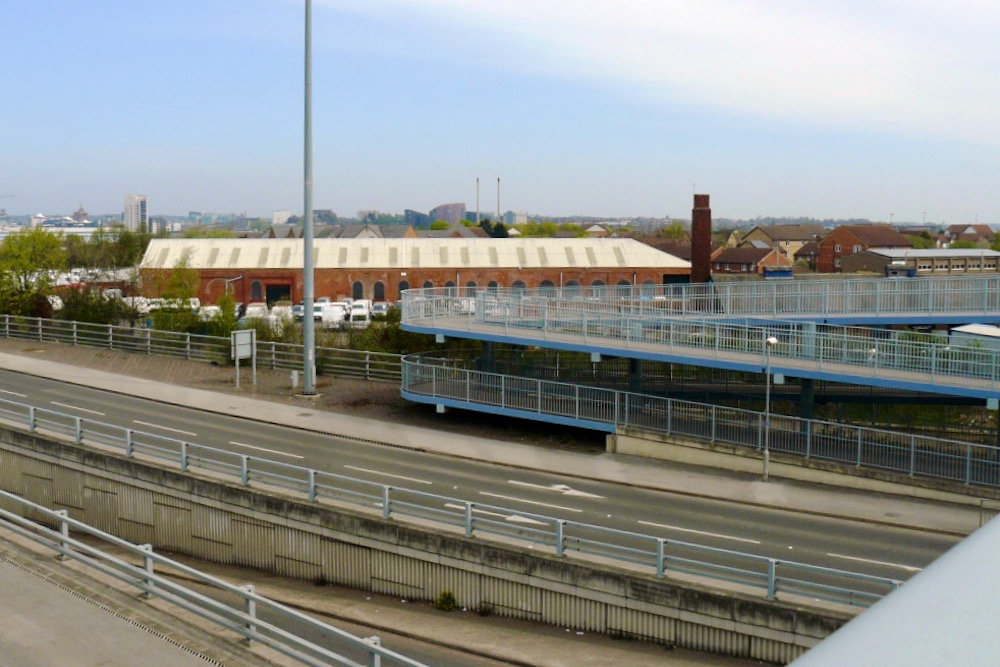 It was not until 1760 that Hunslet decided to build a Workhouse, before that date the Overseers had hired Carr Hall a house built about 1620 by the Fenton family, this stood on Hunslet Moor Side and served as a Workhouse for the able-bodied poor.
However, this was all to change, on 17 March 1760 several owners of land in Hunslet had a meeting in the Organ Inn, later to be called the Wellington on Low Road, now a hairdressers. There were thirteen gentlemen present at the meeting and it was unanimously agreed that a Workhouse should be built "For the benefit and more convenient relief and employment of the poor."
The old Guardian Minute Books show that several plans were produced for the new building, one of these was approved by Charles Brandling (of Middleton Park) and Joseph Bilton who donated the land and made a free gift of all the bricks needed for the new building.
This new building in Hillidge Road was under the care of Richard Markham and Thomas Bradley and does not appear to have cost too much. The bricklayers Robert Fenteman and Allan Longley seem to have been paid £62, the joiner Thomas Proctor £78, and Wrigglesworth the stone cutter £42. However, it would seem that the bricklayers were called back within the year of building to examine and repair the house.
At a meeting held on 28 April 1761 one of the provision orders was for ten 12-gallon casks of beer from the Arthington Brewery for the opening of the new Workhouse on May Day 1761. William Matthews was appointed Master of the House at a salary of £12 a year and this would be increased by £2 if he proved satisfactory. He was allowed to bring in his wife on 'Bed and Board' if she would act as Mistress of the House and oversee the brewing, washing, and keeping the kitchen clean and tidy. An order had been placed for an iron pot so that brewing as well as washing could take place on the premises. 26 people came into the Workhouse, five men, twelve women, and nine children, and in addition to these were eleven out-pensioners who appear to have received from two to five shillings (10p to 25p) a month on relief.
To Govern the Hunslet Workhouse a Committee of eight Trustees, a Provider who was appointed for six months, a Treasurer whose appointment lasted for twelve months, and two Overseers. A Mr Peacop was the first Provider and a Mr Stoney held the first Treasurers post.
Committee meetings took place at 3pm. The education of the children also seems to have been important at an early date because they appointed Susannah Walker, an infirm inmate to teach the children to read. The Trustees seem to have devoted their time at the meetings to the giving out of orders for admissions to the Workhouse, sending people out, granting cloth and linen for clothes, giving out pensions, and ordering assessments to be made.
The first Medical Officer to the Poor House was one Dr Bullough who took up his appointment on 29 July 1762 at a rate of £5 per year. He was re-appointed each year by a Special Resolution, and he held this office for many years.
Nine years after his appointment his salary was raised to eight guineas (£8.40p), but four years later it was reduced to five guineas (£5.25p) and in 1769 he acted as a Trustee, but sad to say his attendance at meetings was very poor. In the same year the Overseers gave him £3.10s (£3.50p) in order for him to hire a substitute because he was drawn from the Militia.
The work provided for the inmates about this time appears to have been spinning and carding wool, weaving Woolsey, cropping cloth, and grinding corn.
In September 1763 an advert was placed in the Intelligencer newspaper for a fresh Master, but there is no record of who was appointed, probably he was not married for shortly after Ann Stokes came in as Mistress of the House for £3 per year.
Gentle compulsion was necessary to get the inmates to Church, all people who could walk had to go to someplace of Protestant Worship on a Sunday or they wouldn't get any dinner.
In those days the poor were required to reside in their Parish and the change of residence was repressed as much as possible, poor people moving between Parishes were sent back home within 40 days if they had no "Certificate" signed by the Overseer and two Magistrates to save any inconvenience and annoyance before moving.
On 28 January 1768 James Scale and his wife were appointed Master and Mistress on trial for a few weeks at £8 per annum. But in the August of 1771 James Scales and his wife were given a month's notice to leave and a sum of money for two bedsteads and on the same day it was agreed that Aaron Copley and his wife would serve as master and Mistress. They were to be paid £8 per annum and three years later this had risen to £10.
In 1773 the assessment for the Land Tax for the Township of Hunslet paid to the Crown amounted to £82.5s.6d (£82.27½p), the amount raised in the Township was £85.7s.3d (£85.36p), therefore the amount due to the Town was £3.1s.9d (£3.09p).
Apparently times were very bad for the poor people for we can find the same people receiving relief for many years, many widows came into the Workhouse, very often bringing large families with them. The children didn't stay very long, they were put out as apprentices to various people in the district.
Six and seven year olds was a common age for apprentices, and their was an instance of a two year old child going out, obviously what we would call boarding out or fostering.
Town's people were compelled to take Town Apprentices and there are many recorded instances where an unfortunate ratepayer had to take an apprentice, even "imbeciles" were apprenticed but were normally returned.
If a tradesman did refuse to take an apprentice he was obliged to pay a fee of £10. Occasionally we can find an instance of a girl being exchanged for a boy and vice versa. In one case three guineas (£3.3s, £3.15p) was given with the apprentice besides their usual clothes because he had a tumour under his chin. The Committee agreeing to take the boy back if the tumour proved as they put it "out of bad consequence."
The administration of the Poor Law seems to have gone on in much the same way until the Poor Law Reform Act of 1834 and this carried on in one form or another until the start of the Welfare State in 1948.
Originally the Workhouse was built to serve the Township of Hunslet but in 1869 the Hunslet Union was formed by the addition of the Townships of Thorpe Stapleton (formerly maintaining its own poor), Oulton-with-Woodlesford (formerly in the Wakefield Union), Middleton (formerly in the dissolved Great Preston Incorporation), and Rothwell and Temple Newsam (formerly in the dissolved Carlton Incorporation), and Osmondthorpe was also included in this.
The Workhouse at Hunslet was gradually enlarged until 1867 when a separate Infirmary was added. This was followed in 1872 by the addition of school buildings, these were later used as a Hospital with the erection of a Children's Home in Rothwell.
In 1896-97 the Hunslet Union erected a group of Children's Cottage Homes on a four acre site at the north side of Wood Lane, Rothwell. An official laying of the foundation stones taking place on 16 March 1869, this was accompanied by hymns and prayers led by the Vicar of Rothwell. The initial scheme of three homes, designed by Leeds architect EJ Dodgshun, was officially opened in July 1897 and cost £8,500.
Each home contained a sitting room for the foster parents, a day room, kitchen, and scullery on the ground floor with four bedrooms above. Each home also had an isolation room. Subsequently two further homes were added. The five houses, each housing twenty children were given the names Oak House, Beech House, Maple House, Hawthorn House, and Chestnut House. The location for these premises are shown on the 1908 map of the area.
In 1930 the running of these houses was taken over by Leeds City Council's Public Assistance Committee. Following the 1948 Children's Act the site became the responsibility of the Council's Care of Children Committee.
In 1949 Oak, Beech, and Maple houses were being used for boys, and Hawthorn and Chestnut for girls. Beech House housed only Roman Catholic boys, while Roman Catholic girls occupied part of Chestnut House.
By this date, conditions in the houses was far from satisfactory, the number of children living in each house was sometimes as many as thirty. Playrooms were being used as dormitories, and dining rooms were also serving as playrooms. At the same time a large recreation hut was underused due to staff shortages. In three of the homes the single bathroom contained two baths and four washbasins, these served both the children and staff.
But more seriously mining subsidence was beginning to cause cracks in the floors of the property. By 1956, all the cottage homes had been closed apart from one which continued in temporary use as a hostel for working boys until February 1957. The site was then disposed of and the buildings demolished.
By the beginning of the 20th century Hillidge Road Workhouse had become outdated and too small for purpose, so a new Workhouse was planned and built at Rothwell Haigh, opening on 1 October 1903, this became St. George's Hospital in later years.
The Hillidge Road Workhouse was demolished and became the site of the Chesney Streets, the Hillidge Engineering Works and later the Richmond Machine Tool Company before this too became the site of a car auctions and van rentals.
This post was written by Ken Burton
Main photo: Looking over the Workhouse and Chesney site from the M621 motorway footbridge