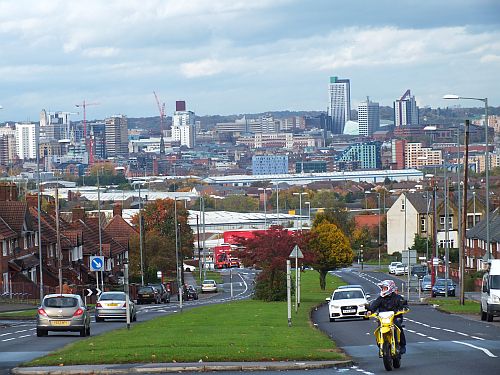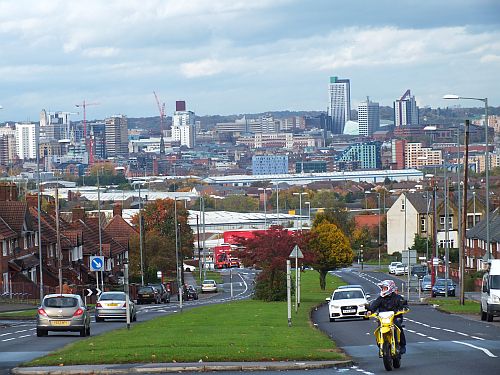 Cllr Judith Blake Leader of Leeds City Council, called into BITMOs GATE from her busy schedule to collect a painting from BITMOs GATE artist, (volunteer) John Shaw the painting was of the BITMO building.
A framed photograph of The City, view from Belle Isle Circus by Kenneth Ingram (Volunteer), was  also presented to Judith.
This was in recognition of Judith's work whilst on the Belle Isle Tenant Management Organisation (BITMO) board. Judith stepped down from the board at the BITMO AGM in September 2015.
Cllr Kim Groves and Cllr Paul Trussell are the elected members, appointed to the board for 2015/16.
I did not expect to have an interview with Judith for South Leeds Life blog and newspaper as she is a very busy lady, so did not prepare any questions. Anyway managed to go into the meeting room and ask a few questions.
Judith thanked me again for the picture presented to her by Chris Simpson (CEO of BITMO), John and me. Judith says the picture and painting will hang in her office at the Civic Hall.
Judith was elected as a councillor for Middleton ward in 2002, 14 years ago. Judith says she has enjoyed working with people in the community and helped them in any way she could.
Judith is the 1st Lady to take the post of Leader of Leeds City Council and tells me the council budget has been cut by the government by £34m.  Despite this, she is determined to put more into repairing pot holes for example, which seem to be a problem in the area. To my mind Belle Isle Road and Middleton Town Street are very bad in this respect after speed bumps where altered and Virgin Media dug up roads and pavement.
Judith also pleased levels of poverty have decreased in Leeds.
Also Judith is very much involved in creating jobs, and in this respect working with schools to learn what qualifications they need to get into work, and what they should go for in colleges and universities.
Judith is also very keen to get people back into work, especially those that have been out of work for some time.
We had to leave the interview there. As I said earlier, Judith is a very busy lady and thanked me again for the lovely picture I took of the City from Belle Isle, and asked me again to pass on my thanks again to John.
Later that day saw Judith on a TV program about the floods in our area and what can be done for flood defenses. My view would to dredge the rivers and canals where this is a problem.
Carla says: Councilor Judith Blake, Leader of Council, Executive Member for Economy and Culture, and Ward Member for Middleton Park Ward, was presented with images of Belle Isle, created by two of BITMO's volunteers.

John Shaw, who provides Art Classes in the GATE each Monday afternoon, had painted an image of BITMO; and Ken Ingram, BITMO's volunteer community photographer, had taken a photo of Leeds' skyline from Belle Isle. Both images were presented to Councilor Blake as a thank you.
Chris Simpson, Chief Executive of BITMO, said, "We wanted to say thank you (Councilor Blake) for all the time you spent working with us whilst on our Board. These images of Belle Isle reflect the landscape here, but also show the talent the volunteers program at BITMOs GATE has developed".

City Scape from Belle Isle

For more information about volunteering, speak with Carla on (0113) 378 2190.