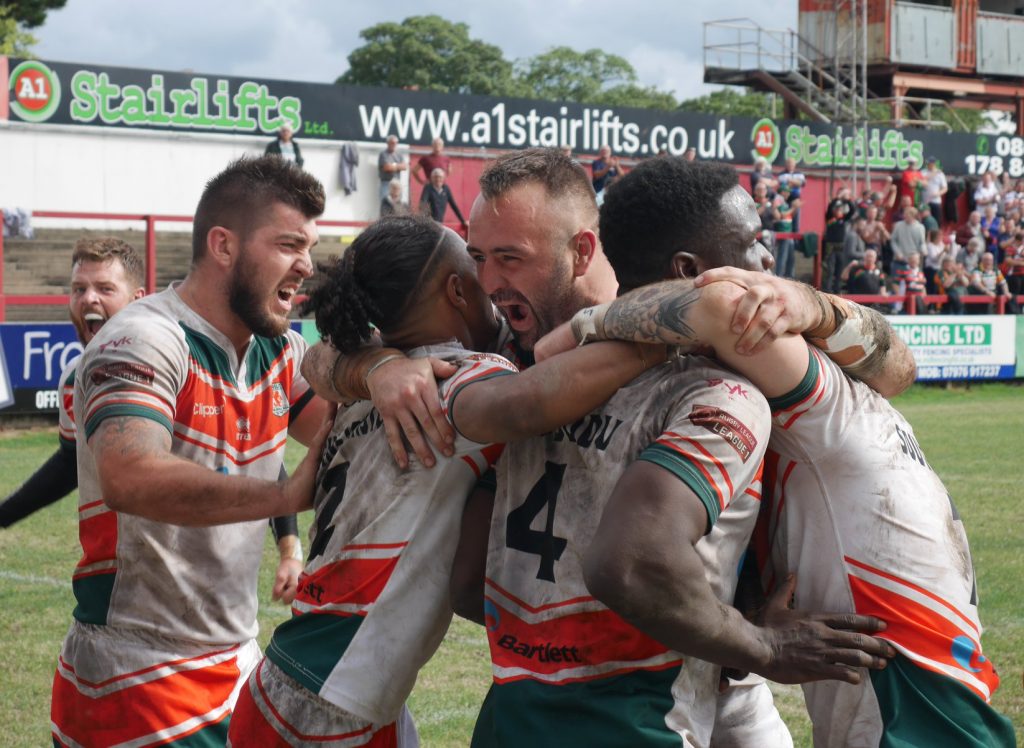 Keighley Cougars  16-24  Hunslet RLFC
Hunslet took an important 2 points at Cougar Park on Sunday afternoon (29 July 2018) in a fiery, close fought contest to get back to winning ways after three defeats on the bounce. The Cougars were well up for the match after recent financial problems meant they had to offload players, three of which have come to Hunslet.
Photos by Paul Johnson Phoenix Photography
Having lost to Coventry last week Keighley looked keen to get back to winning ways and had the lion's share of the early possession. A tactic of high kicks to Hunslet's wingers paid off on 5 minutes when Lynam grabbed a try for the Cougars. 6-0.
Keighley kept coming, and on 10 minutes the same tactic seemed to have worked, but the referee pulled the jubilant Keighley players back for offside.
Things got worse for Hunslet when on 20 minutes Lewis Reed was sent off for a late tackle on the Cougars' kicker. The decision seemed harsh, but the touch judge and referee conferred and the red card was shown.
Keighley took the easy 2 points and were 8-0 up, and minutes later 10-0 when Michael Haley was adjudged to have gone high in the tackle, but Hunslet were putting some good moves together. On 25 minutes a beautiful flowing move looked set for a great try when Jimmy Watson was harshly halted for a dubious forward pass.
Another huge Keighley bomb caused confusion in the Hunslet ranks on 30 minutes when the old adage 'never let a Rugby ball bounce' was ignored and Hardcastle pounced for a try.
At 16-0 it looked a happy Cougars' half time cuppa, but Cain Southernwood spotted a gap in the home defence and tore through it, feeding ever present full back Jimmy Watson, who cantered under the posts.
Try converted at 16-6 at the break the second half could really be anybody's.
Hunslet came out in the second half looking more determined, and for the middle quarter it looked like it was Keighley who had a man less. Poor Cougars discipline saw Hunslet camp on the home side's line.
Still, good goal line defence meant Hunslet were finding it tough to unlock Keighley's defence, until on 60 minutes the numbers were levelled up when Keighley had a man sin-binned for a late tackle.
Former Hunslet man Jose Kenga came close for the Cougars before on 70 minutes Jack Lee and Jimmy Watson combined to send Liam Mackay over for a try, successfully converted by Joe Sanderson. 12-16.
Now, Hunslet saw the game for the taking and Foggin-Johnstone came close from an adept grubber kick to the corner, the resulting time wasting saw Keighley back down to 12 men with a sin-binning, and moments later reduced to 11 after a team warning.
Still Hunslet struggled to unlock a tight packed defence, but from broken play Daley Williams passed to Jimmy Watson who found a way to put Mufaro Mvadudu in space and the centre's pace and strength did the rest. 16-16
Joe Sanderson is Mr Consistant with the boot this year but this was a real pressure kick, calm and cool he converted and with a minute to go Hunslet were in the box seat.
Keighley had to try a short kick off and they did, but it was Hunslet who gathered and the now tired Cougars defence could not stop the onslaught. Michael Haley, too strong and too powerful, went in under the posts.
Keighley had a man sent off in the resulting commotion, but Sanderson knocked the extras over as the hooter sounded and the day was Hunslet's.
A well deserved victory in the end. Patience and fitness won out against a tough Keighley side. Josh Tonks was outstanding against his old club, but it was a true team effort.
Roll on next Saturday's trip to West Wales.
Teams:
Hunslet RLFC:  Jimmy Watson, David Foggin-Johnston, Nathan Chappell, Mufaro Mvududu, Daley Williams, Joe Sanderson, Cain Southernwood, Aiden Hema, Jack Lee, Matt Nicholson, Josh Tonks, Duane Straugheir, Brad Foster.  Interchange: Michael Haley, Lewis Reed, Liam Mackay, Daniel Halmshaw.
Keighley Cougars:  Ritchie Hawkyard, Davey Dixon, Cameron Leeming, Hamish Barnes, Harry Aaronson, Dan Parker, Benn Hardcastle, Matthew Bailey, Nathan Conroy, Harvey Hallas, Darrell Griffin, Josh Lynam, Mike Emmett.  Interchange: Scott Law, Trae O'Sullivan, Jose Kenga, Kieran Moran.
Referee:  Brandon Robinson
This post was written by Ian Pickles.