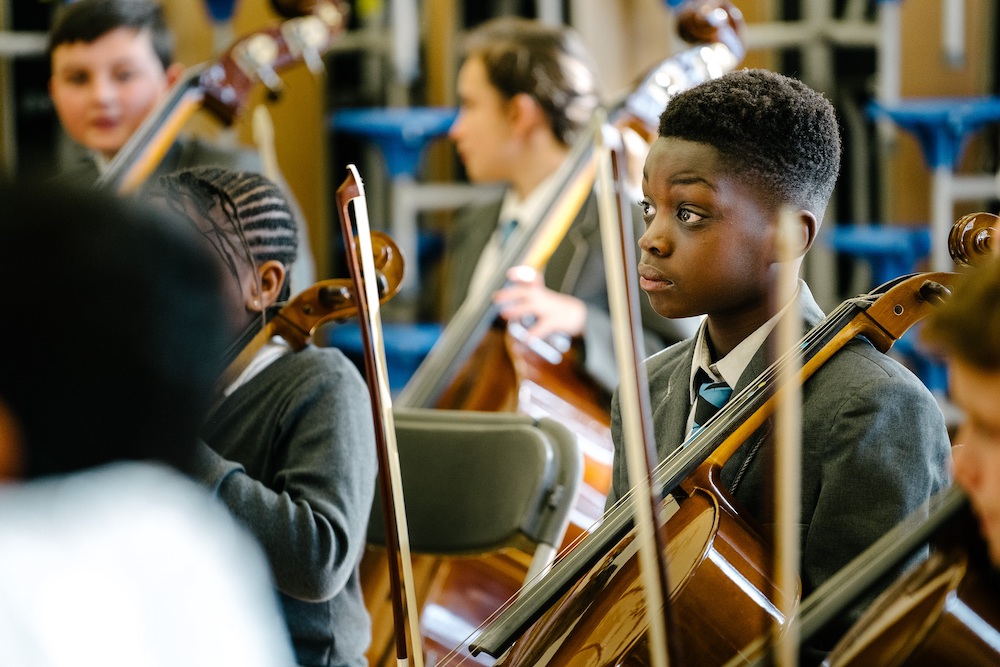 Over 20 young musicians from Low Road Primary School in Hunslet are preparing to perform the world premiere of a new composition at Liverpool Philharmonic Hall this Sunday (10 March 2019) in a concert which will also feature the inspirational 2016 BBC Young Musician of the Year Sheku Kanneh-Mason.
The string players, who have all learnt to play an orchestral instrument as part of In Harmony Opera North, will join forces with their contemporaries from In Harmony Liverpool and In Harmony Newcastle to perform Stephen Deazley's new work The Wonder Files.
The piece was commissioned by Sage Gateshead especially for the combined children's symphony orchestra as part of last year's Great Exhibition of the North. Deazley took the young players as his inspiration, working with them to come up with all the ideas for the music. Sunday sees the culmination of a tour which has taken in their home cities of Leeds, Newcastle and Liverpool, and will be the first time the young people have played the final movement together.
Jacqui Cameron, Education Director, Opera North, said:
"One of our aims with In Harmony Opera North is to build the confidence and self-worth of our young musicians by providing the opportunity to perform in front of different audiences at concert halls and other locations across the country.

"For many of the children, this will be their first visit to Liverpool, and we are delighted that they will get to play their instruments at such a prestigious venue as the Philharmonic Hall. They have really enjoyed meeting and performing alongside the In Harmony students from other cities, and are very much looking forward to premiering the final movement of Stephen Deazley's composition."
In Harmony Opera North is a community residency programme taking place at four primary and one secondary school in south Leeds, involving over 1700 children in total. It offers young people regular music making activities both within curriculum time and as an extra-curricular activity. All pupils in Year 2-6 learn to play an orchestral instrument during the school day, participating in weekly small group lessons and playing in an orchestra, as well as mastering the art of singing. Pupils in years 5-10 also take part in weekly after school orchestral activity. Low Road became an In Harmony school in 2015.
The Wonder Files are being performed as part of a concert celebrating young performers from across Merseyside, Newcastle and Leeds. Tickets are free but should be booked in advance at www.liverpoolphil.com/whats-on/orchestra-of-in-harmony-north-of-england.
This post is based on a press release issued by Opera North
Image: In Harmony pupils preparing for the concert at Low Road Primary School. Photo: Tom Arber