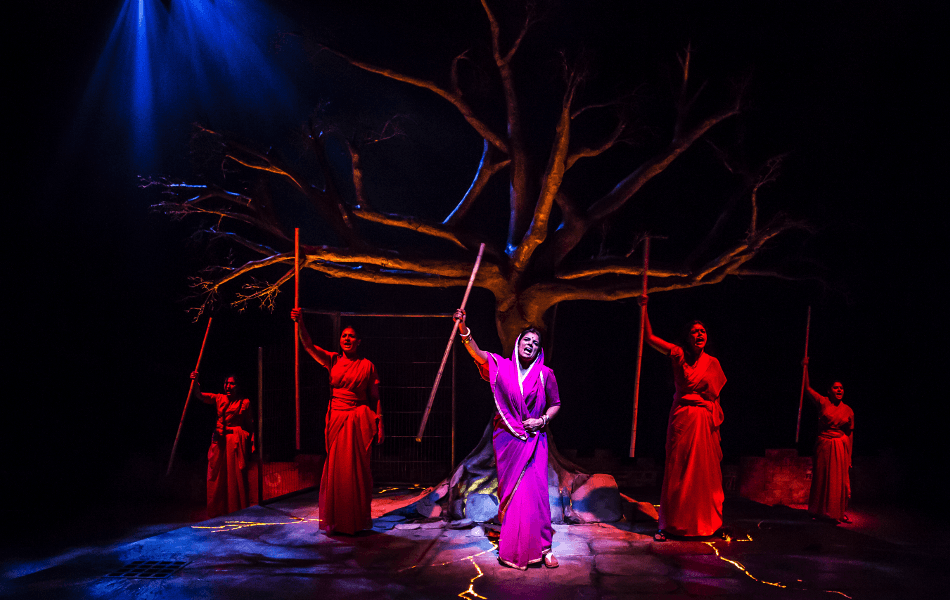 This week sees the new show Pink Sari Revolution at the West Yorkshire Playhouse. This powerful and hard-hitting play is based on true events and tells the story of an extraordinary woman, Sampat Pal and her fight to challenge injustice and take back power for the most marginalised in India.
She leads the 'Gulabi Gang' a force of women thousands strong all clad in pink saris and carrying bamboo sticks, ready to fight if they have to. Together they have challenged injustices in India ranging from domestic violence and child marriages to government corruption, and use whatever means they can to bring about justice for those without a voice. They, and in particular Sampat Pal, have faced real opposition from the 'powers that be' and this play explores the real cost of making a stand.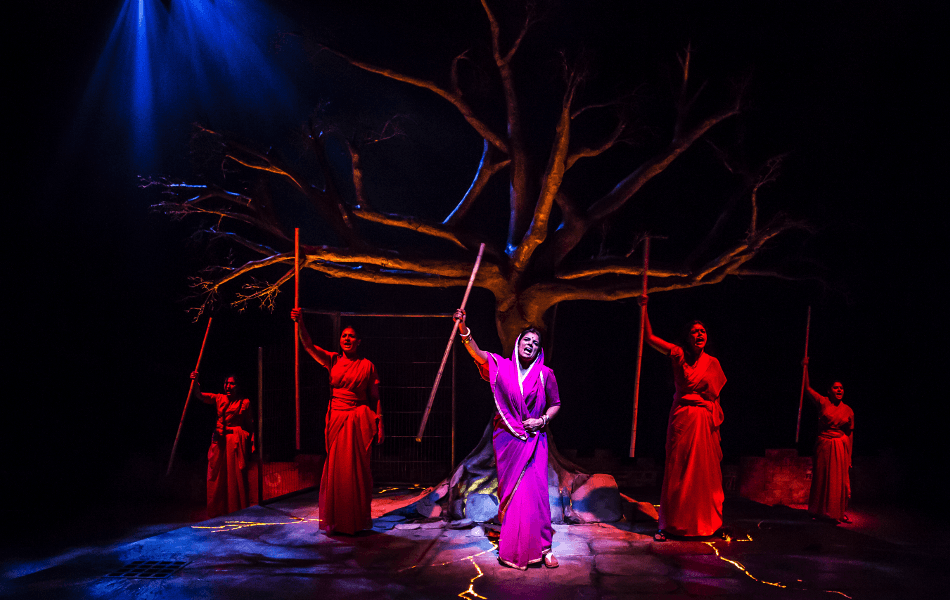 The play revolves around a young Dalit (lower cast) girl, stunningly performed by actress Ulrika Krishnamurti. She is accused of running away with her boyfriend and then stealing, but we are led to believe she has been raped by a high ranking official. Sampat Pal decides to campaign for this girl's freedom and encounters a world of opposition, cover-ups and high emotion on all sides, not least from other women who arguably have the most to lose from the unravelling of the status quo.
It is gritty and even eerie from the outset recounting past instances where other women have been raped and even murdered for similar 'crimes'. Syreeta Kumar who plays Sampat Pal portrays her as a difficult, clever, hard headed individual on a mission. She asks the 'Gulabi Gang' throughout to 'Put down their shame and pick up their sticks'. When challenged as to whether she is leading a welfare project or a vigilante group, she quips 'Can't we do both?' She asks her followers not to look for a 'Gandhi' or a 'Mother Theresa' in her, because this is real life and it is violent.
Her fighting fire with fire approach does not gel with everyone, and the play also looks at the fall-out of such a courageous figure and how her own ego and power becomes confused in her mission. Her own family and close friends struggle with the tension of appreciating what she stands for, yet also feeling the rough end of her often abrasive attitude.
The simplicity of the scenery and backdrop (at times just bright pink saris hanging ceiling to floor) adds to the starkness of the message. Central to the stage is a tree whose roots are bursting out of a concrete floor – and throughout the play, angry fiery cracks appear in the floor as tensions mount. The stage designer Isla Shaw explains in the programme:
"Sampat goes into a situation and she rips it open – so the idea in our case is that the tree is erupting through the concrete block and pushing it out."
Overall it is a highly emotive and well acted piece of theatre, exploring issues of power and powerlessness that affect not only women in in India, but people in all societies. Prepare to be challenged: it is not an easy subject matter!
Pink Sari Revolution is based on a book by internationally renowned journalist Amana Fontanella-Khan, and adapted for stage by Purva Naresh.  It has an award-winning cast of seven, both Indian and British Asian artists, and is directed by Suba Das from Leicester-based theatre group Curve.
It is showing daily at the West Yorkshire Playhouse until Saturday (11 November 2017). Tickets range from £13.50-£31. Click here for more: www.wyp.org.uk/events/pink-sari-revolution/.
This review was written by Tania Carlisle as part of our South Leeds Goes To The Playhouse project where readers receive free tickets in return for a review article.