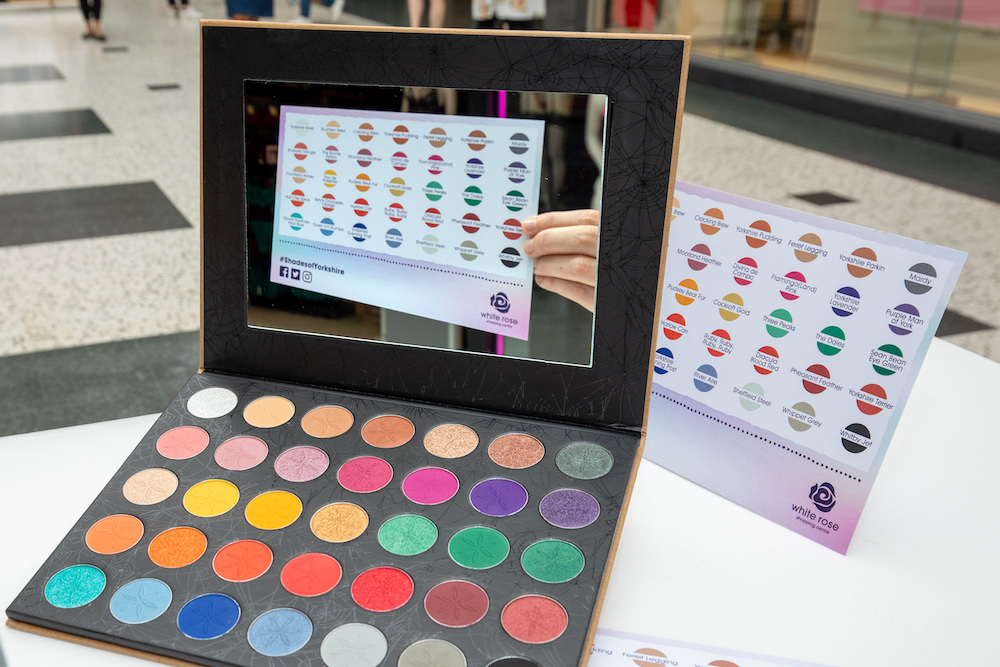 In celebration of both Yorkshire Day and its upcoming Be Your Beautiful beauty and wellbeing event, White Rose Shopping Centre has created a limited-edition Yorkshire-themed eyeshadow palette.
The Shades of Yorkshire palette includes 35 shades, each named after a Yorkshire location, trope, or icon. Favourites include –
Cracking Brew bronze
Flamingo(Land) Pink
Ruby, Ruby, Ruby, Ruby
Purple Man of York
Hull Chip Spice
Sean Bean Eye Green
Whippet Grey
Cockroft Gold, named for White Rose's accessibility ambassador and Paralympic champion Hannah Cockroft
Whitby Jet
…and many more
The palette is also vegan and packaged in recycled and recyclable materials. White Rose is giving the palettes away exclusively via its social media channels in the run up to Yorkshire Day on Sunday 1 August.
The Be Your Beautiful weekend on Saturday 31 July and Sunday 1 August is part of a wider campaign shining a spotlight on beauty, cosmetics, and health & wellbeing, and is an inclusive event with two days of giveaways and empowerment opportunities, incorporating values of beauty, kindness, wellbeing and being true to yourself.
The must-visit event includes a giant foot-powered digital scratch card machine that shoppers can play to be in with a chance of winning one of hundreds of prizes, and an 'Empowerment Mirror' featuring designs and slogans from Instagram's @label.lady.1 aka Jemma Solomon.
White Rose will also have a drop box for unused beauty products and toiletries, which will be donated to the Leeds South and East Foodbank, and will be hosting Leeds' favourites Back Chat Brass band throughout the day on 1 August.
Steven Foster, Centre Director at White Rose Shopping Centre, said:
"We've had a lot of fun putting together our Shades of Yorkshire palette. We've paid tribute to some local icons, while also laughing at some regional stereotypes with shades like Whippet Grey and Mardy. We think it's going to go down a treat.

"We are delighted to be able to welcome the people of Leeds to our Be Your Beautiful event. We believe it's so important for everyone to feel beautiful in their own skin, confident and true to themselves.

"Be Your Beautiful has something for everyone whether that's feeling great whilst taking a snap in our Empowerment mirror, winning an exclusive prize or grabbing a must-have beauty product at one of our retailers, so be sure to sign up for the latest updates and don't miss out."
For your chance to win one of the limited-edition Shades of Yorkshire palettes, visit White Rose on Facebook at www.facebook.com/WhiteRoseShopping/
This post is based on a press release issued opn behalf of White Rose Shopping Centre