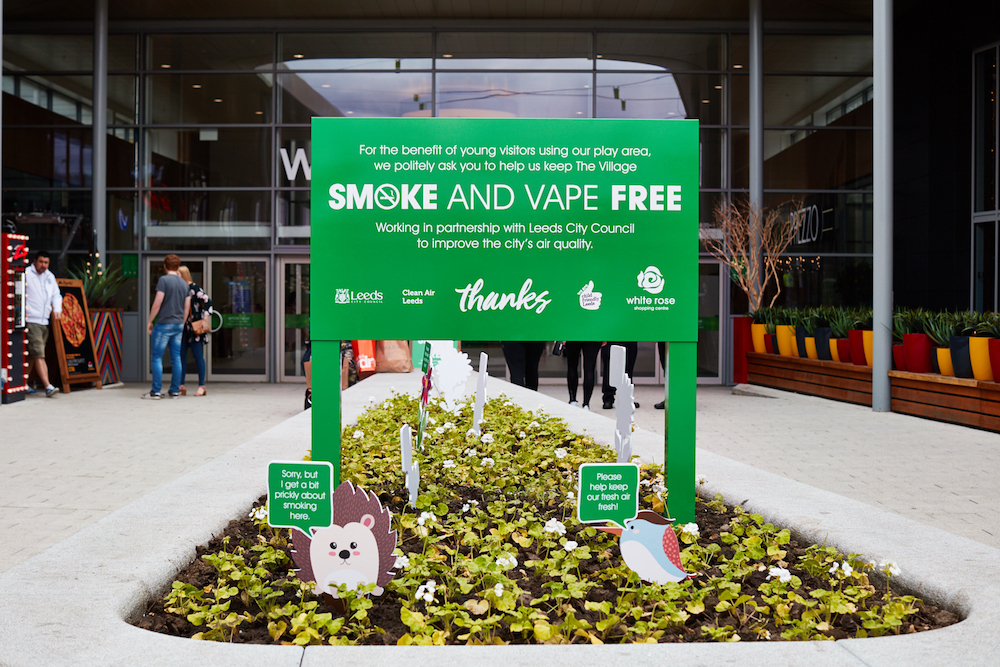 White Rose Shopping Centre has introduced a 'Smoke and Vape Free Zone' in its outdoor leisure area, The Village, following the opening of its brand new children's play area and ahead of Clean Air Day (21 June 2018).
In consideration of the increased number of children and young families to the area, all visitors are now asked to refrain from smoking and vaping within The Village and the surrounding area, marked by green bollards.
This move comes in partnership with Leeds City Council and Child Friendly Leeds in support of the city's Clean Air Leeds ambition, a council-led initiative to improve the quality of Leeds air.
The introduction of the smoke and vape free zone rounds off a £25 million investment into The Village, which included the construction of an 11-screen IMAX cinema, five new restaurants, and the children's play area which opened last week.
Steven Foster, General Manager of White Rose Shopping Centre, said:
"Making this fantastic area a smoke and vape free zone is incredibly important to us. With outdoor seating at all of the restaurants and now the introduction of our brilliant new playground, we believe that everyone young and old will appreciate a breath of fresh air whilst they enjoy The Village.

"We're really pleased to be partnering with Leeds City Council's Clean Air Leeds scheme, and continuing our focus on eco-efficiency. Alongside our current 3,000 solar PV rooftop panels, numerous electric car charge points and food digester, which breaks down solid food waste from our retailers into liquid, – this smoke free zone will be a welcome addition to White Rose's commitment to sustainable shopping."