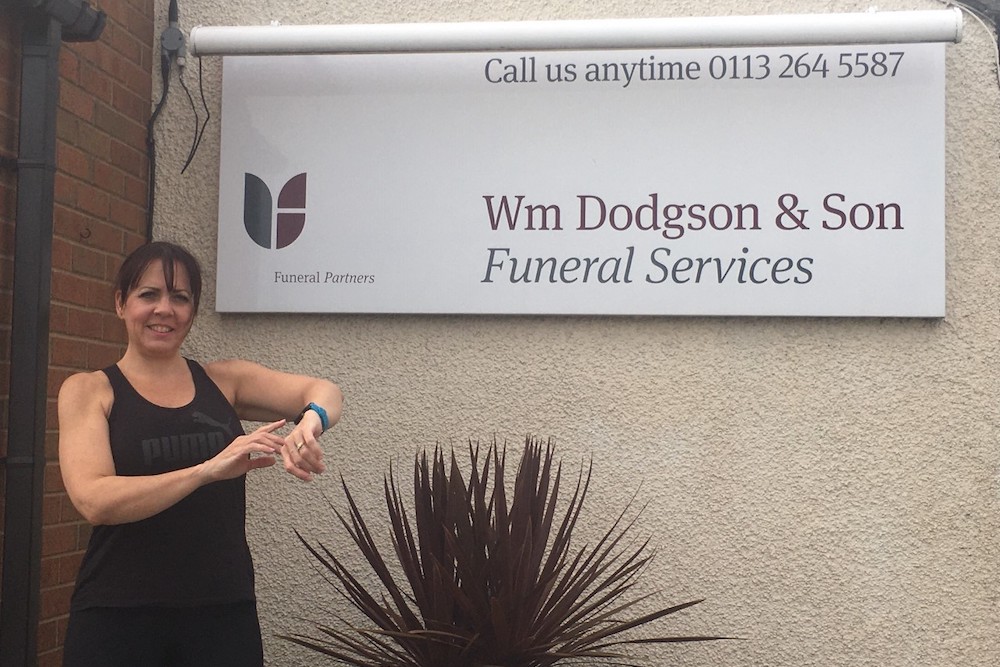 Team members from five funeral homes in Leeds are walking one million steps to raise hundreds of pounds to support people with life-limiting illnesses.
The funeral teams from Wm. Dodgson & Son Funeral Services, which has branches in Middleton, Harehills, Halton, Moortown and Kippax will collectively combine their steps throughout August to raise £500 in donations for St Gemma's Hospice.
Charlotte Ambler, Diary Manager for Wm. Dodgson & Son, said:
"Hospices need more support than ever with fundraising opportunities being limited during lockdown restrictions.

"We think we've found a way to maintain safe social distancing and achieve something impressive to inspire donations."
Wm. Dodgson & Son has supported St Gemma's Hospice for a number of years, including hosting memorial evenings at the hospice and most recently taking part in a car wash fundraiser before the Covid-19 outbreak.
Charlotte proposed her latest idea to Hannah Whitcombe, Corporate Fundraiser at St Gemma's Hospice, while discussing fundraising options amidst lockdown restrictions. She said:
"Not being in close contact restricts what people can do together. However, this initiative lets people make huge strides on their own and combine their progress as a team."
Charlotte set up a JustGiving page, invited the five Wm. Dodgson & Son branches to take part and almost immediately received responses from nine members of the team; funeral arrangers, Funeral Directors and service operators.
The nine participants will take pictures of their pedometers throughout the month and send them to Charlotte, who will add up the team's total number of steps to provide a final count on the 31 August.
Charlotte believes the fundraiser provides a morale boost to the team after months of lockdown restrictions and not being able to participate in their normal community activities. She said:
"This fundraiser has a competitive element in seeing who can walk the most steps, with the winner receiving a small prize.

"It brings our team together in a way that hasn't been possible for a long time."
Hannah said:
"St Gemma's Hospice is here to make every day count and thanks to Wm. Dodgson & Son's help we can continue to make this possible, even during these difficult times.

"Their fundraising target of £500 will make the world of difference to our patients and their families and could provide for five specialist bereavement support sessions for someone struggling to cope with the loss of a loved one."
Donations can be made to the Wm. Dodgson & Son team at their JustGiving page: www.justgiving.com/fundraising/teamdodgson
To support St Gemma's Hospice, please visit www.st-gemma.co.uk, email fundraising@st-gemma.co.uk or phone on (0113) 218 5555.
This post is based on a press release issued on behalf of Wm. Dodgson & Son Funeral Services