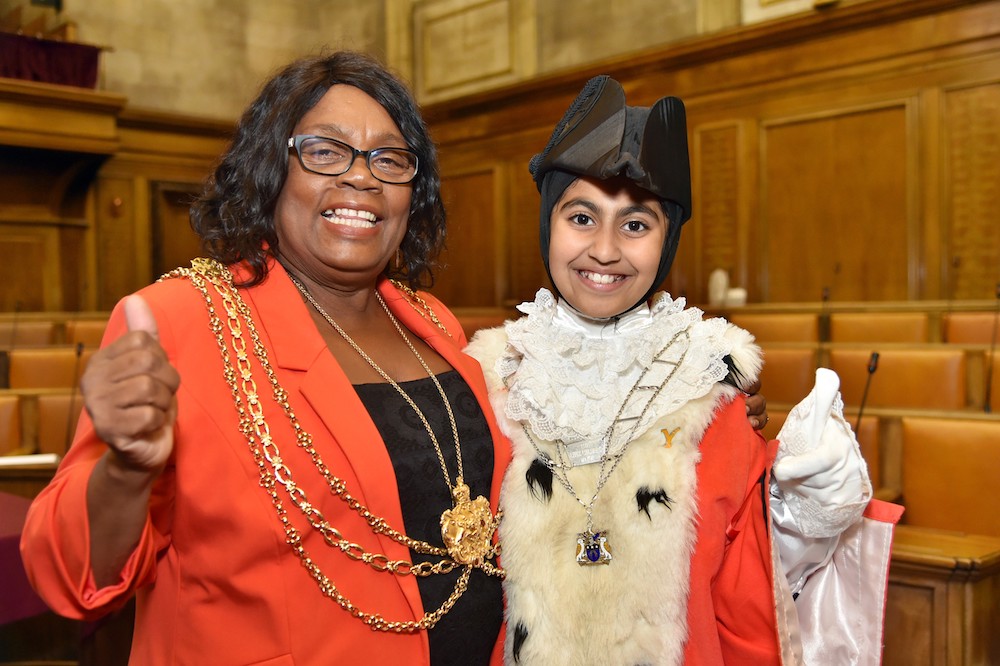 Children and young people in the city are being encouraged to cast their vote in the election to decide the next Leeds Children's Mayor.
The programme is now in its eighteenth year and Leeds was one of the first cities in the UK to elect a young mayor. It is a unique opportunity for the city's youngsters to learn about democracy and voting whilst enabling and encouraging them to be more community-minded by considering the kind of things that would make improvements in their schools and local areas.
In May, primary schools across the city were asked to submit candidates from Year 5. Despite the complications and issues surrounding coronavirus, the Leeds Children's Mayor Team received 49 entries. Children were asked to write a short manifesto detailing what they would do as Children's Mayor to make Leeds an even more child friendly city for other children and young people.
From the entries, a shortlist of 12 finalists was decided upon by a judging panel of children and young people, which included local members of youth parliament and youth councillors as well as the current Leeds Children's Mayor, Wania Ahmed.
Children and young people (aged 18 or under) and now being encouraged to visit https://bit.ly/VoteLCM to cast their votes. The newly elected Children's Mayor is set to be announced by the Lord Mayor of Leeds, Councillor Eileen Taylor at a civic reception event on Wednesday 21 October 2020. Voting closes at 12pm on Friday 16 October.
Amongst the finalists is Olivia Williams from Sharp Lane Primary School in Middleton. Olivia's manifesto idea is to create Christmas Toy banks to ensure that all children get a present at Christmas. Here's her manifesto in full:
"If I was Children's Mayor of Leeds….I would like more toy banks to be created so children can get a Christmas present. This would be for families who use a food banks and don't have much money to buy toys at Christmas time for their children. This will help families who are struggling. The age range would be from birth to 16 years old. To help do this you could volunteer to collect the toys, help wrap presents and distribute toys. You could also do sponsored events such as sponsored walk, swim or run to raise money to buy toys for a toy bank. Schools could write to local businesses and sports teams to see if they could help in anyway. The coronavirus has affected everyone some people have lost their jobs or can't work this could have an impact at Christmas time. I think a toy bank would really help people.

"If we did this it would put a smile on a child's face by getting a present they might not have got. It would benefit families and children who are struggling. People can help by having a trolley at local schools, supermarkets and churches to collect donated toys."
The other finalists for this year are:
Agatha Brundle, Bardsey Primary School
Samuel Hill, Carr Manor Community School
Sophie Sutton, Churwell Primary School
Joshua Smith, Cookridge Holy Trinity C of E Primary School
Grace Langdale, Great Preston C of E Primary School
Honor Priestley, Holy Name Catholic Voluntary Academy
Laila Gibson, Ireland Wood Primary School
Rosie Metchkarova-Taylor, Little London Community Primary School
Sophie Powley, Meanwood C of E Primary School
Isla-Rae Norval, St Chad's Primary School
Lexie Dickinson, Whinmoor St Paul's Primary School
The Lord Mayor of Leeds, Councillor Eileen Taylor said:
"I'm overwhelmed and thrilled by the number of children and schools who have once again taken part in this fantastic programme. They are an inspiration, not only to their peers and other children, but to me, and to anyone working to help make Leeds the best city to live in. The quality of the manifestos this year is exceptional and I am looking forward to the finals night in October to find out who will be our next Children's Mayor – and best of luck to all our finalists"
Councillor Fiona Venner, executive member for children and families, said:
"One of our greatest ambitions is to make Leeds a more child friendly city and helping our children and young people to become active citizens with a real voice and influence is a key part of this. This year the manifestos are written on a wide range of issues including autism awareness, road safety, community cohesion and dental hygiene. The children's mayor project shines a light on how kind, thoughtful and community minded children in the city are and I can't wait until the finals night to meet the winner".
To follow the progress of the Children's Mayor on Twitter, please see @LSChildrenMayor
Photo: Lord Mayor of Leeds Cllr Eileen Taylor with current Children's Mayor Wania Ahmed
This post is based on a press release issued by Leeds City Council