The Beeston Christmas Trail is here, running between Saturday 1 December and Friday 14 December – and below are the daily clues so far! This fortnight-long 'treasure trail' challenge will see giant letters of the alphabet appear each day, somewhere in Beeston.
Your clues as to how to find each day's letter will be published daily here at South Leeds Life, on the FB event page, or in hard-copy form at the Dewsbury Road Hub or Beeston Library. Local people are invited to get out and find the letters, take photos and post them online, and try to work out the jumbled Christmas-themed phrase.
There will also be small events at the locations of the letters on some days. And the final letter will be unveiled at the Christmas Lantern Festival, in Cross Flatts Park on the evening of Friday 14 December. Can you follow the trail, crack the clues and the code, and win the prize(s)? Full info at the FB page.
Note that letters will all remain up until 14 December, so you don't have to catch them on the day they go up.
THE CLUE FOR DAY 14 (Friday 14 December):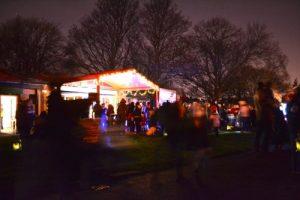 Today's giant letter – the final one – will be on display at the Christmas Lantern Festival at the top end of Cross Flatts Park. Come join us from 5.30pm, until 7pm. Carols, music, hot food and drinks, crafts, animal petting, and more – all free. Full info here. Wrap up warm!
THE CLUE FOR DAY 13 (Thursday 13 December):
Today's giant letter is outside a prominent local church building, just along the road from Elland Road stadium, overlooking Holbeck.
The building opened in 1903 as Beeston Hill Baptist Church, and the current congregation took over in the 1970s. Their programmes include: tots, kids and youth groups; CAP debt advice; and events including an annual Easter Egg Hunt in Cross Flatts Park.
**They are open tonight 7pm-9pm, serving free drinks and snacks, showing the film 'Elf' (pictured).**
THE CLUE FOR DAY 12 (Wednesday 12 December):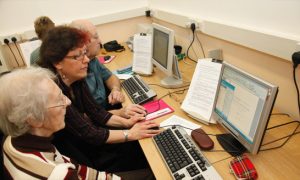 Today's giant letter is outside a church associated with the patron saint of Scotland.
Based at the church centre are an acclaimed local charity offering support to 100s of older people in our community, enabling them to live independently, keep learning, and have lots of fun!
Running since 1991, their year-round programme features sport, hiking, dance, craft, lunch clubs, fayres, trips, and more.
**Free mince pies and hot drinks will be served up to all-comers today between 4pm-6pm.**
THE CLUE FOR DAY 11 (Tuesday 11 December):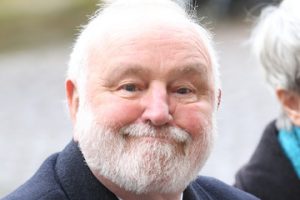 Today's clue is (again) a bit cryptic! The giant letter is to be found on a little clutch of streets just across the road from the Dewsbury Road Hub. They share their name with a senior Labour leader from the 1990s (pictured) – who was often nicknamed Father Christmas.
These streets are in turn near a local college named after a famous Yorkshireman of the 1700s, who was an acclaimed scientist and inventor (he invented fizzy water), theologian (he helped found the Unitarian Church), and author (he was an early writer on the importance of free speech).
THE CLUE FOR DAY 10 (Monday 10 December):
Today's clue is a bit cryptic! The giant letter is to be found overlooking an avenue on the Cross Flatts side of Beeston, that shares a name with an old mill town 7 miles south-west of Huddersfield on the River Colne.
To help you out a bit more, the picture here – of the so-called 'Red Planet' in our solar system – might also help you find your way.
Members of the local Mosaic church will be serving free hot chocolate and marsh mallows over a fire there (at number 5) between 5pm-6pm today.
THE CLUE FOR DAY 9 (Sunday 9 December):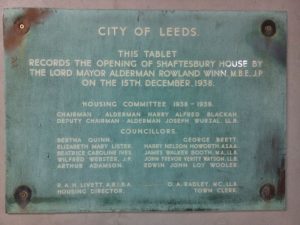 Today's giant letter is to be found in the main door of the greenest building in our community.
Originally built in the 1930s as Shaftesbury House – a hostel for newly-arrived workers in the city, and acclaimed for its design – it later became a homeless shelter, before closing in the 1980s.
It reopened in 2010 as a pioneering and award-winning example of green technology: featuring renewable energy, recycled materials, a heat exchange, water reuse, and more – far ahead of industry standards.
THE CLUE FOR DAY 8 (Saturday 8 December):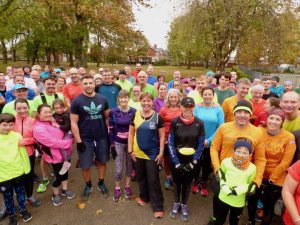 Today's giant letter is in a prominent window overlooking Cross Flatts Park. To narrow it down a bit, find the crouching stone cheetah, and look up!
Runners with the weekly Cross Flatts parkrun might have spotted it earlier. Parkrun is a free, friendly, all-ability, non-competitive run at 9am every morning in the park. They've a Christmas Fancy Dress run on 22 December. Full info here.
Many thanks to Friends of Cross Flatts Park for all their hard work helping to make the park such a well-loved community space.
THE CLUE FOR DAY 7 (Friday 7 December):
Today's giant letter is to be found on the outside of another church, this one in Beeston Hill.
The church was formed in the 1970s, as a collaboration between four different churches. It's led the way with social justice campaigning (with Fairtrade, refugees, and more), and hosts the popular local 'Kidz Klub' project for 4-11 year olds. It also holds a popular breakfast and charity shop every Friday morning.
Just across the road is the former site of one of Beeston's old cinemas, the Malvern. Our community once had no fewer than five cinemas!
THE CLUE FOR DAY 6 (Thursday 6 December):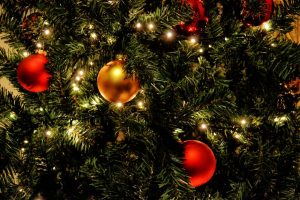 Today's giant letter is outside a church in the heart of old Beeston.
Beeston was bought by a Norman baron for just £2 in 1066. It was a sheep farming area in medieval times, then moved towards manufacturing and mining from the 1600s onwards. It was an independent village (with its own police station and train station!), before officially becoming part of Leeds in 1925.
This church was built in the 1870s, but there's probably been a church on the site since the 1200s. As well as Sunday services, they nowadays host a popular charity shop every Thursday, yoga, kickboxing, parents and tots, guides and brownies – and an annual Christmas Tree Festival next week (12-16 December).
THE CLUE FOR DAY 5 (Wednesday 5 December):
Today's giant letter is in the window of a local nail bar – with a difference. This popular Beeston shop offers a range of manicures, beauty treatments, and more – but it's also a 'social enterprise' giving back to the local community.
All profits go to support work with teenage girls in LS10 and LS11. The shop is also a place for the girls and young women to meet, and access training, employment and volunteering opportunities.
The nail bar is open Wednesday to Saturday, 9.30am-5.30pm; if you come outside those times, a copy of the letter will be on the shutters.
THE CLUE FOR DAY 4 (Tuesday 4 December):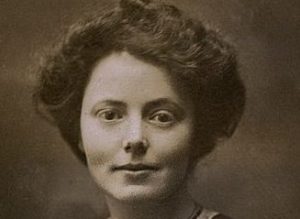 Today's giant letter is to be found outside a thriving local primary school.
The school is partly built on the site of the old Holbeck Union workhouse – and was also the workplace of acclaimed suffragette Mary Gawthorpe, a major figure in the national campaign for women to get the vote, in the early 1900s (pictured).
It's nowadays recognised as a nationally pioneering inner-city school, with staff recently speaking at the Houses of Parliament on the secrets of their success.
THE CLUE FOR DAY 3 (Monday 3 December):
Today's giant letter is to be found outside a much-loved local church – but is this Holbeck or Beeston..?
The church has been a major local feature since it was built in the 1870s. They've led or supported wide-ranging local employment programmes, education projects, community events and schemes, youth work, charity campaigns like the Leeds2Iraq appeal, and more.
Current programmes include cubs and scouts (Monday evenings), parents/tots sessions (Tuesday mornings), English language classes (Thursday afternoons), community meals, and busy all-age Sunday services.
THE CLUE FOR DAY 2 (Sunday 2 December):
Today's giant letter is to be found at an underground art gallery.
This unusual LS11 venue, run in the basement of a family house, has held dozens of exhibitions and events since opening its doors in 2011.
Today (Sunday 2 December), between 1.30pm and 5.30pm, they're re-opening their latest exhibition to the public: an extraordinary sensory exhibition by Sheffield artist Michael Borkowsy and Italian artist Emilia Telese, using custom-made perfume to overwhelm visitors as they explore the visual art.
Free mince pies, mulled wine, and other hot drinks will be served.
THE CLUE FOR DAY 1 (Saturday 1 December):
Today's giant letter is in a 'pocket park' in Beeston Hill. This year has seen scores of local residents working together to refurbish this small park. Activities have included: planting, games like apple bobbing, crafts like scarecrow building, sports, art, litter-picking, and more. Today (Saturday 1 December) sees their latest community activity day, between 11am – 1pm. Head down and join them if you can.