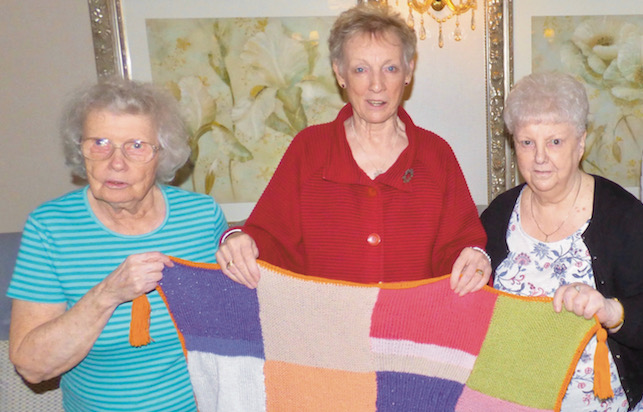 By the time you are living in a care home you might think it's time to rest, but Wendy Stephenson can't stop knitting and has enlisted help from her friends Florence Hustler and Edna Varley.
The three, who live at Sunnyview House in Beeston, have recently handed over a blanket to St Gemma's hospice and a cushion cover  and bag to Guide Dogs. The items are made of squares that the three ladies knit in their rooms and Wendy then sews together.
Wendy has knitted since she was nine years old, but Edna had to relearn the skill. Edna said:
"I was right bored and bad tempered until Wendy got me knitting. I'm much better off knitting, it gives me something to focus on, it's changed my life."
The multi-coloured blanket squares feature a range of different stitches including cable, moss, stocking and ribbing.
Mel Lawrence, the manager of St Gemma's Beeston shop received the blanket and thanked the ladies:
"We are really grateful for donations like this. It's fantastic to see older people keeping active and still thinking of others."
Thelma Wilson from Guide Dogs For The Blind Association was accompanied by Titan and Sabre who proved very popular with residents at Sunnyview House. Thelma said:
"These donations are very welcome and will help us to raise money to give more blind and partially sighted people independence that a Guide Dog can provide."
Thelma is keen to visit any groups in South Leeds who would like to know more about the work Guide Dogs. Schools, residents groups, care homes, youth groups are welcome to contact her on 07803 807516 to book a visit.
Meanwhile Wendy, Florence and Edna will not be donating knitted goods for a few months – they are working on items to sell at Sunnyview House's Autumn Fair.
You can donate to St Gemma's Hospice via their website: www.st-gemma.co.uk
You can donate to Guide Dogs via their website: www.guidedogs.org.uk