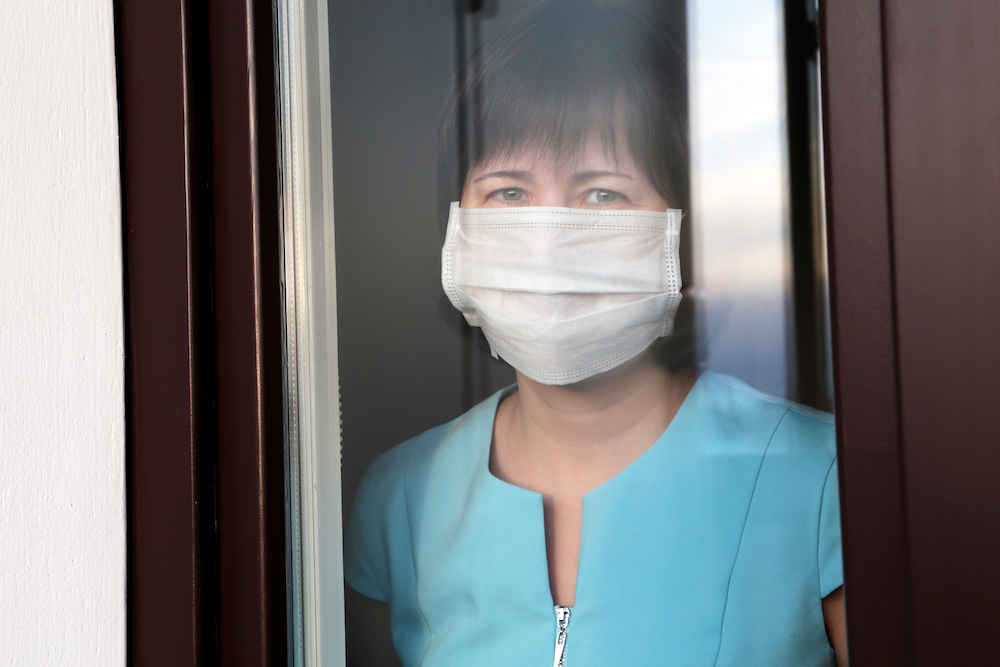 As the Coronavirus (Covid-19) pandemic and lockdown continue, there has been growing focus upon the struggles facing those working in the health and care sectors, as they strive to keep us all safe and well.
And whilst the NHS has received the lion's share of attention and support, we ask: is the care world the forgotten frontline, a high-risk Coronavirus hotspot in our communities?
With thousands of care workers living and working locally – and thousands more supported by them, with the elderly amongst those most at risk – this month we are telling some of their stories and their struggles, at the heart of the battle against Coronavirus.
We spoke with a number care workers, and it's clear that for many their work becomes far more than just a job. Liz lives locally, and works in a care home for older people (especially those with dementia) in Belle Isle:
"This work is so emotional, especially now. The residents have gone from being in the lounges, with everyone, and getting visits – to being stuck in their rooms, staring at four walls. Most have dementia, so trying to explain what's going on is very hard. And with no stimulation, most of them are deteriorating in their wellbeing and health."
Jas (not her real name – she didn't wish to be named) is another local resident and care worker, who told us:
"People don't realise the impact of what we do: the people we care for become our family. We're there every day, holding the residents' hands, especially now the families can't visit – and comforting family members too, when the residents pass away.

"This time has been so traumatic. I respect the NHS, but we don't get the recognition we deserve, and we all need a pay rise."
As well as the emotional hit (others spoke of fear, anxiety, and finding it hard to cope), Coronavirus has also impacted in very real terms. With testing so limited, it is impossible to know what proportion of workers have had the virus – but those we spoke with estimated that at least a quarter of their teams have had confirmed or suspected bouts of the virus.
One unit reported that 3⁄4 of staff have gone down with it, leading to staff shortages and further pressure. These figures are comparable with rates amongst frontline NHS staff, and considerably higher than estimates for the general population.
Local care managers whom we approached felt unable to comment directly – but many gave a strong sense that they were trying to do right by their staff, whilst struggling with the pressure and the changes. In particular, we heard that care homes have come under considerable pressure from NHS trusts to take in new residents – to free up bed spaces in hospitals.
But this is where they are also at the greatest risk of contracting the virus, so it inevitably passes the virus risk onto the care homes. Major providers like MHA and HC-One say they have now had confirmed or suspected cases in over half their homes nationally; and emerging European-wide figures suggest that residents of care homes make up nearly half of all Covid-19 deaths.
Jas told us one such story:
"Our ivory-tower managers forced us to take a new resident – untested – from a particular hospital, where they'd already had dozens of confirmed Covid-19 cases. It was presented as supporting the NHS, but I don't buy it: it boils down to money.

"The resident was with us, became very unwell, went back to hospital, and tested positive for Covid-19. We'd done our utmost, but that put everyone at risk, and several staff including me then went down with Covid-19. It's horrendous."
And we heard from some who suggested certain care homes simply weren't up to the challenge. Sam lives locally and has worked in care for many years. She told us that some care companies are "faultless", but was shocked by recent experiences when she signed up to work in one south Leeds care home.
"Covid-19 was already in full swing, but the training was good, and they seemed really well organised. But when I started, so many staff were off sick, and we were massively understaffed. We went straight into long shifts, with no training on the job, and they wanted us to cut corners everywhere.

"Managers were giving us advice that contradicted government advice on Covid-19, lying to us, even acting illegally. And there was almost no PPE."
Indeed, locally and nationally, the lack of Personal Protective Equipment (PPE) has become a key issue. Liz stressed that her managers have been "absolutely brilliant". She said:
"We're all wearing PPE, masks and gowns; and although we're getting short, they're ordering more. We're now trying to get testing for residents and staff too".
But like Sam, Jas and their colleagues have had a very different experience:
"The situation with PPE has been really crap: there's not been a lot of it around, and we were warned not to talk with the media about it. You're not going to send a soldier to war without the correct armour, but that's what's happening here. We've also asked the management for tests, but were told it would cost too much money."
On a positive note, the past month has seen the remarkable emergence of groups and organisations from communities and business, to create PPE including visors, gowns, and face masks, and distribute them to frontline workers – often for free. Local 'manufacturers' have included Cockburn School, and Cockburn John Charles and Rodillian academies.
Resoundingly, those working on the frontline of care assured us they remained committed to do all they could for those in their charge. As well as the day-to-day care, we heard stories of dancing for residents, of working hard to arrange online video calls between residents and their families, of creative projects to keep residents active and connected, and more.
But as Jas said:
"We all got into care to take care of people; we didn't sign up to fight a deadly disease, on a minimum wage, with no danger money.

"We're risking our lives, and those of our families, but we've been absolutely let down – by the government, and also here by the company we work for."
And Sam concluded:
"We're small ants in the big anthill, we can't change much ourselves. But I just hope – after this is all over – that the government and the world will work out that we and other essential workers were the ones that kept everything going. Or will we get forgotten again?"
If you're in the care world, get in touch to share your stories; and if you or your organisations especially need PPE, contact us at South Leeds Life, and we'll link you with those distributing it into the community.
If you are concerned that a care company is acting unlawfully or negligently, contact the Care Quality Commission – who regulate the care world – at: cqc.org.uk. Or if you work for a care company, another option is contacting trade unions like ACORN acorntheunion.org.uk or UNISON unison.org.uk for advice.