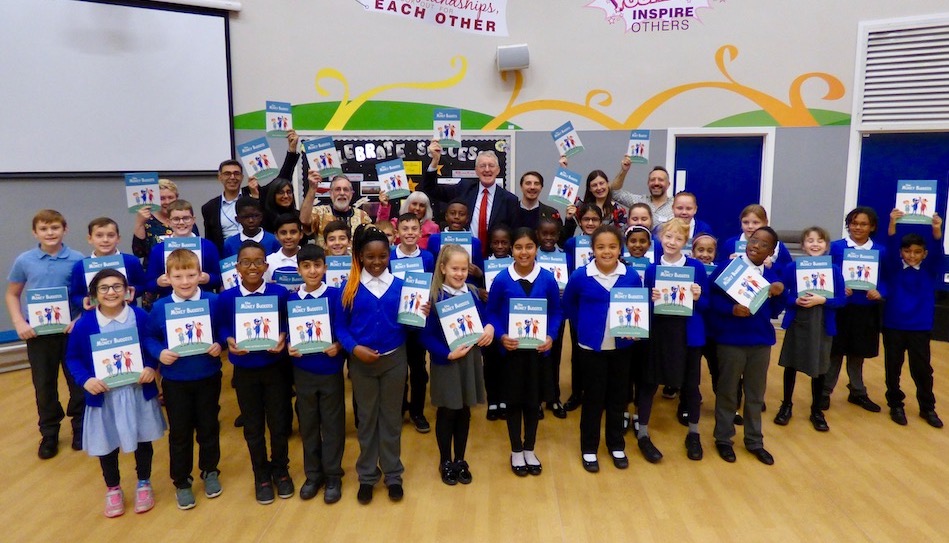 A new book which aims to warn children, and their parents, about the dangers of loan sharks was launched on Friday (11 October 2019) at New Bewerley Community School in Beeston.
As we reported last December, Leeds City Council's Dewsbury Road Community Hub was awarded a grant by the England Illegal Money Lending Team (IMLT) to produce the book, which has bee written by Sylvia Simpson, the Chief Executive of Money Buddies. Money Buddies is a scheme to support people with their personal finances and to get out of debt. They run regular sessions at Dewsbury Road community Hub.
The book teaches youngsters about personal finance and how to manage money. It also introduces the theme of loan sharks and raises awareness of the dangers of borrowing from nasty lenders.
It encourages families to join credit unions such as Leeds City Credit Union instead of borrowing from loan sharks – illegal lenders who often target low income families and charge extortionate interest rates.
Robin Simpson, a professional storyteller, came to launch the book at an assembly at New Bewerley Community School. The pupils received a copy of the book from national mascot 'Sid the Shark'.
Tony Quigley, Head of the Illegal Money Lending Team, said:
"Loan sharks are a blight on our communities, causing misery to thousands of families. The Money Buddies storybook helps children understand the dangers of loan sharks and makes relatives more aware about their activities.

"I urge anyone who has fallen victim to this crime not to suffer in silence, but contact the team for help and support on the 24-hour hotline 0300 555 2222."
The book, funded by the IMLT from proceeds of crime, is set to be distributed to schools across Leeds and will also be available from all libraries in the city.
Councillor Debra Coupar, Leeds City Council's executive member for communities, said:
"In Leeds we are undertaking a range of work with partners to tackle and clamp down on loan sharks, whilst also raising awareness to residents of the alternative and better forms of lending that are available.

"This new Money Buddies story book is a fantastic way in which we can engage with young people and explain why they should never consider using a loan shark when they grow up."
Nationally, Illegal Money Lending Teams have secured more than 394 prosecutions for illegal money lending and related activity, leading to nearly 480 years' worth of custodial sentences. They have written off £74.9 million worth of illegal debt and helped over 29,000 people.
Anyone who has been the victim of a loan shark, or knows of someone who has, can contact the Illegal Money Lending Team in confidence on 0300 555 2222. Lines are open 24/7 and callers can remain anonymous.
This post is based on a press release issued by the Illegal Money Lending Team
Photo: Hilary Benn MP and Cllr Paul Wray join author Sylvia Simpson, storyteller Robin Simpson, staff from IMLT and Dewsbury Road Community Hub and children from New Bewerley Community School to celebrate the launch. Photo by Jeremy Morton