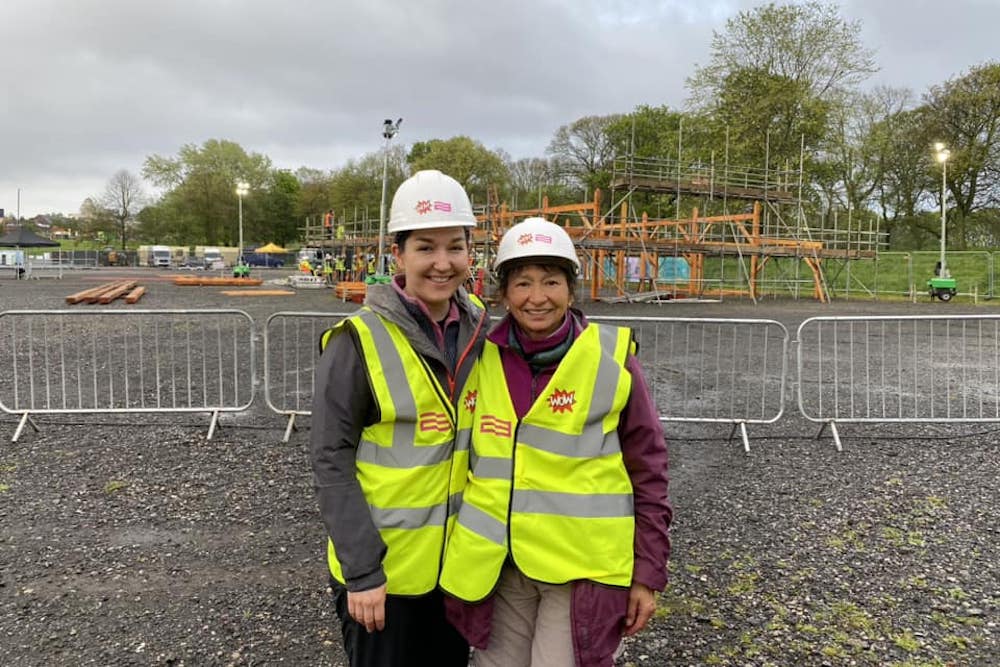 As part of the LEEDS 2023 Year of Culture, a group of women and non-binary people have built a barn on Cinder Moor in Hyde Park which will act as a venue for series of events spotlighting women's issues.
The project is supported by WOW – Women Of The World, a global movement of festivals celebrating women, girls and non-binary people, and looking at obstacles they face.
Events at the WOW Barn kick off on Saturday (13 May 2023) with a festival. We spoke to two women from South Leeds who took part in the build.
Joanna Resnick had some construction skills to start with but said she really enjoyed a woodworking course put on for barn-raisers by Bec Coles at Leeds College of Building. Graciela McIntyre had been at woodworking workshops in the community in the past.
Asked what the best thing about the build, Joanna said:
"There was such a great, supportive atmosphere on site. As we started our early morning shift our team cheered and clapped for the barn raisers coming off-site who'd had a particularly tough night shift in the pouring rain but they were still smiling and laughing. It was brilliant to meet so many friendly, talented, enthusiastic women and non-binary people who were drawn to this epic 24 hour barn raising mission. It was joyful to come together at the topping out ceremony to celebrate everyone's efforts."
In Graciela's view:
"The best part of the build was to see it standing up! I learnt that with clear goals and supportive members of a team anything can be tackled. It was amazing to be part of such big project, it proves that society can have a powerful impact and there is the example of such an achievement by joining forces with committed people!

"It was very interesting to learn that a Company that builds structures such as these was committed to support women and non-binary people to display their skills and support others to achieve a common goal!"
She added that construction companies are mostly managed by men and that the percentage of females and non-binary people in the industry is still very low.
Joanna added:
"I learnt that women make up only 1% of the workforce on building sites which makes this project all the more special."
Both women are looking forward to the WOW Festival on Saturday. The day runs from 10:30am and is pay-what-you-decide. Workshops range from cross stitch and bird box building to and poetry and plumbing. The event concludes with a barn dance in the evening.
Joanna commented:
"I'm really looking forward to the WOW Barn Festival on Saturday – there's a great line-up of Big Ideas talks which are Pay What You Decide and it'll be great to see the barn completed and full of people!"
You can find out more about events at the WOW Barn including Saturday's festival by clicking here.
Main photo: Joanna Resnick and Graciela McIntyre on site
Whilst you're here, can we ask a favour?
South Leeds Life is published by a not-for-profit social enterprise. We keep our costs as low as possible but we've been hit by increases in the print costs for our monthly newspaper – up 83% this year.
Could you help support local community news by making a one off donation, or even better taking out a supporters subscription?
Donate here, or sign up for a subscription at bit.ly/SLLsubscribe