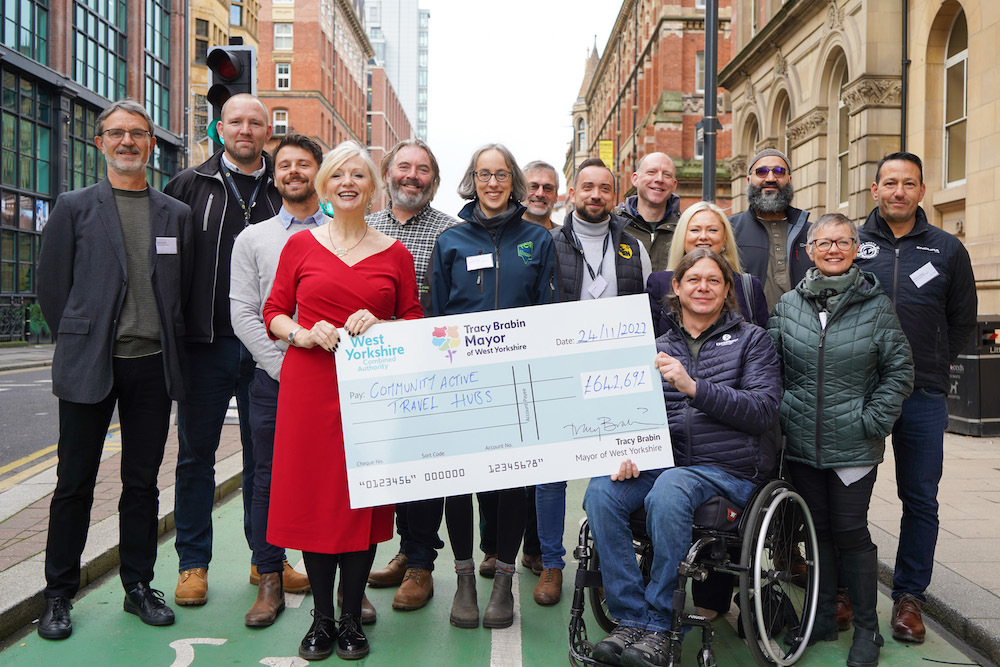 Thirteen organisations across the region, including three working in South Leeds, are to receive a total of more than £640,000 to support more people in their communities to walk and cycle, thanks to funding from the West Yorkshire Combined Authority.
Tracy Brabin, Mayor of West Yorkshire, announced the funding recipients at a community celebration event yesterday (Thursday 24 November 2022).
Each group will receive up to £50,000 to become a community walking and cycling hub.
These hubs will be "one-stop-shops" for people to access everything they need to walk and cycle, including advice and support on routes, equipment, training and group activities.
Tracy Brabin, Mayor of West Yorkshire, said:
"Making it easier to walk and cycle is part of the solution to so many challenges we face – from saving people money, tackling congestion and the climate challenge, to improving our health and wellbeing.

"I'm delighted to support these important organisations to take their services to the next level so that more people can reap the benefits of walking and cycling."
Experience Community is a not-for-profit organisation that helps disabled people access cycling.  It will receive grant funding to start a new mobile hub, as well as developing its base in Leeds.
Their work will mean people across West Yorkshire will have better access to specialist equipment and expert advice.
Craig Grimes, Managing Director of Experience Community CIC, said:
"Accessing public transport and active travel options for disabled people can be difficult, which means that many people opt to use their own private vehicles instead.

"This funding will enable us to provide short-term home loans of equipment so that people can decide which equipment is most useful for them in their day to day lives.

"Combining these services with ways of providing 0% interest financing and a long-term hire scheme will ensure that more of this equipment is affordable for more people, making West Yorkshire a more inclusive place to live and work for all."
Jeremy Hayes, founder of Cycle Pathways CIC which runs Leeds Urban Bike Park in Middleton, said:
"Cycle Pathway CIC are delighted to confirm that we have been successful in gaining funding from West Yorkshire Combined Authority to create a 'Community Active Travel Hub' at our Leeds Urban Bike Park site.

"This will enable us to support more people within the community to use alternative forms of transport for either active travel or health. We hope this will strengthen our continual efforts to make travel by bike or walking easier in traffic free environments.

"We also look forward to working closely with the other funded organisations within Leeds to bolster up the active travel network. In particular we will continue to work closely with Experienced Community in their delivery of off-road disability sessions from Leeds Urban Bike Park with their unique and very specialised equipment."
Tosh Wilson, Cheif Operating Officer at LS-TEN skateboard park in Hunslet added:
"LS-TEN are proud to announce that we have been successful in securing funding through West Leeds Combined Authority to help boost cycling and walking in Leeds. We will be working closely with New Wortley Community Centre, LS14 Trust and Leeds Urban Bike Park to enable more people to get active through cycling and walking.

"LS-TEN will host a cycle hub with new bike workshop which will run as a pay as you feel donation to help people keep the wheels rolling. Along with this we will be running beginners cycle sessions in the newly developed outside space at LS-TEN which will be perfect before you take your cycle skills to the road.

"We dont just encourage cycling, we encourage walking and running too and so over the next coming months you will see us creating a number of walking and running clubs in South Leeds. Working closing with New Wortley Community Centre, LS14 Trust and Leeds Urban Bike park we know that we will have a huge positive impact across the whole of Leeds and as well as South Leeds.

"We would like to thank West Yorkshire Combined authority for this fantastic opportunity on helping increase cycling and walking activities in Leeds."
Since 2017, the Combined Authority has awarded more than £500,000 to organisations across West Yorkshire to deliver grassroots initiatives aimed at helping people overcome barriers to walking and cycling.
Organisations will be invited to bid for further community grant funding in early 2023.
From route information to free adult cycle training and support for businesses, find out how the Combined Authority can help you at cyclecityconnect.co.uk.
This post is based on a press release issued by West Yorkshire Combined Authority
Photo: Tracy Brabin, Mayor of West Yorkshire, is pictured with representatives from the organisations benefitting from funding
Whilst you're here, can we ask a favour?
South Leeds Life is published by a not-for-profit social enterprise. We keep our costs as low as possible but we've been hit by increases in the print costs for our monthly newspaper – up 50% so far this year.
Could you help support local community news by making a one off donation, or even better taking out a supporters subscription?
Donate here, or sign up for a subscription at bit.ly/SLLsubscribe