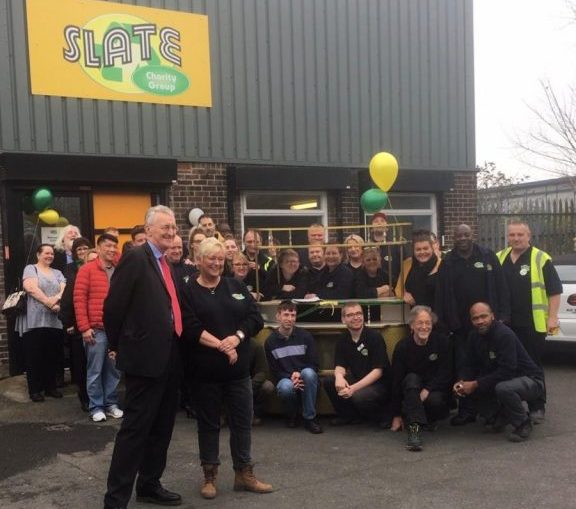 Acclaimed south Leeds charity SLATE last Friday (1 March 2019) held a grand opening to launch a new 'Impact Centre' at their Hunslet HQ.
The centre – made up of a series of refurbished rooms within their HQ – will enable them to increase their programme of activities and pastoral support for their dozens of volunteers, many of whom have learning disabilities. Current and forthcoming projects include a poetry scheme, arts and craft, skills workshops, sessions to repair furniture and electric items – as well as the ongoing work organising and preparing stock for their two shops. The centre also features a new quiet room, for the team to relax, get online, and eat together.
Friday's event was a characteristically friendly event, with dozens of volunteers, piles of cake and gallons of tea, guests from across the city, and local MP Hilary Benn – who officially cut the ribbon and the cake.
Dave Firth, the SLATE Operations Manager, commented:
"Slate has grown from an idea into a thriving Leeds organisation. This centre isn't just a building extension, but an extension of the possibilities we can create together; we've always done this work, but now we can do it better. Above and beyond the money we make, and the tons of furniture we divert from landfill, SLATE has always been about its people: they are the lifeblood that makes it all work. Thank you so much to everyone who's part of it."
The Impact Centre is based at the SLATE HQ, on the Balm Road Industrial Estate in Hunslet. SLATE (South Leeds Alternative Trading Enterprise) has been running since 2004, and has 'saved' and restored over 800 tons of furniture since 2010 – the equivalent of over 100 double decker buses! They currently have about 50 volunteers onboard, the majority of whom have learning or mental health disabilities, together fulfilling nearly 500 hours per week. They run shops in Hunslet and Armley, a cafe in Gipton, and are core partners within the Revive shops based at Kirkstall and Seacroft waste sites.
For more info, including how to get involved, or how to donate, contact SLATE here.